Harman Elementary School held its annual chess club tournament on April 24, 2009. All students who completed the tournament were awarded a certificate.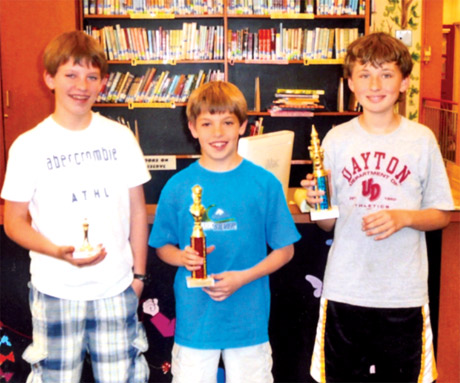 The top three students received trophies (pictured left to right: Ben, third place; Sam, first place; David, second place).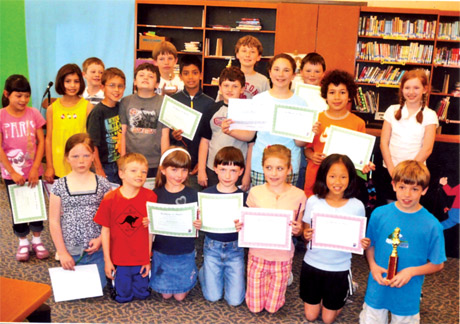 All students in the chess club enjoyed playing chess this year and agreed their respective games had improved. The chess club is co-chaired by Doris Sills and Mike Shewell.
---
Letter to the Community

May 1, 2009

Dear Parents and Guardians,

Undoubtedly you have heard or read many news reports concerning the outbreak of Swine Flu (H1N1) in Mexico, some parts of the United States (including northern Ohio) and in other countries around the world. Fortunately, to date there are NO confirmed cases of Swine Flu in the Dayton area. As of April 30, the one confirmed case in Ohio is a child who lives in Lorain County who recently traveled to Mexico. Please understand that the health and safety of our students is our utmost concern and we are taking precautions to keep Oakwood students healthy. Our administrators and district nurse, Sue Martin RN, are in close contact with Oakwood's Health Commissioner, Dr. Richard Garrison, and the Ohio Department of Health. In the event of a confirmed case of Swine flu we will adhere to the guidance and advice of these health officials. According to Dr. Garrison the MOST important precaution we can take is to keep ill students home from school until well. Now is an important time to make arrangements for someone to watch your child if you are unable to stay home from work. Symptoms of Swine Flu are the same as flu typically seen during the winter months.

Symptoms include cough and cold symptoms, fever, body aches, headache, exhaustion, and upset stomach. If you have any questions or concerns about Swine Flu or any symptoms your child may have, please contact your physician or the clinic nurse at your child's school for more information. More information can be obtained at the Center for Disease Control at www.cdc.gov. Students, parents and staff are encouraged to take the precautions they normally take to prevent colds or flu:
Frequently wash your hands well for at least 20 seconds with soap and water

Use a waterless hand sanitizer if soap and water isn't available

Avoid touching your eyes, nose or mouth

Avoid close contact to individuals who are sick

Stay home from school if ill

Don't share drinks etc.
Our clinic nurses are monitoring sick students and sending all ill students home. Parents are asked to keep children home until well. In addition, our custodians are disinfecting the classrooms on a regular basis. Important updates on Swine Flu as it relates to Oakwood Schools will be communicated through the One Call Now phone system and posted on the district web site at www.oakwood.k12.oh.us. Working together to keep our students healthy, let's make our remaining weeks of school as healthy and illness- free as possible.
Sincerely,

Dr. Mary Jo Scalzo, Superintendent
Sue Martin RN, District Nurse
---
Tyler Philo, an Oakwood resident, Has received contingent admission to The University of Toledo College of Pharmacy. Philo was one of 34 students
selected for contingent admission to the college, which has a total enrollment of over 1,400 students.
To qualify for admission, students were selected from apool of applicants with cumulative high school GPAs of 3.75 or above and scores of 29 or above on the ACT.
---
Benjamin Quinn, a senior at Oakwood High School, has received a Dean's Award scholarship to attend the Columbus College of Art and Design (CCAD). The merit scholarship was awarded as a result of an art portfolio competition held at the College which was judged by a team of CCAD faculty members. He also has work on display at the Governor's Art Exhibition in Columbus, Ohio.
Benjamin will begin his studies this autumn and plans to major in Advertising and Graphic Design. He is the son of Steve and Jodi Quinn, 228 Lonsdale Ave., Oakwood and is the student of art instructor Kaye Carlile.
---
Children who will be five years old on or before Sept 30, 2009, may be registered for kindergarten. Children who will be five years old between Oct. 1, 2009 and Jan. 1, 2010, may be considered for early entrance. Parents interested in early entrance may contact Lange School at 299-8730 to request an application and testing information. Children referred for early entrance should participate in Kindergarten Screening.
It is important to note that state law makes Kindergarten a mandatory prerequisite for first grade. All first graders must have successfully completed Kindergarten.
Furthermore, state law requires that all entering Kindergarten students be screened for hearing, vision, speech and communication, health or medical problems and for developmental disorders.