Team Dayton U-16 won the Nike Challenge Cup Tournament's Select Division in Columbus, Oh, April 25-26. Coached by Dan Griest and Assistant coach Dave Dickerson, the team won three preliminary matches (Findlay SC (Ohio), Glen Shields Sun Devils (Canada), and Steel Town Magic 93 (Pennsylvania)), and clinched the championship match (Fusion 93 (Michigan)) with a penalty kick shoot-out after two overtime periods.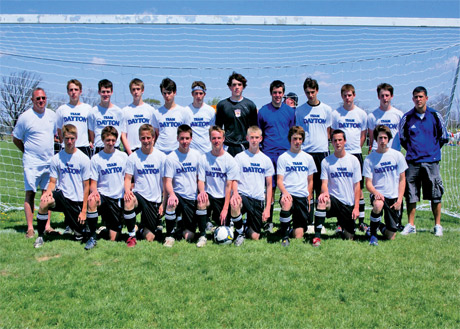 Pictured left to right, first row: Zach Harmony (Oakwood), Andrew Dickerson (Oakwood), Fabian Welle (Oakwood), Mitch Getts (Carroll), Alex Dana (Centerville), Ben Georgin (Oakwood), Justin Powell (Centerville), Jordan Laurin (Carroll), Tyler Corbitt (Beavercreek); Second row: Dave Dickerson (Coach), Chad Warhola (Xenia), David Shepard (Oakwood), Marcel Georgian (Oakwood), Matt Sutherland (Miami Valley), Alex Feld (Bellbrook), Ian McDonald (Dayton Christian), Trey Oldham (Miamisburg), Aaron Reichel (Miamisburg), Andy May (Carroll), Andrew Beers (Bellbrook), Dan Griest (Head Coach).
---
OHS baseball running 13 - 5

By Larry Lamb

Oakwood's varsity baseball team entered the week riding a ten-game winning streak, and closed the week trying to figure out a way to get things turned back around.
The week began with a rivalry match-up at Bellbrook on Monday, as the Jacks fell behind early in an 8-2 loss to the Golden Eagles. Bellbrook scored runs in the first and third innings off Oakwood starter Ben Roess. The Jacks cut the gap to one as Kyle Kissock led off the top of the fourth with Oakwood's first hit of the game, took second on an error, and came around to score on another error. Bellbrook made it 3-1 with a run in the bottom of the inning, but the Jacks again cut the lead to one in the fifth as pinch-hitter Cory Bohache coaxed a two-out walk, stole second, and scored on Connor Charbat's RBI single. That was as close as Oakwood would come, however, as Bellbrook erupted for five runs in the bottom of the fifth to put the game away. Jeff Beall came on and pitched a perfect sixth for the Jacks, but there would be no more comebacks on this day, as Oakwood finished the game with only three hits, all singles.
On Tuesday, Oakwood hosted league-leading Franklin, who entered the game undefeated in SWBL play. The Wildcats brought their bats with them, scoring 10 runs off Charbat, and then continuing the assault against the Oakwood bullpen, as they jumped out to a 12-3 lead and hung on for a 16-10 win. The Jacks led briefly, as Kyle Kissock hit a two-out, two-run homer to right field with John Whalen aboard to put them on top 3-2 after two. Franklin answered right back, sending 16 men to the plate in a 10-run third to open up a nine-run lead, but the Jacks refused to lie down, as has been their mentality all season. A single by Justin Reeder, followed by a walk to Whalen, a single by Kissock, a double by Charbat, and a triple by Scott Harman produced four in the bottom of the fourth. Reeder smacked his second hit of the game in the fifth, followed by a walk to Kissock and a double by Colin Morris to cut Franklin's lead to 13-9, but that was close as Oakwood would get. Kissock paced the Lumberjack attack with two hits, two RBIs and four runs scored, followed by Harman and Reeder with two hits apiece.
Oakwood traveled to Franklin on Wednesday for a rematch with the Wildcats. This one was a much prettier game, but the outcome was the same as the Jacks went down to their third straight defeat, 6-4. Franklin took advantage of some defensive mistakes to score three in the first off starter Tyler Philo, but a diving catch by Colin Morris in left field prevented any further damage. Oakwood bounced back with a run in the second as Tony Lamb scored on Philo's RBI groundout, but the Wildcats answered with two in the third to open up a 5-1 lead. Lamb, Greg Ambrose, and Reeder opened the fourth with three straight singles, and Kissock added another, as the Jacks cut the deficit to 5-4, but once again, the comeback fell short as they were shut out the rest of the way. Reeder led the offense with his second two-hit game in as many days.
Oakwood stopped the losing streak with an exclamation point in the first game of a Saturday doubleheader at Carroll, as sophomore Troy Philo hurled a two-hitter and the Jacks provided plenty of run support en route to a 14-1 spanking of the Patriots. Harman lit the fuse with a three-run homer in the first, followed by a triple by Lamb and a single by Bohache, giving Oakwood an early four-run lead. The big blow in Oakwood's eight-run sixth was a towering two-run shot by Ian Munn, his second of the season, as the Jacks coasted to a run-rule win. Harman added a double to his third homer of the season, while Jack McIntyre hit a single and double and put on a defensive clinic at first base. Second sacker Kissock added a pair of singles and turned two double plays to help the cause. Troy Philo took advantage of the flashy defense behind him to record his first varsity win.
Carroll bounced back to take the nightcap 6-2. Oakwood's hard-luck starter Roess was the victim of some defensive lapses and meager run support. The Jacks' only scoring came on a two-run bomb by Lamb, his second of the year. Colin Morris had a pinch-hit single in the seventh, as the Jacks loaded the bases but were unable to do any damage. Lamb had two hits for Oakwood, Munn hit a double, and Andrew Morris's single rounded out the five-hit attack.
Oakwood takes a 13-5 record into this week's action, as they play four league games, hosting Bellbrook on Monday, Brookville on Wednesday, and Valley View on Friday, and traveling to Milton-Union on Thursday.
---
The Oakwood track team ran Saturday at the 2009 Kenneth Beard Milton-Union Invitational at Lowry Field in West Milton. The running events for the Jills started with a fourth place finish in the 4x800m relay team of Ericha Griep, Sara French, Maddie Maney and Molly Jackson.
The 4x200 relay team of Anna McGovern, M.E. Labrie, Hayley Basnett and Karin Mueller also finished fourth. Labrie was third in the 400m dash and Mueller was seventh in the 200m dash.
Lucy Schafer was third in both the 1600m and 800m runs. Maney was sixth in the 1600m run.
Hannah French was fourth in the 800m Run. The 4x100m relay team lead by Rachel Griep followed by Basnett, Emi Banke, and Laura German was sixth. German and R. Griep were sixth and seventh respectively in the long jump.
Julia Sizek and Elizabeth Connelly were second and fourth respectively in the 3200m Run. Caroline Hartel pole vaulted for the Jills to 7th place. The girls finished in fourth place out of thirteen teams.
For the Jacks the 4x800 relay team of Chris Wolcott, Troy Gould, Keith Mueller, and Tory Tomlinson was fifth. Wolcott was seventh in the 3200m Run. Peter Hix and Gould were first and eighth in the 1600m Run. The 4x200m relay of Damian Rudy, Zach Rodabaugh, Trey Godbolt and Nathan Thomas were seventh. Godbolt, Rudy, Thomas and Dan Roll were sixth in the 4x100m relay. Roll was sixth in the 400m dash. Zach Harmony was eighth in the 400m Hurdles.
OJHS Jills volleyball camp

The Oakwood Jills volleyball camp for girls entering grades 6-8 will be held June 9th through June 11th from 6: 00 pm – 9:00 pm at the Smith School gymnasium.

Registration forms are being sent home through Smith and Harman Schools for girls entering grades 6-7. Girls entering 8th grade can pick up registration forms in the H.S. Athletic office. Registration deadline: June 1st.

Register before May 10th and receive a $15 discount plus a free t-shirt. Call Kelly Neff (293-4225) with any questions.

Oakwood Jills basketball summer camp

Camp is open to any Oakwood resident entering grades 4-8 in the fall
of 2009. Camp will be June 15-18, and cost will be $60.
Session 1: Grades 7-8
Time : 9-11
Location: The Pit (High School Gym)
Session 2: Grades 4-6
Time: 11: 30-1:30
Location: Smith School

Registration forms can be picked up in the high school athletic office or in the main offices at Smith and Harman Elementary. They can also be accessed online at the Oakwood District website.

Wooster Girls Soccer Camp, a residential girls only soccer camp, held at The College of Wooster, Wooster, OH is accepting registrations for its June 14-17 and July 5-8 sessions.
Group discounts are available. Register before May 1 and receive price break. All information is at www.woostersoccercamp.com.

Any girl CURRENTLY in grades first through fifth that would like to attend the
Oakwood Girls Soccer Camp, please be sure to register with Coach Gaydosh by
July 8. The camp will be held July 13-17 from 10 a.m.-12 noon down at Old River
Fields.
Flyers were passed out to all elementary students~ if you have any questions or need a new form, please email Coach Dawn Gaydosh at dawngaydosh@aol.com or feel free to call at 439-0753. This camp promises to be a lot of fun! We hope to see you all this summer!



Session 1
June 15th-18th
9:00-11:00am
at Smith School for incoming 4th, 5th, & 6th graders
Session 2
June 15th-18th
11:30am-1:30pm
at the Pit for incoming 7th & 8th graders


June 22nd-25th
9:00am-11:00am
High School Practice Field for incoming 4th-8th graders
Any questions: contact Paul Stone at 307-5818 or pws4141@gmail.com