The Dayton Council on World Affairs Insights series welcomes Dr. William Shaw on Thursday, May 14, 11:30 a.m. at St. Paul's Episcopal Church, Parish Hall, 33 W. Dixon Ave., Oakwood.
The lecture, entitled "God Grew Tired of Us: The Lost Boys of Sudan," touches on 27,000 boys who fled for refugee camps in Ethiopia and Kenya after civil war erupted in Southern Sudan in the mid-1980's. In 2001, the U.S. government invited 4,000 exiles to immigrate to America, a journey captured in the National Geographic film "God Grew Tired of Us." A portion of the film will also be shown.
Join Dr. Shaw as he discusses the resettlement of the "Lost Boys of Sudan" in the United States and the work of Dr. Jill Seaman, a courageous and dedicated American doctor working alone in a clinic in Old Fanjak, Sudan.
The public is invited. RSVP by May 10, 2009 to DCOWA at 937-620-2352 or
amlilly@sbcglobal.net
---
An Open House will be held on Saturday, May 16, from 11 a.m. – 2 p.m. at the South Park Wellness Center, on the 3rd floor of South Park United Methodist Church, 140 Stonemill Rd. The goal of the Wellness Center Open House is to let the community know that healthy choices are available to them.
The Wellness Center is directed by Oakwood High School graduates Anthony Conard (1978) and Beth Pelkey (1973), and Pilates Instructor Mary Wahrer . Here people can attend Kripalu Yoga classes, schedule Therapeutic Medical Massage, receive private instruction on Pilates equipment, receive Thai Yoga Massage, and Yoga Instructor and Thai Massage Practitioner Certification.
Saturday, May 16
4 -6 pm
The Long-Romspert Homestead
1947 Far Hills Avenue
Open to the public with advance ticket purchase
$20 per person
Please contact Kjirsten Goeller at 298-1268 or kjirsten.goeller@sinclair.edu
St. Paul's Episcopal Church will host ROCK THE MISSION, a benefit concert and coffeehouse on Saturday, May 16, from 7 p.m. to midnight. Community members of all ages are welcome to wind up That Day in May by joining St. Paul's for a great evening. Local bands Counterclockwise, Thirty Second Day, and Amnesia and individual artists Scott Harman, Ben Roess, Noah Berry, and Dan Edwards are among those scheduled to perform, along with spoken word artists.
The event will feature two stages—outside on the green space and in the Paulpit (accessible from the east driveway). Coffee and a variety of sweet treats will be available for sale.
Admission to ROCK THE MISSION is free, but donations are gratefully accepted. All proceeds from ROCK THE MISSION will go to support St. Paul's Youth Mission Trip to serve the people of Tennessee's Cumberland Mountains through Mountain T.O.P. (Tennessee Outreach Project).
The mission trip, a vital outreach activity of St. Paul's teens, their friends, and adult mentors, is entirely self-funded, so your attendance and generous support of ROCK THE MISSION will help us help others. St. Paul's Episcopal Church is located at 33 W. Dixon in Oakwood. Call the church as 293-1154 for more information.
---
Alumni join in Cherry Pie Concert May 19

Oakwood Cherry Pie Orchestra members are asking OHS orchestra alumni to join them at this year's concert on Tuesday, May 19 at 7 p.m. This annual concert features the Harman and Smith elementary schools beginning and advanced strings, and the junior and senior high school orchestras.
This will be the 16th time almost 200 string musicians will play Beethoven's "Ode to Joy" at the concert's conclusion. Orchestra alumni know from experience that this is a dramatic, traditional moment the community cherishes.
Alumni may contact orchestra teacher Nan Watson at Watson.nan@oakwood.k12.oh.us and she will put you in touch with a student "mentor" to insure you are concert ready!
The Oakwood High School Band received the highest possible rating of "Superior" at the Ohio Music Education Association state contest on Friday, May 1. The band was evaluated by a three-judge panel on stage performance and a single judge in sight-reading. The compilation the four scores resulted in the band achieving an overall superior rating.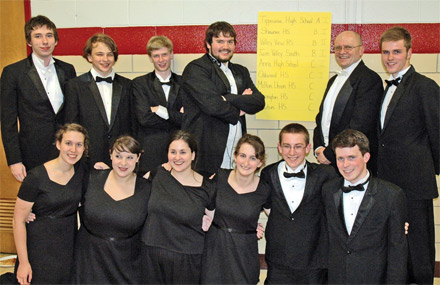 OHS Band Director Ron Nelson and the seniors in the OHS band celebrate their superior rating. Front row, l-r: Daye Smith; Maggie Light-Scotece; Hannah Enloe; Meredith Hollingsworth; Tim Grannen; Michael Chapman; Back row, l-r: Sam Ippisch; Grayson Hart; Chris Hawkins; Zach Alex; Band Director, Ron Nelson; Marc Skill. Photo courtesy Paul Schweizer
The community is invited to hear the band performing their state contest pieces on Wednesday, May 20 at 7 p.m. in the OHS Auditorium. The concert bands from the junior and senior high will perform. The audience is invited to attend a reception in the high school cafeteria after the concert.
The spring concert will also feature the Oakwood Band Awards. Director Ron Nelson will award the Frederick R. Walker Award and the national John Philip Sousa Award, which is voted on by the members of the band. The Oakwood Band Parents Association will also award one or two $1000 scholarships for graduating seniors.