Clark's Rx Pharmacy, the health pharmacy, announced today it is merging its Kettering location with the Oakwood Medicine Shoppe. Planning to retire after four decades of service, Medicine Shoppe managing pharmacist Roger Wurtzbacher turned to Clark's as the obvious option for serving his loyal customer base.
"Clark's is a community, family-run pharmacy with seven decades of service that my customers can trust," Wurtzbacher said. "I know that Tim's staff of pharmacists will take care of their health needs."
In addition, the full team of employees from the Medicine Shoppe will now work for Clark's Rx to meet the growing demand the merger will create. The store will continue to be managed by long-time leader Bill Blatchford, Roger will continue on as a consultant for the growing business and Wurtzbacher's son and pharmacist
Doug Wurtzbacher will manage Clark's Rx's compounding services for its south location, a growing segment of pharmacy care.
"Due to the increased demand of compounding services for things like hormone replacement therapy and other specialty prescriptions, having Doug's expertise will be a true asset to customers and will give them every option for taking care of all their prescription needs," said Tim Clark, president, Clark's Rx.
"We are thrilled to expand and to welcome the Medicine Shoppe family of employees and customers to Clark's Rx," added Clark. "Customers will have access to all we've offered the community for 70 years, in addition to new options like our home medical products division, which provides beds, wheelchairs, home infusion, and respiratory services. And, with the Kettering Rite Aid closing its doors May 29, we feel we offer the best mix of experience, service and local, community-based care."
Clark's operates nine greater Dayton retail locations, including stores in Belmont, Brookville, Centerville, Franklin, Kettering-Oakwood, New Lebanon, Troy, Tipp City and West Carrollton, all of which offer both pharmacy and home medical equipment.
For information about any store, contact Clark's at 937-433-7979.
---
Greg Lockhart, U.S. Attorney for the Southern District of Ohio, received a visit from U.S. Attorney General Eric Holder at his downtown Dayton office recently. It was Holder's first trip outside Washington, D.C. since his election. Lockhart was chosen to be one of 34 statewide attorneys who will be part of two bipartisan judicial advisory commissions which will recommend candidates for judgeships in the Northern and Southern Districts of Ohio.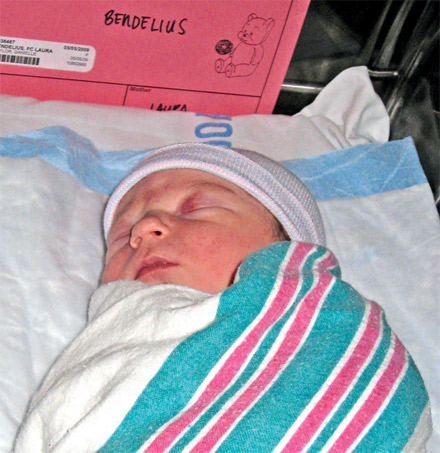 We are thrilled to announce the birth of Audrey Cantelon Bendelius! She arrived this Tuesday, May 5 at 8:17 p.m. She weighed 8 lbs, 2 oz and was 19.7 inches long. Mother and daughter are doing well!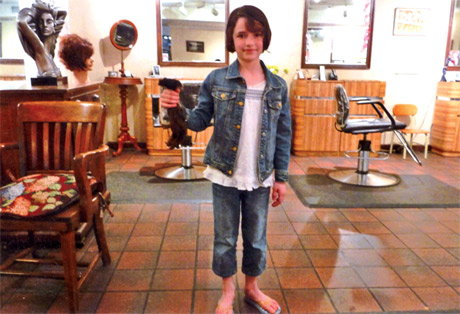 Megan Weeda, age 8, a second grader at Harman Elementary School, recently had eleven and-a-half inches of her hair cut off and donated to Locks of Love, an organization that makes wigs for children who have lost hair due to cancer chemotherapy. Megan is the granddaughter of Suzanne and Bill Draper.
---
By Steven A. Ingram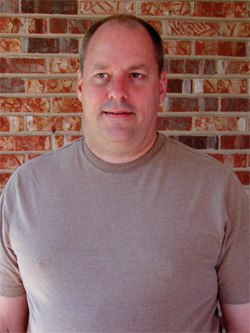 John Zambenini is a sales representative with Bauer Roofing & Siding. On Tuesday, May 12, 2009 he was making one of his last half-dozen routine house calls. He usually parks in the customer's driveway, but since the landscaping persons were parked there, he parked on the street. Located at the split of Ridgeway and Sunnycrest roads in Oakwood. Amid the usual hum of the neighborhood - leaf blowers and birds chirping – he hears a faint cry for help.
John walks toward the cry. Fifty yards later he discovers Mrs. Zwiesler lying against the wall, broken hip and left arm tucked under her side. "How long you been laying here?" he asked. She replied, "Ten minutes." Mrs. Zwiesler, over 80-years-old, was on her way out to her exercise class. She apparently turned one last time to lock the door and her hip fractured. She fell and stayed in that position for another ten minutes as the emergency medical team arrived.
John was amazed that he could hear the faint cry of Mrs. Zwiesler amid the many competing noises in the area. "She could have stayed there a long time without being noticed," he said. The emergency medical team confirmed a broken hip, broken wrist and broken shoulder. Mrs. Zwiesler is currently in the hospital recovering from her injuries. Mrs. Zwiesler's husband was playing golf at the time and was located and was able to accompany his wife to the hospital.
John has not felt as useful during the last five years of his life. John has colon cancer. The cancer had been in remission and it returned. John has been housebound from June to December 2008. John returned to work last February (2009). "I figured out how to get my ladder off the truck and I still walk the roofs," said John.
John apologized for moving slow—his own commentary of the way he has slowed his pace due to the cancer. His white running shoes are ready to take him quickly anywhere. The cancer has spread to his lungs and surgery removed some ribs and part of each lung. He has a deliberate pace that still demonstrates his strength and ability to get things done.
John Zambenini—a man like many—full of potential distractions, finds a woman in distress and may have saved her life. His awareness of the unordinary allowed him to be in the right place at the right time. He stated that he wasn't even sure it was a cry for help but he had to check it out before he could focus on anything else. He is a helpful hero who could hear the quiet cry of his neighbor.
---
Scouts...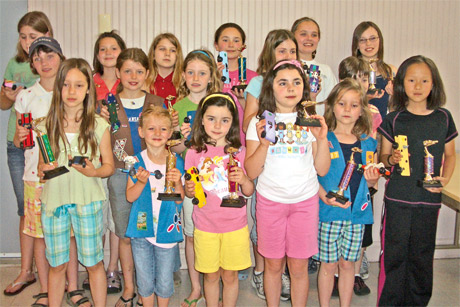 The winners of the Tri-Oak Go Girls 500 held at OUMC on April 25, 2009. All 41 racers had a great time!
Community members wishing to dispose of old U.S. flags can drop them off on the porch at 108 Lonsdale Avenue. Oakwood's Boy Scouts of America Troop 101 will proper ly retire the flags. The boy scouts can be contacted at oakwoodtroop101@sbcglobal.net
Third grade Brownie Troop 30283, from E.D. Smith earned a trip to COSI, in Columbus, OH. The girls reached their cookie selling goal! The girls got to spend the night Friday night and explore exhibits until leaving on Saturday.
Girls from left to right: Sofi Dupuy, Sarah John, Caroline Daniels, Madelynn Einhorn, Lily Michael, Izzy Armitage, Hannah Grupe, Kenzie Wolcott, Hannah Cairney, Lydia Johnson, Ali Ryan, Olivia Thomas, Ana Brooks, Megan Perry, Zoe Lutz.