Jills track places 2nd at District meet
7 individuals, 5 relay teams qualify for Regional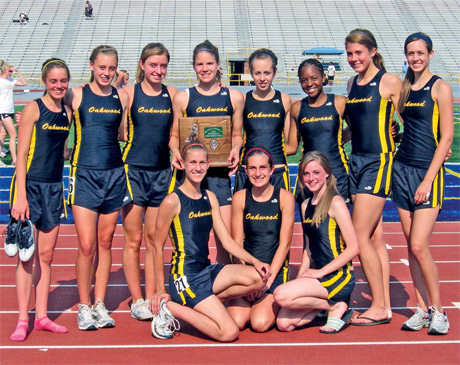 Track team shows off their second place plaque won at District.
By H.W. Sizek

Athletes on the Oakwood High School Track Team opened their run for state on Thursday and Saturday at Welcome Stadium in Dayton. The Jills qualified three relay teams and seven individuals for the Regional meet this week. The Jacks had two relay teams and one individual qualify to move on to the next level of competition.
Kelsey McDonald, Molly Reese, Maddie Maney and Julia Sizek opened the team scoring for the girls with a second place finish in the 4x800m Relay. McDonald was first and M.E. Labrie fourth in the 400m Dash. Sizek was first and Elizabeth Connelly third in the 3200m Run. Ericha Griep was second and Maney third in the 1600m Run. Lucy Shafer was second in the 800m Run. The 4x200m relay team of Bria Meade,
Karin Mueller, Hayley Basnett and M.E. Labrie finish third. The 4x400m Relay team of Labrie, Schafer, Mueller and McDonald closed out the competition with a second place finish. All of the teams and individuals above will be competing in the Regional competition next week.
Fifth place finishers for the Jills were: the 4x100 relay team of Bria Meade, Maddie Lehrner, Emi Banke and Laura German; Anna McGovern in the 300m Hurdles; Hannah French in the 800m Run. Joy Belser's shot put toss placed her sixth. German was sixth and Caroline Hartel seventh in the pole vault. Mueller and Rachel Griep were sixth and seventh respectively in the 200m Dash. The Jills finished second in the team scoring behind perennial powerhouse Archbishop Alter of Kettering.
The top qualifier for the Jacks was Peter Hix who won the 1600m Run. Hix anchored the second place finishing 4x800m relay with team members Chris Wolcott, Keith Mueller and Alec Sneed. The 4x400m relay team of Dan Roll, Hix, Troy Gould and Chris Mullins qualified for the regional meet by finishing fourth. Chris John vaulted to a fifth place finish and Luke Green was seventh in the pole vault. Gould was sixth in the 800m Run. Mueller was seventh in the 400m Dash. The 4x200m relay team of Kevin Sharkey, Damian Rudy, Trey Godbolt and Mullins were seventh. Taylor Rhodes was eighth in the 110m Hurdles and Michael Baumgartner was eighth in the discus. The Jacks finished eighth in the team scoring.
---
Senior shortstop Ellie Rodebeck was voted to the honorable mention All State Team earlier this month by the Division III Southwest Coaches Association. Ellie batted .574 her senior season and led the team in doubles (7), triples (7), runs (18), and had a slugging percentage of .944. Ellie also was named 1st team all SWBL, was a four year varsity starter, and was a scholar athlete from the Southwest Coaches Association. Ellie plans to attend Tulane University in the fall.
Other all league winners for the Oakwood Varsity Softball Team included Liz Stoecklein 2nd team. Aston Ehler, and Alexandra Kern were named to the Honorable Mention team.
---
The OCC Oakwood Dolphins Swim Team registration deadline is this Sunday, June 5 at 5 p.m. Avoid the $15 late fee and stop in today! Swim team registration fee is $50 (other fees will be paid directly to the Dolphins Swim Team organization).
You must be an Oakwood resident and a current member of the Gardner Memorial pool to join the Swim Team. An informational parent organization meeting will be held at the OCC tonight, Tuesday, June 2 at 7 p.m. in the lower level teen center. This meeting is FOR PARENTS ONLY and will answer all of the questions you may have regarding the swim team.
If you have any questions, please call the OCC at 298-0775.
There will be a softball camp June 22, 23 & 24 from 1-3 p.m. for players entering 5-8th grades, and from 2:30-4 p.m. for incoming freshman and varsity-lettered players.
For more information contact Matt Money at mmoney@woh.rr.com or call the high school athletic office.
The Oakwood High School Baseball team will be holding a camp on June 10, 11 and 12 for entering 4th - 9th graders.
The camp will be 8 a.m. - 10:00 am for grades 4-6 and 10:00am - 12:00 pm for grades 7 -9. Camp forms can be picked up in the Oakwood High School athletic office or please contact Nathan Hyatt at 974-4978.
OJHS Jills volleyball camp

The Oakwood Jills volleyball camp for girls entering grades 6-8 will be held June 9th through June 11th from 6: 00 pm – 9:00 pm at the Smith School gymnasium.

Registration forms are being sent home through Smith and Harman Schools for girls entering grades 6-7. Girls entering 8th grade can pick up registration forms in the H.S. Athletic office. Registration deadline: June 1st.

Call Kelly Neff (293-4225) with any questions.
Any girl CURRENTLY in grades first through fifth that would like to attend the
Oakwood Girls Soccer Camp, please be sure to register with Coach Gaydosh by
July 8. The camp will be held July 13-17 from 10 a.m.-12 noon down at Old River
Fields.
Flyers were passed out to all elementary students~ if you have any questions or need a new form, please email Coach Dawn Gaydosh at dawngaydosh@aol.com or feel free to call at 439-0753. This camp promises to be a lot of fun! We hope to see you all this summer!
Oakwood Jills basketball summer camp

Camp is open to any Oakwood resident entering grades 4-8 in the fall
of 2009. Camp will be June 15-18, and cost will be $60.
Session 1: Grades 7-8
Time : 9-11
Location: The Pit (High School Gym)
Session 2: Grades 4-6
Time: 11: 30-1:30
Location: Smith School

Registration forms can be picked up in the high school athletic office or in the main offices at Smith and Harman Elementary. They can also be accessed online at the Oakwood District website.


Session 1
June 15th-18th
9:00-11:00am
at Smith School for incoming 4th, 5th, & 6th graders
Session 2
June 15th-18th
11:30am-1:30pm
at the Pit for incoming 7th & 8th graders


June 22nd-25th
9:00am-11:00am
High School Practice Field for incoming 4th-8th graders
Any questions: contact Paul Stone at 307-5818 or pws4141@gmail.com