The Metro girls U13 soccer team are division champions in the Miami Valley Youth Soccer Association. The girls took first place, losing only one game this season.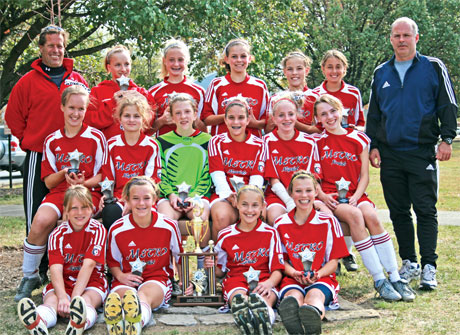 Players and coaches pictured: Pat May, Emily Pacenta, Eve VanderKaay, Harper Luczka, Mackenzie Gibson, Tim Rouse, Kaitlyn Williams, Anna Shewell, Abby Rubins, Casey Elliott, Morgan Ankney, Annie Stuckey, Katherine Kosik, Hannah Rouse, Emily Fuson, and Bailey Kunst. Not pictured Lauren Neroni. Photo taken at the Forest Park Star Invitational.
---
The Oakwood United U11 girls soccer team came in as runners-up in the Creek Classic Blue Division soccer tournament on May 31. The team finished second against Pataskala United in the championship game. During the regular season, the team finished 5-3 in the MVYSA Premier in a tie for third place.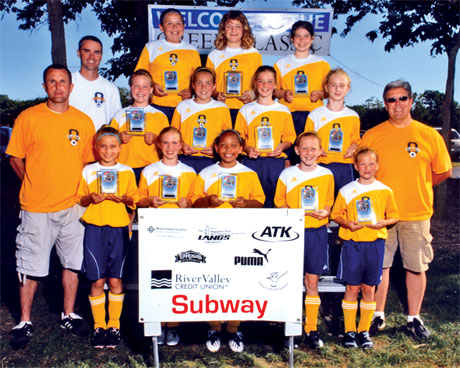 Pictured left to right, top row: Chris Eifert, Claire Wooten, Colleen Dowd and Tessa Shade; middle row: John Mersfelder, Sally McMillan, Hutton King, Inge Mueller, Ally Ross and Paul Shade; bottom row: Abby Eifert, Mary Kate Vaughn, Madison McGuire, Phobe gilbert and Liza Lutz. Not pictured: Abby Seubert and Eric Seubert.
Any girl CURRENTLY in grades first through fifth that would like to attend the
Oakwood Girls Soccer Camp, please be sure to register with Coach Gaydosh by
July 8. The camp will be held July 13-17 from 10 a.m.-12 noon down at Old River
Fields.
Flyers were passed out to all elementary students~ if you have any questions or need a new form, please email Coach Dawn Gaydosh at dawngaydosh@aol.com or feel free to call at 439-0753. This camp promises to be a lot of fun! We hope to see you all this summer!