On Sunday, July 12, Dayton History, DP&L, Time Warner Cable, AT&T, Cincinnati Bell, Dayton, Kettering and Moraine Police Departments, Wagner Smith and Edwards Rigging and Moving collaborated to move four buildings from the Kettering-Moraine Museum to Carillon Historical Park.
The following is a brief history and future plans for the buildings
being moved: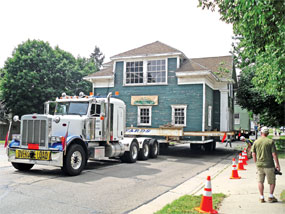 Photos by Dolores Wagner
History of Deeds Barn - From inventions, to nicknames, to the creation of DELCO 100 years ago, Deeds Barn swells with historical significance. Within its walls Charles Kettering, Colonel Edward Deeds and other members of the Barn Gang created the automobile self-starter engine and the ignition system.
Future of Deeds Barn - Deeds Barn will be moved into an expansion of the Kettering Family Education Center where it will then be filled with multi-media displays. This expansion will be built around the Deeds Barn making it permanently changed from an exterior building to an interior artifact. Once opened, the public will be able to view the upstairs workshop for the first time.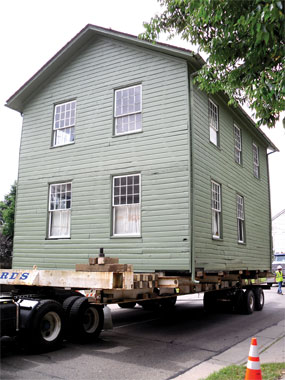 History of Miller House - Built in 1806, the Miller House is the last remaining structure from the Watervliet Shaker community. The Miller House is a two-story frame building that will contain a collection of Shaker artifacts.
Future of Miller House -The Miller House will be moved to the early settlement zone of the park and will allow Dayton History to interpret this fascinating utopian society.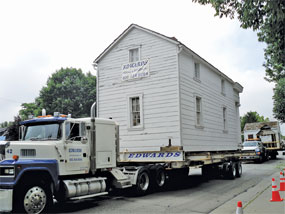 Back
History of Newcom-Greer House - "The Newcom-Greer house is one of the finest Greek revival homes in the Miami Valley" stated Brady Kress, President & CEO of Dayton History. It is an early residence from East Dayton.
Future of Newcom-Greer House -The Newcom Greer House will be moved next to the William Morris House. Here it will serve the purpose of comparing and contrasting an urban dwelling and a rural dwelling of the 19th century. "It gives us an opportunity to talk about early domestic life in urban Dayton," stated Kress.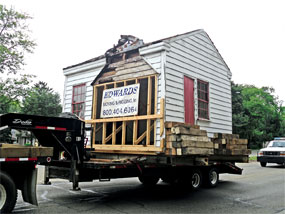 History of the Hetzel House -The Hetzel House is a 19th century building. Its original location was on Stroop Road where it was used as a summer kitchen.
Future of the Hetzel House -The Hetzel House will become an out building for the Morris House where baking and weaving will take place. This position will enhance the domestic programming of the park including Carillon's popular Tavern Dinner series.
Dayton History is Montgomery County's official historical organization. Consisting of Carillon Historical Park, the Archive Center, Hawthorn Hill, NCR Old River Park, the Paul Laurence Dunbar House and Patterson Homestead, Dayton History brings the past to life to understand the present and inspire the future by collecting, preserving, interpreting, presenting and promoting the region's past.
This long-anticipated move included the original Deeds Barn, Miller House, Hetzel House and Newcom Greer house. Coordination of this event began
over six weeks ago. This relocation required two weeks of excavation around the buildings' sites, but despite preparation the move alone took over two
and a half hours.
Dayton History initiated the move because it is the most efficient way to maintain the long-term preservation and public interpretation & accessibility
of the buildings.
Mark Friday, July 31 on your calendar for a special evening of music on "The Farm," 1911 Ridgeway Rd. On that evening John and MJ Gray are inviting the community to a free community concert by the Oakwood High School Marching Band in the beautiful setting of the Gray's outdoor amphitheatre. Under the direction of Ron Nelson, the band will play selections from their upcoming season. Following the concert refreshments and dessert will be provided by the Oakwood Band Parents Association.
Look for the flyer in next week's Oakwood Register with complete information about this gift to the community from the John Grays.
---
The Oakwood High School Class of 1973 & 1974 Joint reunion will be held Saturday, Aug. 1, 2009 at the Patterson Homestead (Brown St. & Irving Ave. by UD) in Dayton. It will be a casual BBQ type of event starting at 6 p.m. in the evening, rain or shine. The Patterson Homestead has lots of great outdoor and indoor space. The cost will be $35 per person - the facility and all food and beverages (soft drinks, beer, and wine) included.
To make your reservation, please send your name, email address, phone, and your check (made out to OHS Class of 1974). Mail to: Dave Frech (class of 1973) and Sue Gaeke Frech (class of 1974) at 4448 Moraine Ridge Lane, Kettering, Ohio 45429.
Please forward this reunion information to classmates you have addresses for in your email address list, or call up those with whom you still keep in touch and spread the word.
Hope to hear from you, and see you there!
Dave & Sue Frech
(937) 475-3595
davidfrech@hotmail.com (1973)
sue.frech@hotmail.com (1974)
---
Are you looking for a fun, FREE activity for your child this summer?
Mighty Fortress Lutheran Church, 2841 E. Dorothy Lane, invites all children in the community ages 3 through 12, to attend "Crocodile Dock" Vacation Bible School. The adventure begins Sunday, 7/19 through Thursday, 7/23 from 6-8pm. Please call Donna Morgan at 435-4395 to register or for more information.
Parkview Church of the Nazarene, 4701 Far Hills Ave. in Kettering, also welcomes all children between the ages of 3 years and 6th grade to participate in its "Crocodile Dock" Vacation Bible School. Scheduled for Aug. 4-7 from 6:30-8:30 p.m. and Aug. 9 at 10:30 a.m., the event will be full of games, crafts, songs, stories and snacks. Also planned during the week is a water fun day on Aug. 8 from 1-3 p.m. For more information or to register, please call 435-1428.
As a compliment to the teen summer reading club theme, Express Yourself @ Your Library!, Wright Library is offering opportunities for teens to plug into their creative sides every Friday from June 12 through July 31. Programs will start at 2 p.m. and end at 4 p.m. unless otherwise noted. Check out these awesome activities!
July 17 Cooking brunch outdoors (starts at 10 a.m.)

July 24 Tie-dye (bring your own white cotton shirt)

July 31 Scrapbooking (bring your own photos)
For more information, please contact the Youth Services Department at 294-7171. Wright Memorial Public Library is located at 1776 Far Hills Avenue in Oakwood.
Thursday, July 16, 2:00 p.m.
Make clothing using garbage bags, aluminum foil, plastic wrap, or credit cards! Show us what can be made with everyday materials and then walk down the runway wearing your creations.
Thursday, July 23, 2:00 p.m.
Display your paintings or photographs. Do you have work in charcoal, paint, pencil, or chalk? Do you take pictures in black and white or digital? Come show us your best work!
Friday, July 24, 10:00 a.m.
Wright Library invites you to enjoy storytime with Mrs. Rose in beautiful Smith Gardens in Oakwood. Smith Gardens is located at the corner of Oakwood Avenue and Walnut Lane, behind Harman Elementary.
Saturday, July 25, 3:00 p.m.
Listen to stories, play games, make a craft, and enjoy a French treat in honor of Madeline's 70th birthday. For ages 3-5. No registration required.
Thursday, July 30, 2:00 p.m.
Here's your chance to show off your talents! Can you sing or dance or recite a poem or act out a scene with some friends? Can you play an instrument or juggle? Perform alone or with a group.
For more information, please contact the Youth Services Department at 294-7171. The web site is www.WrightLibrary.org.
July 20 – July 24 12:30 – 3:30 P.M Kettering Water Park
Rain, wind, clouds, rainbows, and snow. Campers you will learn all about weather and fun games no matter what the conditions are. This week we will be going to Kettering Water Park to swim and slide.
This Side Up Sunday, July 19 7:00 P.M. Smith Gardens
The diversity of a jukebox with the visual excitement of a live show – This Side Up gives you the best of both worlds. They cover songs by artists such as: Journey • Earth Wind & Fire • Pink • INXS • Gwen Stefani • The Bee Gees • Pat Benatar • Stevie Wonder • John Mellencamp • Sheryl Crow • Johnny Cash • Bon Jovi • The Pretenders • U2 • James Brown • and more. This Side Up is an exciting band; you will not want to miss this show!
OCC Soccer Camp July 27-July 31
Bill Sellers, former OHS Men's Varsity coach and current Oakwood United trainer, along with former OHS varsity players and current college players have designed an exciting soccer camp for boys and girls grades 2-6. This camp will challenge the recreational soccer player as well as the select player. Ball handling, dibbling, trapping, and first touch are just some of the skills planned. Sign up today! Each camper will receive a shirt.
OCC Basketball Camp
Dates: July 13-17
Grades 3-5: 9:30-10:30 a.m.
Grades 6-8: 10:30-11:30 a.m.
Location: Orchardly Park Basketball Courts.
Kiddie Kamp for ages 3-5; July 13-16 from 10-11:30 a.m. at Shafor Park.
Summer in Shafor for ages 6-9; July 13-17 from 12:30-3:30pm with a field trip to Poelking Lanes!
New Tennis sessions for all ages and levels begin Monday, July 13.
And don't forget...the pool memberships will be discounted 40 percent beginning July 15.
For information on these or any other program please call the OCC at 298-0775.
Oakwood Rotary volunteers will come to your home on Saturday, July 25, to collect some of the things we all have taking up space in our basements or garages that the weekly trash pickup are not permitted to collect: paint cans, stains, thinners, pesticides and batteries.
Call 296-5155 and leave your name, address, and the items will be collected between 9 a.m. and noon Saturday, July 25.
There is no charge for this volunteer service, but residents are encouraged to make a tax-deductible donation to the "Oakwood Rotary Club Foundation" and leave that with the items in a well marked envelope or mail to PO Box 512, Dayton OH 45409.