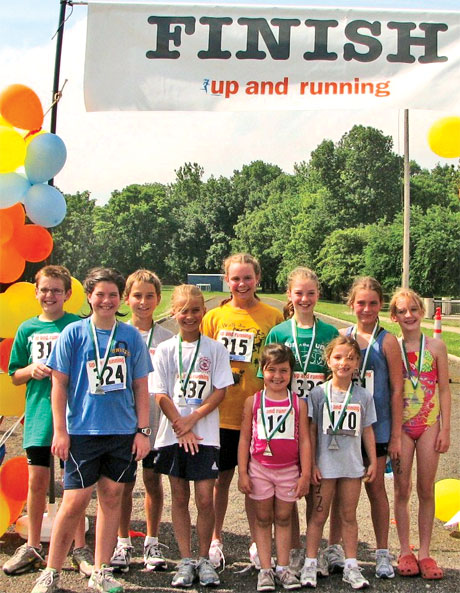 Several children from Oakwood participated on Sunday in the 6th annual Fun-in-the-Sun Kids Triathlon at the Kettering Rec Center. Pictured under the finish line after the event, the kids are from left to right: Adam, Tessa, Jack, Abby, Madeline, Amelia, Inge, Lilly, Evi, and Izzy.
---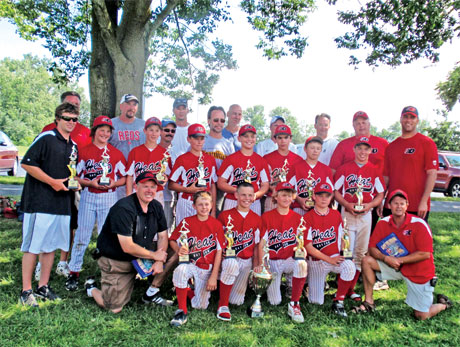 On Father's Day, The Dayton Heat baseball team won the 12U Elite Nations Baseball State Tournament in Upper Arlington, Ohio. They went undefeated the whole weekend. The players are being coached this year by Oakwood native, Rob Corrado. Rob played baseball at University of Kentucky and then went on to play for the Texas Rangers. When he decided to move back home last year, he was approached to be the head coach for the team. Joining him is another Oakwood native, Johnny Lefforge. Assistant coach Ben Duvall rounds out the coaching staff. Rob and Johnny played baseball together at OHS and were on the team that won the state championship in 1997. The Dayton Heat has had a great year so far. They have been runner up in two tournaments and in early June, went to Cooperstown Dreams Park in upstate NY and came in the top 20 out of 102 teams. The team is made up of players from all over the greater Dayton area. They have a few tournaments left. They will be playing in the CABA World Series Tournament at the end of July in Sylvania, Ohio. Players from Oakwood are Spencer Howell, Nick Baker and Chase Randolph.
---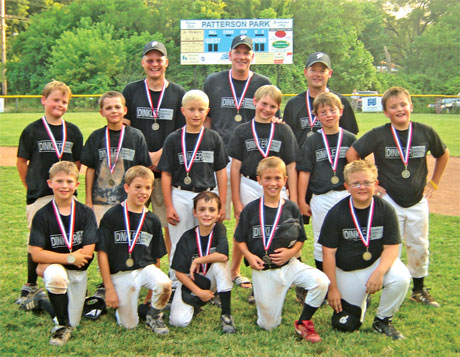 Congratulations to the Patterson Park Blackjacks, sponsored by Dinkler Surgical Devices, who recently completed an excellent season with a 21-1 record. This group of 9/10 year-old boys finished first in their league and won the Patterson Park Minor League Tournament. First Row: Nicholas Jefferis, Sam Baker, Jeffrey Lawson, Charlie Mullen, Kameron Ketterer; Second Row: Tommy Hutchins, Brian Erbe, Evan Doling, Connor Maschino, Connor Dinkler, Timmy Hutchins Absent: Miles Menafee Coaches: Michael Erbe, Kurt Maschino, Chuck Dinkler.
---
Last Tuesday night, two Patterson Park baseball teams, Precision Industrial Tool Supply (PITS), coached by Michael Thesing, and Lexis Nexis-Elsevier, coached by Tom Noonan clashed for the fifth time this season in the championship game. PITS was the number one seed in the tournament, while Lexis Nexis was the third seed.
In the semifinals, Lexis Nexis upset PITS, and earned a berth in the final. Then PITS had to win one more game to make the final, which they did. Since it was a double elimination tournament, PITS had to win twice to win the championship.
The previous Thursday, PITS came from behind to win 10-6, which forced a final game to determine who would be crowned the champion. PITS came from behind again, to win 11-8. Alex Dupler hit an out of the park grand slam to cap the victory for PITS. Congratulations to both teams for having outstanding seasons!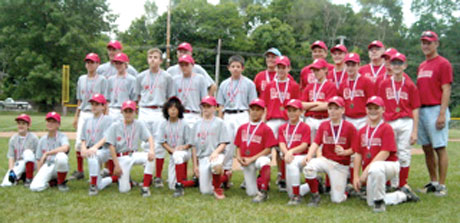 Lexis Nexis-Elsevier Team (gray and red): Front Row from L-R: Eric Baker, Sean Stull, Keith Walbridge, Justin Hull, Alex Gray, Jacob Marshall; Back Row from L-R; Tom Nuess, Mike Orme, Robert Noonan, Cole Shepherd, Brian Stephenson, Coach Bill Kugel and Mgr. Tom Noonan; Not pictured: Ryan Kugel and Coach Gary Stephenson
Precision Industrial Tool Supply (red): (Front Row from L-R) McKinley Screetch, Michael Gantt, Jake Dupler; (Second Row from L-R) Adam Jefferis, Danny Wittman, Eddie McGarry, Bobby Degenhart, Ian Hayes; (Back Row from L-R) Coach Michael Thesing, Coach Greg Gantt, Alex Dupler, coach Michael Hayes and Coach Norm Dupler. Not pictured: Mark Mumford and Miking Wright.
---
At their first spring regatta of the season, members of the Greater Dayton Rowing Association medaled in every event they entered. The regatta, Midwest Masters Sprints, was held at Griggs Reservoir in Columbus on June 20th. The team of sweep rowers and scullers competed in 1K races against athletes from Pittsburgh, Ann Arbor, Indianapolis and Detroit. GDRA placed fourth in the overall standings.
"We couldn't be more thrilled about these results," said Linda Clemens, Adult Rowing Director. "Everyone who attended medaled and we received a total of six gold medals out of 12 events we entered. Our medal winners range in age from 22 to 76. For us to place fourth in a field of teams much larger than ours says a lot about the talent within our rowing club."
The following is a list of GDRA rowers and event places:
Mixed 8 Sweep—Gold: Bill Turner (Kettering), Steve Zontag (Troy), Mark Salzler (Kettering), Max Sharp (Dayton), Beth Meece (Dayton), Alison Bour (Centerville), Lauren Boucher (Dayton), Karen McCarty (Riverside) and coxswain, Angie Mason (London).

Women's 4 Sweep—Gold: Lauren Boucher, Beth Meece, Alison Bour, Karen McCarty and coxswain, Mary Heminger (Findlay).

Mixed 4 Sweep (competitive)—Gold: Vicky Coberly (Dayton), Steve Zontag, Mark Salzler, Beth Knouse (Dayton) and coxswain, Mary Heminger.

Mixed 4 Sweep (rec)—Gold: Vicky Coberly, Max Sharp, Beth Meece, Ron Smith (Troy) and coxswain, Angie Mason.

Men's 4 Sweep—Silver: Bill Turner, Steve Zontag, Mark Salzler, Max Sharp and coxswain, Mary Heminger.

Women's Sculling Lightweight Double—Gold: Peggy Nicodemus (Dayton) and Paula Sideras (Kettering)

Women's Sculling Quad—Gold: Beth Knouse, Peggy Nicodemus, Denise Heuser (Centerville) and Paula Sideras (Kettering)

Men's Sculling Quad—Silver: Michael McCarthy (Riverside), Jim Wall (Dayton), Ed Walz (Centerville), and Bill Irvine (Oakwood).

Mixed Sculling Double—Silver: Ed Walz and Denise Heuser.

Men's Sculling Double—Bronze: Michael McCarthy and Bill Irvine.

Women's Lightweight Single Scull—Bronze: Paula Sideras.

Men's Single Scull—Bronze: Richard Pierce (Dayton)
The Greater Dayton Rowing Association is located across from Island MetroPark. Programs are available in both sweep rowing and sculling for students in junior high and high school, as well as adults. Some rowers compete while others enjoy the sport for recreation and physical fitness. For more information, visit daytonrowing.org.
Student/athlete start dates for the Oakwood High School's fall sports program will begin on the following dates and times:
• Golf - Wednesday, Aug. 5, 8 a.m., Community Golf Course

• Football - Thursday, Aug. 6, 7:30 a.m. Practice Field

• Boy's soccer - Monday, Aug. 10, 7 a.m.; 8/10 and 11-1 Old River

• Girl's soccer - Monday, Aug. 10, 7 a.m. Stadium

• Volleyball - Monday, Aug, 10, 2 p.m. East gym

• Girl's tennis - Monday, Aug. 10, 9 a.m. OCC Tennis Courts

• Field hockey – Monday, Aug. 10, 7 a.m. Stadium, 5:15-8:15 p.m. Irving Field

• Cross country – Monday, Aug. 10, 8 a.m., Stadium
For more information call the OHS Athletic Department at 297-5342.
There will be a mandatory meeting for all those interested in signing up for Pee Wee Cheerleading on Wednesday, July 15 at 7 p.m.. The meeting and registration will be held at the Oakwood High School Football Stadium. This program is a long standing tradition in Oakwood and a solid preparation for anyone interested in trying out for the Junior High and High School Cheerleading Teams.

Please help keep this tradition going by attending this meeting. For additional information please contact Annette White at 396-7898 or Debi MacDonald at
395-1996.
---
Patterson Park is now taking registrations for its 2009 autumn baseball leagues. Play will run approximately Aug. 15 thru Saturday, Oct. 10. Leagues for players 9-11 will be on the Little League fields (60 ft. bases) on Irving Avenue, while leagues for 12-14-year-old junior high players (80 ft. bases) and 14-18 year-old high school players (90 ft. bases) will be at the "upstairs" facility off the Stewart Street entrance.
Players age 9 through 14 may obtain registration materials later this week on our website, www.pattersonparkbaseball.org. For questions, please call Jim Murphy at 298-8473.
Registration materials for high school players 14-18 will be available soon. Please call Jimmy Chandler at 266-3740 for questions about this age group.