Student/athlete start dates for the Oakwood High School's fall sports program will begin on the following dates and times:
Golf - Wednesday, Aug. 5, 8 a.m., Community Golf Course

Football - Thursday, Aug. 6, 7:30 a.m. Practice Field

Boy's soccer - Monday, Aug. 10, 7 a.m.; 8/10 and 11-1 Old River

Girl's soccer - Monday, Aug. 10, 7 a.m. Stadium

Volleyball - Monday, Aug, 10, 2 p.m. East gym

Girl's tennis - Monday, Aug. 10, 9 a.m. OCC Tennis Courts

Field hockey – Monday, Aug. 10, 7 a.m. Stadium, 5:15-8:15 p.m. Irving Field

Cross country – Monday, Aug. 10, 8 a.m., Stadium
For more information call the OHS Athletic Department at 297-5342.
Oakwood wrestlers Alex Kooser, Jameson Kordik, and Will LeBoeuf joined the Beavercreek High School wrestling team in June to travel to Orlando, Florida, and compete in the 2009 Disney AAU National Scholastic Duals Tournament. The annual 5-day tournament features some of the best high school teams from across the country and this year was no exception. Although the team placed 33rd, our Oakwood wrestlers were able to finish with a combined 26-1 record and earn a couple of individual Gold medals and a Silver medal for their effort.
---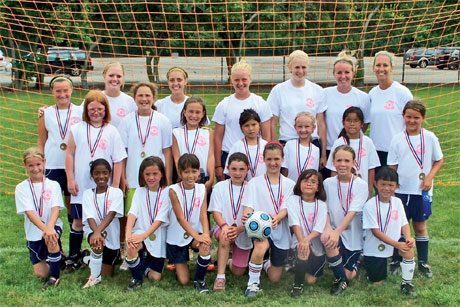 These soccer girls enjoyed a wonderful week of instruction and fun at Coach Gaydosh's Soccer Camp. Every camper worked hard and received soccer medals for their efforts and hard work! A World Cup was held during camp, with the Brazilian Hippos taking 1st place. 2nd place went to the Italian Meatballs, 3rd place to the USA Bald Eagles and 4th place to The Spanish Bulls.
---
There will be a voluntary football mini-camp at the high school on Aug. 3, 5 and 7 from 6-8 p.m. Also, there will be a parents meeting at the High School Library at 7 p.m. on Wednesday, Aug. 12. Please contact John Jervis (299-8431) or Scott Kadash (294-4521) with any questions.
There will be a mandatory meeting for all those interested in signing up for Pee Wee Cheerleading on Wednesday, July 15 at 7 p.m.. The meeting and registration will be held at the Oakwood High School Football Stadium. This program is a long standing tradition in Oakwood and a solid preparation for anyone interested in trying out for the Junior High and High School Cheerleading Teams.

Please help keep this tradition going by attending this meeting. For additional information please contact Annette White at 396-7898 or Debi MacDonald at
395-1996.
2009 Oakwood Lumberjack Pee Wee Cheer Camp will be held Aug. 4 - 6 from 6 - 8 pm at Mack Hummon Stadium. Hosted by Oakwood High School cheerleaders, the Pee-Wee Cheer Camp will focus on basic foundational cheer skills including motions and jumps, while working to enhance coordination through cheers, chants and dance. the complete cost of the three-day camp is $30, which includes a camp shirt. If you have more than one child attending, the second camper is half price ($15). To register, stop by the high school to pick up the registration paper, call Heidi Steinbrink (Cheer Coordinator) at (H) 717-6291, or email steinbrink.heidi@oakwood.k12.oh.us. Registration will be accepted through Friday, July 24.
The Oakwood Cheerleading program will be holding a FREE car wash on Saturday, Aug. 8 from 11-3 p.m. at MidFirst Credit Union on the corner of Far Hills and Dorothy Lane. Stop by and get your car washed for free and support the cheerleading program at the same time!
Patterson Park is now taking registrations for its 2009 autumn baseball leagues. Play will run approximately Aug. 15 thru Saturday, Oct. 10. Leagues for players 9-11 will be on the Little League fields (60 ft. bases) on Irving Avenue, while leagues for 12-14-year-old junior high players (80 ft. bases) and 14-18 year-old high school players (90 ft. bases) will be at the "upstairs" facility off the Stewart Street entrance.
Players age 9 through 14 may obtain registration materials on our website, www.pattersonparkbaseball.org. For questions, please call Jim Murphy at
298-8473.
Registration materials for high school players 14-18 will be available soon. Please call Jimmy Chandler at 266-3740 for questions about this age group.
---
Oakwood Youth Football would like to extend an invitation to enroll in our program. Eligible students are enrolled in third grade through sixth grade in the fall of 2009. The program offers an excellent opportunity to learn the basic fundamentals of football.
Registrations are underway and the fee is $150. The registration fee after July 15 is $175. All registrations should be mailed to Oakwood Youth Football, Inc. at 82 E. Dixon Ave., Dayton, Ohio 45419. Feel free to contact Michael Erbe at home: 299-5491 or email oakwoodyouthfootball@yahoo.com. Please check the website at www.leaguelineup.com/oakwoodyouthfootball for a registration form and practice updates.
---
Bill Sellers, former OHS Men's Varsity coach and current Oakwood United trainer, along with former OHS varsity players and current college players have designed an exciting soccer camp for boys and girls grades 2-6. This camp will challenge the recreational soccer player as well as the select player. Ball handling, dibbling, trapping, and first touch are just some of the skills planned. Sign up today! Each camper will receive a shirt.
The Oakwood Community Center is accepting registrations for pre-school outdoor soccer. Little Kickers is designed to emphasis education, sportsmanship, and teamwork in a fun and safe environment. Little Kickers is held Saturday mornings. For more information call or stop by the OCC, 298-0775, 105 Patterson Rd. Also volunteer coaches are needed!
The Oakwood Community Center is accepting registration for it Co-ed Soccer program. Boys and girls grades 1-6 can participate. Teams will have one practice during the week and games on Saturday. Sign up today! For more information call or stop by the OCC, 298-0775, 105 Patterson Rd. Also volunteer coaches are needed!