2008 OHS Winter Sports Banquet

for complete list of
awards and recipients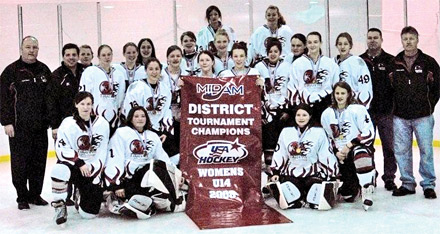 Ohio Phantom Flames Girls' hockey team.
Oakwood eighth grader Peanut Johnson is headed to the USA Hockey Elite U-14 AAA Tier I National Championships April 2 - 5 with her Ohio Phantom Flames Girls' hockey team.
While it is a Cleveland-based team, her teammates come from as far away as Des Moines, Iowa, Lincoln, Neb. and Tampa, Fla. They defeated Team Pittsburgh in the finals to earn their berth to Philadelphia for the championships where they will be representing the Mid-American District.
This will be Peanut's second trip to Nationals. She led her U-12 Heartland Select team to the championships in 2006. She credits her success with the girls this year to her boys' team here in Dayton: All her teammates on the Bellbrook Club Varsity team, Coaches Keith Johnson and Ron Buckle of the Bellbrook squad and her power skating coach, Oakwood resident Penny Carpenter.
After spending her spring break battling in Philadelphia, she looks forward to an enjoyable track and field season with her OJHS teammates, summer conditioning, and playing field hockey for the Oakwood JV team as an incoming freshman.
---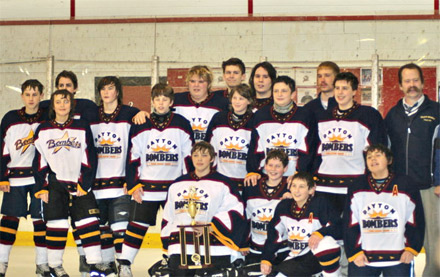 Pictured, front row L to R: Garret Avery, Kevin Seebacher, Tyler Pavelka, Wyatt Myers Second row: Patrick Taulbert, Morgan Myers, Richard Schultz, Austin Kinsey, Cody Hamm, Justin LeBeau, Austin Colllins, Coach Joe Hignite Back Row: Cole Fickert, Brandon Reese, Johnny Damewood, Baxter Hignite, Coach Pete Dowling. Not pictured Coach Ray Pavelka and Matt Samples.
The Dayton Bombers Bantam team brought home a big win last weekend from the Western National Invitational. They took first place and came home undefeated. Friday night they beat the Springboro/Northern Kentucky team 1-0 at Cincinnati Gardens. Team Captain Baxter Hignite (Oakwood) scored the first goal of the weekend with some help from his defenseman Johnny Damewood (Oakwood). Saturday morning the win was against St. Xavier's junior varsity team with a 9-0 victory. Saturday early evening game ended in a 0-0 tie against Elder's JV team at the Northlands Ice Arena.
The championship game was played at the Northern Kentucky Ice Center faced off against Elder again. It ended in a tie 2-2 but the Bombers took home the trophy because they had scored more goals and had more assists in the previous three games.
---
The Oakwood Register is looking for a few students and parents to volunteer and cover spring sports at Oakwood High School and write a short story about the games each week. Stories do not need to be "play-by-plays," just an overview of the highlights and win-loss scores.
Sports to be covered include track, softball, baseball and boys tennis, all on the varsity level. We also welcome junior varsity tennis and baseball and junior high baseball stories as space allows. Photos are optional.
Anyone who is interested please call Lance Winkler at the Register office,
294-2662.
---
Wooster Girls Soccer Camp, a residential girls only soccer camp, held at The College of Wooster, Wooster, OH is accepting registrations for its June 15-18 and July 6-9 sessions. Group discounts are available. All information is online at www.woostersoccercamp.com