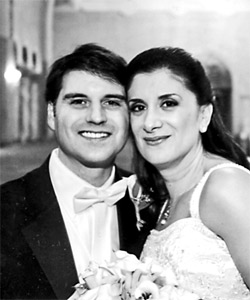 Mr. and Mrs. Alexander Gounaris and Mr. and Mrs. Jeffrey Winwood are pleased to announce the marriage of their children, Elaine Alexandra Gounaris and Mark Ainsworth Winwood on November 15, 2008, at The Annunciation Greek Orthodox Church in Dayton.
The bride was attended by Megan Gilbert of Denver, CO, who served as maid of honor, and by bridesmaids Catherine Stathulis of Columbus, OH and Michelle Gilmore of New York, NY. The bride's sister, Stacy Gounaris, acted as sponsor.
The flower girl was Tia Jarvis of Columbus, OH. The groom was attended by his brother, Eric Winwood of Dallas, TX, who served as best man and by groomsmen Matthew Beres and Brent Davis, both of Bellingham, WA. Charles Agganis of Pembroke Pines, FL and Bob Corkwell and Slate Ribic, both of Columbus OH, served as ushers.
After a weekend of festivities, the newlyweds traveled to Florida for their honeymoon and now reside in Victorian Village in Columbus, OH.


NPS makes Hawthorn Hill 6th Dayton site

By Dolores Wagner

Hawthorn Hill has a proud new status. It's a new addition to the National Park Service list of important national sites, and the sixth NPS site in Dayton that contributes to the story of the Wright Brothers and the history of flight.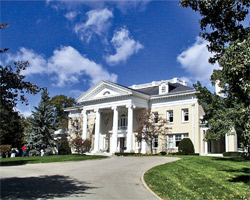 What kind of changes in the future can be expected with the inclusion of Hawthorn Hill as part of the National Park Service? The simple answer, according the Dayton History Executive Director Brady Kress is almost none - none that would be apparent to the community, the neighbors or the aviation history community. The legislation signed last week by President Obama places Hawthorn Hill (as well as the Wright Brothers factory, which was also included in the legislation) as a sixth piece of the Dayton Aviation Heritage Historical Park which is already part of the NPS.
Becoming an NPS site does not transfer ownership or control of the house to NPS, rather, NPS becomes a partner in the maintenance, restoration and support of this historic home. "That's an important distinction to make," Kress said. "Ownership and management agreement hasn't changed, tours won't change. It remains owned by the Wright Family Foundation and operated by Dayton History."
"We totally own Hawthorn Hill," said Amanda Wright, great grand-niece of the Wright Brothers. "but we look to the National Park Service as partners because of their expertise in restoration and preservation. Also, NPS can advise and provide such improvements as up-to-date security and fire systems, for example."
Adding Hawthorn Hill to the NPS provides other important advantages. It's a first step in trying to get federal monies and grants in support of Hawthorn Hill. It paves the way for furnishing restoration studies that will provide guidance and expertise in authenticating research and ensuring that the archival additions to the Hawthorn Hill accurately reflect the living arrangements concurrent at time the Wrights were in residence there. Also, designation as an NPS site symbolizes the site's national importance as a historic treasure.
According to Kress, many furnishings original to Hawthorn Hill were left in the home by the family at Orville's death. When Hawthorn Hill became a guest house for NCR,
these artifacts and furnishings were moved to the attic. Melba Hunt, a Kettering resident and preservationist who was involved in creating a museum dedicated to local historical artifacts, asked NCR for, and was given permission to, place these pieces in what we know today as the Kettering- Moraine Museum, located in Moraine at 35 Moraine Circle. In the past month, three to four dozen of these pieces have been moved "back home" to Hawthorn Hill. The NPS will be instrumental in advising Dayton History on the restoration and conservation of the pieces, and their placement in the house in their original locations.
The benefits derived from making Hawthorn Hill a National Park Service site enhances its stature as a recognized national treasure, adding one more piece to the Wright Brothers' important contribution to the world of flight, and tying the history of flight more closely than ever to Ohio, Dayton and the City of Oakwood. "Dayton aviation history's national park affiliation is unique. It is a collection of partners," Kress said. "Each of the six sites are under the umbrella of the Dayton Aviation Heritage National Historical Park, but are owned and controlled by different entities. Below is a list of the six sites, their owners and their operational managers.

Dayton Aviation Heritage
National Historical Park
consists of:

1. Wright-Dunbar Interpretive Center - owned by the NPS & Aviation Trail, Inc

2. Huffman Prairie/ Huffman Prairie Interpretive Center & Flying Field - owned by the Air Force and operated by the NPS.

3. Paul Laurence Dunbar House - owned, and currently operated by the Ohio Historical Society. (By the beginning of May it will be operated by Dayton History.)

4. The John W. Berry, Sr. Wright Brothers Aviation Center - owned and operated by Carillon Park and Dayton History

5. Hawthorn Hill - owned by the Wright Family Foundation and operated by Dayton History.

6. Wright Bros. Factory Complex - currently owned by Delphi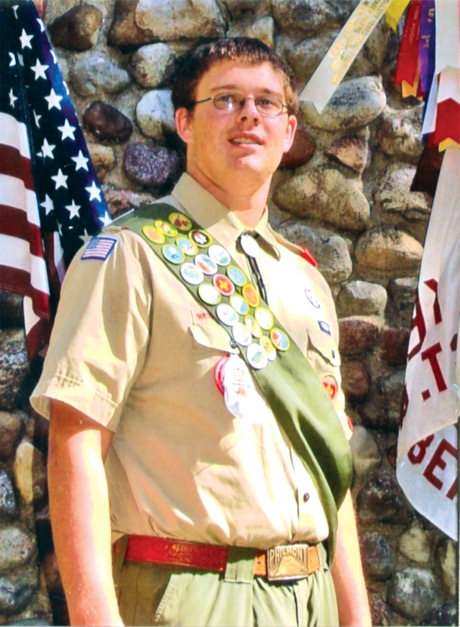 Senior Michael Baumgartner has been awarded his Eagle Scout Rank and his religious Ad Altare Dei medal. Michael's scouting career began at Oakwood Pack 151 then crossing over into his Boy Scout Troop 318 of St. Albert the Great Church. Michael is also a member of the Oakwood Lumberjack football team and parish member of St. Albert Church.
At his Court of Honor for his Eagle Rank, Michael was recognized for his accomplishments in scouting. He has earned three medals of his Catholic Christian faith: Light of Christ, Par Vu Lei Dei and Ad Altare Dei. He also led his troop at Philmont Trek and was a senior patrol leader, patrol Leader and instructor for his troop.
Michael's Eagle project focused on helping his high school and his football team by refurbishing the visitor's seats. Many of his football teammates, fellow scouts and adults helped with his project.
Michael plans to attend University of Dayton, Army ROTC, and will be studying mechanical engineering. Michael attended Cathedral in Cincinnati and was awarded his Ad Altare medal by Archbishop Daniel Pilarcyk.
The past three months have been a very exciting time for Michael as well as his family, friends, parish, troop and school. Michael's troop, church parish and his family congratulate him on all his accomplishments with scouting and wish him well at college.
---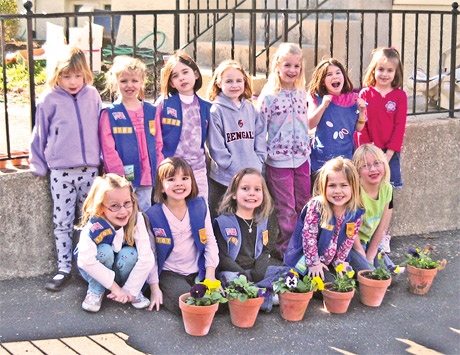 Girl Scout Daisies from Troop 1707 at Lange School planted bulbs and pansies to decorate the grounds at the Oak Tree Corner center for grieving children at Far Hills and Schantz Avenues in Oakwood on March 19. The kindergarteners also donated cookies to the organization as part of a matching box-for-box sale to benefit the program for children whose parents or siblings have died. Pictured, back row: Emma, Lily, Charlotte, Emma, Olivia, Ella, Allie; Front row: Natalee, Julia, Fiona, Dana, Grace; Not pictured: Leader, Kathy Bolmida; Assistants, Jen Kaval and Libbey Steeves.
Birthday Girls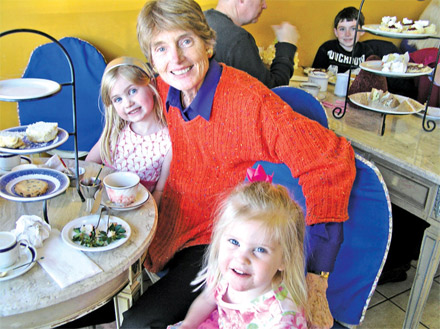 Barb O'Hara spent an afternoon with her two granddaughters, Halle, 5, and Maggie, 3. Here they are pictured having tea and birthday cake at Central Perk in Oakwood (Maggie just turned 3).
Grandparent's Day at St. Albert's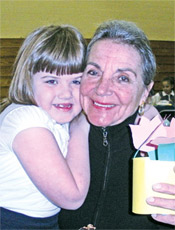 Weezie McGinnis and her first grade granddaughter, Allison, celebrated Grandparents Day at St. Albert the Great School in Kettering. The morning included Mass, breakfast, poems, songs and lots of hugs. The first graders crafted all the decorations including woven place mats and "floral" centerpieces!
The Junior League of Dayton, Ohio, Inc. is an organization of women committed to promoting volunteerism, developing the potential of women, and improving the community through the effective action and leadership of trained volunteers. We are welcoming new members. Open house events are scheduled to learn more about the Junior League of Dayton:

April 18, 10:00 am - 12:00 pm (Junior League Office, 601 W. Riverview Ave., Dayton)

April 20, 6:30 pm - 8:30 pm (786 Murrell Dr., Kettering)

May 5, 6:30 pm - 8:30 pm (Moraine Country Club, 4075 Southern Blvd., Kettering)

Open houses are free to attend. For more information, visit www.jldayton.org. RSVP at: office@jldayton.org , or call (937) 222-5541.
Kettering

2540 Edenhill Ave - $103,000 – Scott D. Grilliot to Brent M. & Stephanie R. Nussbaum
2508 Acorn Dr. - $48,000 – Michael Harp to US Bank NA Tr
1224 Brooklands Rd. - $183,000 – Susan R. Trammell to Steve E. & Monica M. Wynn
2655 Patterson Rd. - $135,000 – Jane Taber to Ad Hook Entrprises LLC
3139 Oakmont Ave. - $72,000 – Randall Stansell to bank of NY Mellon Suc-Tr
409 Storms Rd. - $130,000 – Bobby B. Phillips to Matthew D. Miller & Amanda J. Gutheil
516 Earnshaw Dr. - $55,000 – Wells Fargo to PHM Properties LLC
417 Brydon Rd. - $152,000 – Marcy A. Weils to Michele Welkener
2852 Haig Ave. - $55,000 – Jeffrey L. Hurst to LBA Property Management LLC
2821 Rushland Dr. - $90,000 – Julie T. Beeler to Joshua A. LaRavie
554 East Dr. - $58,200 – GMAC Mortgage LLC to Linda E. Jumer
3218 Aairway Dr. - $59,000 – Fifth Third Mortgage Co. to Joel L. Carter & Fifth Third Mort. Co.
3206 Wrenford St. - $240,000 – Eric Lundgrean to Arianne E. Chavez-Frazier & Keith Frazier
419-421 Lewiston Rd. - $55,000 – Gary L. Evans & to Gary L. Evans
2364 Bingham Ave. - $55,900 – Self Help Ventures Fund to Thomas M. & Wilma Will
3733 Wenzler Dr. - $125,400 – Errol A. Leach to Debra M. Sanderman
971 Kenosha Rd. - $42,500 – Michael J. Branham to Gail C. Carter
2274 Broadmoor Dr. - $100,000 – Lorena Turner to Jessica Lynn Elliott
4711 Judith Dr. - $161,000 – Richard S. Hodapp to Robert S. & Dianne Hartley
2440 Glenheath Dr. - $160,000 – Thomas Zukowitz to Nick L. & Pamela K. Zukowitz
3270 Governor's Trail - $250,000 – National City Bank TR to Toby K. Henderson & Anne M.Cassano, Tr
3668 Wenbrook Dr. - $149,500 – Gail Carter to Allison D. & Christopher W. Ware
3237 Carrier Ave. - $95,000 – James B. West, Tr to Michael W. Hallock & Patrick J. Kiggins
2822 Sutton Ave. - $97,000 – Carl G. Miller, Sr. to Ashley N. Nevitt
2685 Culver Ave. - $350,000 – Roman Szpur, trs. To Duffy Inc.
3303 Blossom Heath Rd. - $278,500 – Neil G. Jones to Kristie J. & Ian A.
Newcomb
2928 Hillview Ave. - $840,000 – KEM Family Limited Partnership et al 3 to Midfirst Credit Union Inc.
4979 Walnut Walk – $562,000 - Richard B. Reese to Steven R. Harlamert

Oakwood

25 Triangle Ave. - $137,000 – Shannon L. Lawrence to Joseph B. & Michelle E. Owen
348 Claranna Ave. - $108,300 – Wendy L. McGonigal to Jill Dixon-Aldineh & Yaser M. Aldineh
312 Wiltshire Blvd. - $158,900 – Johnnetta D. Briner to Betty Jane Schnoop
236 Corona Ave. - $204,900 – Michael D. Rice to Wendy H. Heibel & Anne M. Cook
337 E. Peach Orchard Dr. - $120,000 – Michael E. Vanderburgh to Donald D. & Mary J. Wogoman
339 Harman Blvd. - $220,000 – Evelyn R. Delaplane to Hernan L. Fuenzalida & Evelyn Delaplane
1211 Far Hills Ave. - $39,000 – Matthew Holzhauer to James Kelsey & Debra Perry
1211 Far Hills Ave - $78,000 – Patricia Foxwell to First Franklin Financial Co.