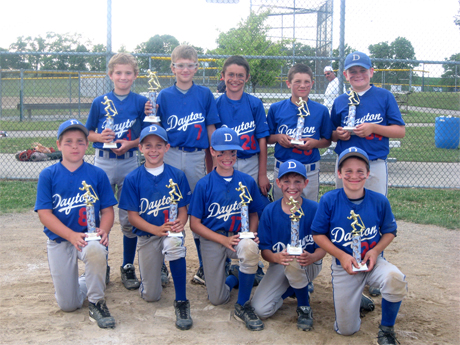 The Dayton Dodgers 10U baseball team coached by Doug Neff and Dave Groene won the GYAA Baseball Tournament over the July 11-12 weekend after capturing the win over the Piqua Indians, 14-2. The Dayton Dodgers baseball organization was formed by Dodgers president, Jeff Reboulet, a former major league baseball player and Dayton resident. The Dodger's finished the season with a 34-11 record. Pictured is Drew Fourman, Nick Groene, Lucas Reboulet, Alex Stefandis, Trent Jordan, Alex Neff, Andy Neff, Chaney Morgan, Cooper Denny, and Dylan Wilkerson. (not pictured-Brock Gorman).
A group of Oakwood Wrestlers traveled to Columbus this past weekend to compete in the Ohio State Fair Freestyle Wrestling Tournament. Teams from Ohio, PA, Illinois and Canada were represented and proved to be a tough challenge for the home town kids. After a full day of wrestling, Oakwood wrestlers Dylan Kooser, Alex Kooser, Jameson Kordik, and Will Leboeuf were awarded 2 silver and 2 gold medals for their effort. The highlight of the tournament was Jameson Kordik's 30 second pin in the finals against a very strong opponent from the Cleveland Area. Great Job to all our wrestlers.
Who: Any alumni who played soccer at OHS

When: Sat. Aug. 22, 2009 @ 5pm. Please make sure you are at the stadium by 4:30pm.

Where: Oakwood HS Stadium

Cost: $10 (This will cover the price of a t-shirt)

Uniform: We will provide a shirt. You will need to wear Navy (or dark) shorts and White socks. All alumni MUST wear shin guards. You will not be permitted to play without them.
If you plan on playing in the game you need to contact Kyle Duwel at kyle@duwellaw.com. Please include your shirt size and year of graduation.
If you know of any alumni who might be interested please pass along this information.
Student athlete start dates for the Oakwood High School's fall sports program will begin on the following dates and times:
Golf - Wednesday, Aug. 5 - 6:45am Stadium/
Kittyhawk - 8:05 am

Football - Thursday, Aug. 6 - 7:30am Practice Field

Boy's soccer - Monday, Aug. 10 - 7am Stadium.;
8-10am and 11am-1pm Old River

Girl's soccer - Monday, Aug. 10 - 7am Stadium

Volleyball - Monday, Aug, 10 - 2pm East gym

Girl's tennis - Monday, Aug. 10 - 9 am OCC Tennis Courts

Field hockey – Monday, Aug. 10 - 7 am Stadium, 5:15 - 8:15 pm Irving Field

Cross country – Monday, Aug. 10 - 8 am Stadium
For more information call the OHS Athletic Department at 297-5342 or visit the Oakwood City School website.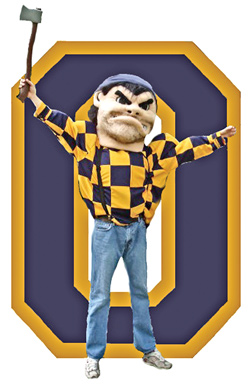 OJHS fall sports start dates
7th grade volleyball - Monday, Aug 17, 6-8pm at the Smith school gym
8th grade volleyball - Monday, Aug 17, 6-8pm at the Smith school gym
Boys/girls cross country - Monday, Aug 17, 7pm at the stadium
7th grade football - Monday, Aug 17, 4pm at the stadium
8th grade football - Monday, Aug 17, 5pm at the stadium
Boys/Girls soccer - Monday, Aug 17, 4pm at NCR fields
Field Hockey - Monday, Aug 17, 9:30 – 11am and 3:30 – 5:30pm at Irving
(conditioning starts on Aug 10 from 9:30-11:30am at Irving)
For more information contact Randy Neff at neff.randy@oakwood.k12.oh.us or go to Oakwood City School District website.
The Oakwood High School Athletic Hall of Fame Committee would like to invite you to the 2nd Annual Oakwood Athletic Hall of Fame Banquet to be held Thursday, Sept. 3 at the Dayton Country Club (jacket/no denim) beginning at 6 p.m. Cost for the event is $30 for adults and $12 for children 12 and under. Social hour begins at 6 p.m. with heavy hors d'oeuvres; program begins at 7:15 p.m. Check in begins at 5:45 p.m. at the Dayton Country Club.
To purchase tickets for the event, please send a check made payable to:



Mail to:



Please send check by Aug. 1, 2009. You will not receive a ticket in the mail.
For more information, please contact Mark Hughes, Chairman, Hall of Fame Committee, at (937) 297-5342.
The following individuals will be inducted at the banquet at the Dayton Country Club on Thursday, Sept. 3, 2009:
George Neal, Class of 1931

Howard Blose, Class of 1940

Howard Sales, Coach/Teacher/Athletic Director

Tim Coughlin, Class of 1964

Katy Deddens Dalrymple, Class of 1993

The 1942 Football Team will receive special recognition.
---
Calling all field hockey alumni! Please mark your calendar and plan to play in this year's annual field hockey alumni game. This year's game will be held earlier in hopes that current college students can play before heading back to school.
When: Saturday, Aug. 15 at 11 a.m., please come early so that we can get organized
Where: Irving Field on Irving Avenue

Questions: Please contact Lindsay Schafer 545-8228 or laschafe@hotmail.com.
Yeah, Rah, Hockey!