By Lance Winkler

The Oakwood Safety Department has recently added three new safety officers to its squad. The trio was sworn in by Mayor Judy Cook at the Dec. 18 meeting of the Oakwood City Council.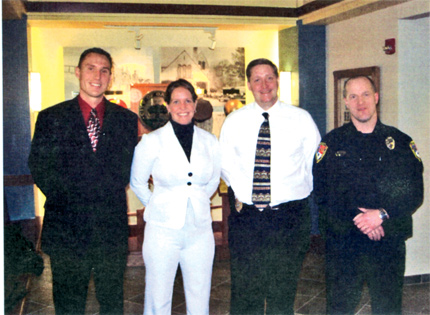 Pictured, left to right: Officer Alan Hill, Officer Tiffany Conley, Oakwood Police Chief Alex Bebris and Officer Bruce Upchurch.
Officer Tiffany Conley hails originally from Pittsburgh, Pa. She has had eight and a half years with the Dayton Police Department and attended the University of Dayton on a basketball scholarship. She has a bachelor's degree in criminal justice and a minor in sociology. She has been with the Oakwood Safety Department since July.
Officer Alan Hill was born in Terre Haute, Ind., although he was raised in Kettering and attended Fairmont High School, graduating in 1993. He has 10 years experience with the Montgomery County Sheriff's Office where he worked in patrol investigations and taught at the Sheriff's Training Center. He is married and his wife, Lisa, is a registered nurse and supervisor at an area hospital. Hill has a bachelor's degree in criminal justice administration from Columbia Southern University and an associates degree in Police Science from Sinclair Community College.
Officer Bruce Upchurch was born in the Phillipines and lived there until he was twelve years old. His parents were missionaries and he has lived all over the world at different times in his early life. He attended Faith Baptist Bible College in Ankeney, Iowa and finished up at local Cedarville College with a bachelor's degree in criminal justice. He worked at the Greene County Sheriff's Office for the past 16 and a half years: four and half years at the county jail, eight years as a canine handler, a member of the Greene County SWAT team for eight years including being Team Leader for two years and patrol sergeant for four years. He also was a sniper for two years as well. He is married to wife, Tina, and has four children.
All three officers began their training at the Fire Academy in Reynoldsburg, Ohio on July 15 and graduated on Aug. 31. They returned to the Fire Academy for EMT training from Sept. 10 until Oct. 5.
The addition of the trio brings Oakwood back up to a full-force contingent of 25 officers, five lieutenants, two captains and one chief.