Larry Rachleff took the podium of the Dayton Philharmonic as guest conductor for the April Classical Concert. I love writing about our orchestra and the exciting concerts. Occasionally, my opinions can get me into trouble.
If I were to describe Maestro Rachleff as an energetic conductor with a very beautiful and very talented wife, I am certain that I am in difficulty with one-half of the audience. I'll leave it up to you, my loyal readers, as to what half will look askance at my description and what half of the audience will say "right on!"
Rachleff previously conducted the orchestra in November 2004. The concert included clarinetist David Shifrin playing the unforgettable Mozart concerto K 622. I asked our Maestro Neal, playfully, why he gave some of the greatest music to guest conductors. His response was that you should always treat your guests hospitably.
For this concert, Neal certainly did it again. Maestro Larry bounded onto the stage, hopped on the podium and began, without a score, the most energetic reading of Dvorák's Carnival Overture imaginable.
The work is full of lively Bohemian spirit and animated musical flashes. Under Maestro Rachleff, lively turned to vigorous and animated to exuberant. I am certain that if Rachleff drove at the speed he conducted, he would have a train of police after him, sirens blazing.
In spite of the dizzying tempi, the work was played with musical clarity and élan. The orchestra made each phrase continue the feeling of joy – the spirit of Carnival!
Next came one of my absolute favorite pieces. French composer Joseph Marie Canteloube is best known for his collection of folk songs, Songs of the Auvergne. He set these charming songs to full orchestra accompaniment with fascinating charm.
Soprano Susan Lorette Dunn, wife of Maestro Larry, sang six of the songs. She chose ones expressing the various moods of French country life. Singing as beautifully as she looked, she delivered each one brilliantly. The songs are flirty, loving, funny and playful. She accomplished all of these nuances convincingly. After intermission, the orchestra played Elgar's Enigma Variations. It is a most personal utterance by the thoughtful composer. Each of the 15 sections is "addressed" to a friend. The music has long become a great favorite with special meanings for each listener.
The orchestra under Rachleff's baton played the sections magnificently. I especially enjoyed the familiar Nimrod section, often treated as a funeral expression, in a jovial, uplifting mood.
I am certain that Maestro Rachleff will return. I hope he brings his charming wife with him.
The cadre of Resident Actors for The Human Race Theatre Company is a veritable cornucopia of talent. This year, the company marked the return to Dayton of one of their own.
Katie Pees began as a student in Oakwood High School. Her talent propelled her through the Muse Machine productions, college and a stint in New York. She has had roles in a generous handful of productions including, are you ready for this, Boobs, The Musical.
Dayton beckoned and Katie heard the call of home, family and friends loud and clear. She immediately was cast in several Human Race productions. Her effervescence earned her the title, in these columns, "The Inventor of Darling."
Her one-woman show played to a nearly full house last Saturday at the Loft Theatre. Actually, a one-woman show was a misnomer. There was energy enough for a bevy of stars and a gifted pianist, Scot Woolley on that stage.
Billed as "The Divine Miss P," "divine" was only one of many adjectives to describe Katie and the evening. She invaded the stage and took no hostages from the rapt audience.
In clever song parodies, Katie began to tell her story with rollicking humor and witty asides in a truly beautiful and versatile voice. I can remember the story with its hilarious takes on life as an actor/waitress along Broadway. I can't remember the songs, they came so fast and furiously.
Katie has a truly beautiful voice. It augments her delightful, yes, "divine" personality perfectly. We are so fortunate to have Katie among us here in Dayton. It's the right place for Katie and, certainly, she is the bright ray of sunshine and talent for all of us.
The Victoria Theatre does so many things for the arts in Dayton. In addition to sparkling productions in several series, their children's theatre and educational programs are all prize-winners.
In celebrating their mission, a series on the Holocaust, Brundibar and My Heart in a Suitcase has been presented and seen by over 4000 young persons here in Dayton. We missed Brundibar due to the lure of the mountains and the snows. I have heard nothing but praise for its inspiring message and the joy of the local children in the cast.
Brundibar was written in Terezin Concentration Camp by Hans Krása, who was among the many murdered within those walls. One of the inmates who survived, Ela Stein Weissberger, played in all of the performances at Terezin. She was the dedicatee of the Dayton production.
The second production, My Heart in a Suitcase, is portrayed by four gifted actors who tell the poignant story of a Berlin Jewish family who send their only daughter on the famous Kindertransport, that brief opportunity which saved the lives of a thousand otherwise-doomed children. The play is based on a book by survivor Anne L. Fox, who was present at the performances.
Each story of the Holocaust is different, intensely personal, but filled with the same message – never again. The entire project honors Renate Frydman, widow of a survivor, who has single-handedly created a museum of the Holocaust, now housed at the Air Force Museum.
---
The one-hour film "Ropewalk: A Cordage Engineer's Journey through History" will make its world premiere at the Engineers Club of Dayton on Friday, April 25.
The 7: 30 pm showing is free and open to the public at 110 Monument Avenue. A buffet dinner begins at 6 pm, with reservations required. For dinner reservations, call 228-2148.
The film's soundtrack composer will perform before the show and at a "meet and greet the filmmakers" reception afterwards. Movie DVDs and soundtrack CDs will be for sale.
Proceeds from "Ropewalk" benefit the Engineers Club of Dayton Foundation for historic preservation and education in science and industry.
---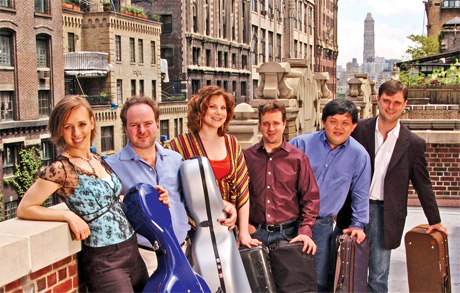 Vanguard Concerts presents the Concertante String Sextet as the final concert in its 2007-2008 series on Saturday, April 26 at 8 p.m. in The Dayton Art Institute's NCR Renaissance Auditorium.
The Concertante String Sextet has acquired a sheen, warmth, and polish that are the hallmark of superb chamber music groups. Comprised of a core of six virtuoso string players, the group performs in varied combinations of instrumentalists. As solo performers who have won major national and international music competitions, they have graced the premier stages of the world from New York's Carnegie Hall to London's Royal Festival Hall to Shanghai's Grand Theatre.
Concertante has performed a wide array of repertoire ranging from works by established masters to less commonly performed composers. The ensemble has an interest in furthering the cause of new music. Last season, they launched a new series entitled One Plus Five, a series of six world premieres by Lowell Liebermann, Tigran Mansurian, Gabriela Frank, Schulamit Ran, Richard Danielpour, and Kevin Puts.
In addition to the 2006-07 season premieres of Libermann's Chamber Concerto No. 2 for Violin and String Quintet and Mansurian's Con Anima for String Sextet, the ensemble has performed works of many known composers.
As an ensemble, Concertante has performed across America, gathering rave reviews from such publications as The New York Times, Los Angeles Times, and Washington Post. They have also appeared on Minnesota Public Radio's St. Paul Sunday. Concertante performs regularly at Merkin Hall in New York City and at the Rose Lehrman Arts Center in Harrisburg, PA.
About the Performers:
Lisa Shihoten, violin, is currently enjoying a career as a chamber musician, recitalist, and teacher. She made her New York concerto debut in 1995 at Avery Fisher Hall performing with the Juilliard Orchestra.
Xiao-Dong Wang, violin, entered the Shanghai Conservatory of Music at the age of ten. Mr. Wang won the First Prize in the Menuhin International Violin Competition and First Prize in the Wieniawski-Lipinski International Violin Competition at the ages of thirteen and fifteen.
Danielle Farina, violist, is a graduate of the Curtis Institute of Music. She was the recipient of several awards as a student, most notably Grand Prize, First Prize, and the prize for "Most Beautiful Sound" at the 1996 American String Teacher's Association Competition.
Rachel Shapiro, violist, is an accomplished chamber musician and experienced teaching artist. Her latest project is as co-founder of MishMash Music Company, a new kind of chamber music series that seeks to reinvigorate the concert-going experience by way of non-traditional, audience interactive programs.
Alexis Pia Gerlach, cellist, enjoys an active career as a soloist and chamber musician. Recent solo performances include recitals at the La Jolla Chamber Music Society and the Caramoor Festival, and concerto appearances with the Orchestra of St. Luke's and the Charleston and Fort Worth Symphony Orchestras.
Sara Carter, cellist, is an active soloist and chamber musician. She has performed with orchestras including the Cleveland Orchestra and Seattle Symphony and has made recital appearances at Ravinia, La Jolla, and Caramoor. Ms. Carter attended the Steans Institute at the Ravinia Festival and subsequently performed on a Musicians from Ravinia tour.
About the Concert:
For their program in Dayton, the Concertante String Sextet will perform:
Sextet for Strings by Bohuslav Martinu

Sextet for Strings in A Major, Op. 48 by Antonin Dvorak

Sextet in B-Flat Major, Op. 18 by Johannes Brahms
Adult tickets are $30 and student tickets are $20. Tickets may be purchased at Hauer Music Company, Wright State University Student Box Office, and online at www.daytonartinstitute.org. Tickets are available at The Dayton Art Institute on the night of the concert only. For further information contact Vanguard Concerts at (937) 436-0244.
---
The final installment of the 2007-08 University of Dayton Arts Series brings a Spanish flair to Dayton with a performance from flamenco guitarist Juanito Pascual.
Pascual and his quartet will perform at 8 p.m. Thursday, April 17, in UD's Kennedy Union Boll Theatre, as part of the World Rhythms Series, a partnership between Dayton Cityfolk and the UD Arts Series. Tickets for the event are $18 for the public, $16 for UD faculty, staff and alumni and $9 for students. For tickets, call the UD box office at 937-229-2545.
In addition to the concert, Pascual will lead a workshop on an introduction to flamenco music from noon to 1: 15 p.m., Thursday, April 17, in Sears Recital Hall.
A flamenco dancer, accompanied by Pascual, will lead a workshop on an introduction to flamenco dancing from 3 to 4 p.m. in Kennedy Union Boll Theatre. Both sessions are open to the public.
---
Two outstanding regional high school choirs will join Musica! for the final subscription concert of its 15th Season, "The Long and Winding Road." The Sydney High School Choir, under the direction of Amanda Hughes, will make a guest appearance on April 19 at the First United Methodist Church of Troy. On April 20, at the Dayton Art Institute, Musica! will be joined by the Beavercreek High School Chorale.
Also joining Musica! for the conclusion of its journey down The Long and Winding Road will be jazz friends Jim Smith and bassist, Michael Scharfe. Together they will visit classic American popular songs, including Rt. 66.
Concert tickets are $15 for adults and $12 for seniors/students and are available at the door. For further ticket and season information, call 229-3909 or visit the group's website at www.MusicaDayton.org.
Saturday, Apr 19, 2008 at 7:30 pm
Co-Sponsor: Edward and Carla J.H. Drye

First United Methodist Church of Troy
110 W. Franklin St.
Troy, Ohio 45373
Sunday, Apr. 20, 2008 at 3:00 pm
Co-Sponsor: Houser Asphalt & Concrete

Dayton Art Institute
456 Belmonte Park North
Dayton, Ohio 45405
Rhythm in Shoes is inviting experienced tap dancers between the ages of 10 and 17 to audition for "Shoe2", a new second company being instituted by Rhythm in Shoes Auditions will be held at 4 p.m., Monday, April 21, in the Rhythm in Shoes studio on the fourth floor of the Metropolitan Arts Center, 126 N. Main Street. Advance reservations are requested.
"Shoe2" will be comprised of a company of eight dancers aged 10 to 17. Young artists will receive training in tap and clogging, as well as body percussion, wooden shoe dancing, singing and traditional English sword dances. They will train two days a week, Mondays and Thursdays after school, with Rhythm in Shoes' professional dancers, at a cost of $90 per month.
The ultimate goal is to enable participants to develop the discipline to master technique, work as an ensemble and see with a critical eye. As a junior ensemble the group will appear with the professional company at the Victoria Theatre for the Young at Heart Series on Nov. 15 & 16, 2008.
For more information call Noreen Willhelm at 226-7463.