The League of Women Voters of Ohio (LWVO) has taken a strong and very clear stand in opposition to Ohio Senate Bill 57 (SB 57) which is currently being considered by the Ohio Senate Education Committee. Oakwood's Senator Jeff Jacobson (614) 466-4538 is on that committee. The proposed bill would take money away from a local school district and give it in the form of a voucher to a special needs student that goes to some other type of school or 'agency' for educational services.
The LWVO cites 4 very strong reasons why, after extensive study, it has chosen to oppose this bill. SB 57 would:
Give public funds to private schools and 'entities' which are NOT required to meet all state academic standards or the minimum standards for the Federal law for the education of children with disabilities.
Set up a separate education system for certain students and this violates the Ohio Constitution's requirement of a "common system" of public schools.
Distribute public funds to schools and programs that are NOT ACCOUNTABLE to an elected board of education. In addition the proposed law lacks any specific language regarding FISCAL accountability and monitoring.
Lack an ongoing evaluation component to ensure that (a) students in the program are actually receiving the services required in the child's Individual Education Plan; (b) the goals of the IEP are being met by the provider, and (c) the service which are being provided lead to improved student achievement.
Because these voucher funds would be DEDUCTED from the child's public school district, accountabilities and responsibilities are crucial. For example, a year or two ago, an Oakwood child with ordinary special needs was moved by the parents to a charter school. That school without ANY consultation with our schools wrote a totally new IEP which put the child into a top-level category.
This meant that the State now deducted from Oakwood not only the $6,000 we had been receiving, but now ALSO DEDUCTED AN ADDITIONAL $24,000 due to the new IEP. Oakwood's taxpayers were thus forced to move that amount of money out of local needs in order to balance our own budget.
I am urging you to demand from Sen. Jacobson that he oppose SB 57 and, if it is passed, to demand FULL ACCOUNTABILITY of all receivers of such vouchers Just as is the case for our regular public schools. Our local school budgets are already very tight without this bill being like a "key" our local taxes by unaccountable groups.
---
Macallan Skipton, A senior at OHS, has been accepted at the School of Visual Arts, and the Art Institute of Boston, in their Bachelor of Fine Arts under-graduate programs. The School of Visual Arts is located in New York City, and the Art Institute of Boston is affiliated with Lesley University in Boston.
In addition to their acceptance of Macallan in their BFA program, the Art Institute of Boston has awarded her the Dean's Scholarship for the " superior level of artistic and academic achievement presented to our scholarship committee that demonstrated your high potential for success in the visual arts".
The award is a four year scholarship for a total of $40,000. Macallan is the daughter of Janet Chiarella and Dale Skipton of Lonsdale Avenue.
---
The OHS Class of 1943 and the OHS Social Studies Department present The American Dream Awards Program on Wednesday, April 30 at 7 p.m. in the OHS Auditorium.
The opening address will be by Oakwood City Manager Norbert Klopsch, who will share his American Dream.
Scholarships will be given to the first, second and third place winners. Seven students will be given honorable mention certificates.
The ten contest finalists will share an overview of their essays based on the theme: The American Dream: A Perspective of the Last 100 Years. The theme was chosen as a tribute to the City of Oakwood's centennial celebrations. The public is invited.
---
Don't forget, the final Freshman Junior Assembly dance of the year is coming up on Saturday, May 3 at 7 p.m. at the Mandalay Banquet Center. Dinner will be served, followed by an evening of dancing.
If your child will not be able to attend, it is important that we know! Please call Terri Jones at 298-2699 so that we may adjust our dinner seating and dance card assignments. There is no need to RSVP if your child will attend!
---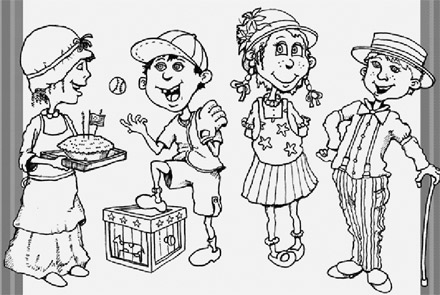 In honor of Oakwood's Centennial, E.D. Smith Elementary School festival has an old fashioned theme this year. The school is sponsoring a "Step Back in Time" Festival on Saturday, May 10 from 5 to 8 p.m.
Enjoy some old fashion food & fun including Pine Club burgers, cotton candy, tug o war, duck pond, goldfish toss, pie eating contest, raffles, spin art, pinwheels, balloon artist and more!
All to good old ragtime and barbershop quartet music!