Kaila Ryan with her four bowling medals
Kaila Ryan, a freshman at Oakwood High School, earned four top honors during the 2007-08 bowling season, Kaila finished first in the scratch (non-handicapped) division of the Dayton City - Singles, Dayton City – Team, and the Dayton Adult/Youth tournament for her age group. She also finished second in the scratch division of the Dayton City – Doubles tournament. On Aug. 9, Kaila was honored at the State Bowling Banquet in Columbus for having the third highest average (184) in the entire state for a female in her age bracket. Kaila's high game during the 2007-2008 season was 266, and her high series was 684.
---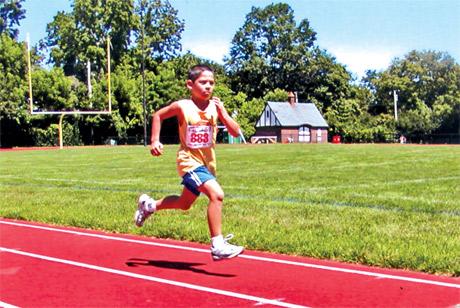 Christoph Cikraji tears up the track.
Nine year old Christoph Cikraji, a fourth grader at Edwin D. Smith Elementary School in Oakwood was recently named August Athlete of the Month by Speedy Feet Promotions. Christoph is a member of the Holy Angels Parish track team and this past spring was the 1600 meter champion in the 9-10 age group.
He was named Junior Male Athlete of the Year for 2007 by the Ohio River Road Runners Club. A middle and long distance competitor, his best 5K time is 21.22 at the Moraine Heritage Festival and his best 10K time is 46.05 achieved at the Tadmor 10K race at Taylorville.
He is also a member of the Green Frogs Racing Team and trains with the Five Rivers Track Club that trains at Oakwood High School. He participates in the Dirt Dawgs Trail Racing Series besides competing in track, cross country and road racing.
---
Patterson Park is now taking registration for its autumn baseball leagues including the new 12-14 year old transitional league. In this age group – past Little League but not yet varsity – games will be played on 90' bases with 60' pitching distances at Patterson Park on the upstairs fields off Stewart Street.
There will be a maximum of 12 players per team and transition league teams will play two games per week on Thursdays and Saturdays. As always there will also be the "downstairs" autumn league, now for 9-11 year olds, on the Little League fields off Irving Ave. Games will be Wednesday and Saturdays. Patterson Park continues to offer the High School baseball league for 14-18 year olds on the "upstairs" diamonds.
League play runs from Aug. 20 through approximately Oct. 11. Individual awards for top categories are awarded at seasons end. Information and registration forms can be found at the Patterson Park Baseball website at pattersonparkbaseball.org
Questions:

For 9-11 year olds call Mark Laidler at 299-4824.
For 12-14 year olds call Jim Murphy at 298-8473.
For 14-18 year olds call Jimmy Chandler at 256-3740

For general information call Jimmy Chandler at 256-3740
---
The Oakwood varsity field hockey team started out their season with a stellar opening this week. Playing South West Ohio Field Hockey League (SWOFHL) opponent Summit Country Day, the Jills had an offensive explosion with an 8-0 victory. Scoring for the Jills were: Forwards Molly Bartlett (2), Ali Taylor, Brittany Hemmelgarn (2), and Sami Pavlofsky. Starting defenders Lizzy Johnsen and Erin Maher also scored. Assists were made by Lizzy Johnsen and Lucy Shafer.
After a great preseason, Oakwood Coach Lindsay Schafer is pleased with the offensive performance of her team, "I'm very happy with the way we played together as a team today. Our motto for the season is "Working Together To Win" and we did that today. This was a great start to our season!" The Jills travel to Cincinnati for their next match against league rival St. Ursula on Wednesday 9/3. The Jills will host a home 'play-day' on Saturday 9/6 at Irving Field. The Jills will play teams from Columbus: Worthington Kilbourne at 10 AM and Dublin Jerome at 2 PM.
---
After a summer of open fields, conditioning, and a team camp, the season opener for the Oakwood girls soccer team finally arrived on Monday night, August 18th, as the Jills travelled to Fairmont for a match with the Division I Lady Firebirds.
The first half was one of high intensity, both teams playing with a lot of energy, neither team able to score. Oakwood sophomore defender Erin Riley was given the task of marking Fairmont standout Sarah Vonderbrink, and did an outstanding job. Both teams put five shots on goal, but none got past the goalkeepers.
The fine play continued in the second half, Oakwood mounting several attacks on goal, but coming up empty each time. At the 29 minute mark junior striker Colleen Hallinan made a crossing pass to senior Molly Breidenbach, whose shot was stopped by the Fairmont keeper. Four minutes later, freshman midfielder Claire Davis sped down the right side and hit a strong crossing shot toward the far post, but a diving Firebird goalie was there again for the save. At the 19:35 mark freshman stopper Molly Woodhull launched a high looping shot which appeared to be goal-bound, but landed just over the crossbar on top of the net.
Finally, with 15:25 to go in the game, Fairmont's Kahlie Striebel found Vonderbrink on the right side, and the Firebird nailed a perfect shot into the top left corner, giving Fairmont a 1 to 0 lead. The Jills fought hard down the stretch, but were unable to score, the game ending 1 to 0.
Thursday night, August 21st, Oakwood greeted Eaton in the home opener and first Southwestern Buckeye League game. The Jills dominated play from the start, but despite bombarding the Eaton keeper with shots, none found the back of the net. At the 22:20 mark senior Olivia Reasoner placed a corner kick in front of the goal. Molly Woodhull corralled the bouncing ball and knocked it into the net for Oakwood's first goal of the year. The Jills continued on the attack, and at 7: 53 Molly Breidenbach gathered in a ball in front of the goal and booted it home for a 2-0 lead.
Oakwood struck quickly in the second half. Just over one minute in a strong Molly Breidenbach throw-in was headed across the goal by senior Liz Daganhardt to a well-positioned sophomore Alex Randolph, who headed the ball past the Eaton keeper for a 3-0 lead. Senior Sarah Shewell finished the scoring at the 13:22 mark, scoring on a nice assist by junior Alex Miller.
The Jills received strong midfield play from senior Maeve Harper and junior Christina Davis, and excellent defensive work from seniors Elizabeth Dickerson and Taylor Garrity, and sophomores Erin Riley, Briana McConnell, and Erin Johnson. Senior Olivia Reasoner, who has quickly adapted to her new role as sweeper, patrolled the back of the defense well, and goalkeeper Lauren Luther stopped all four Eaton shots, recording the shutout.
Tuesday night, August 26th, the Jills travelled to Brookville for another SWBL tilt against the Lady Blue Devils. Molly Breidenbach got the scoring going early at the 28:47 mark, alertly taking advantage of a Brookville throw-in error, taking the ball to the goal, and knocking it in. Freshman Claire Davis scored her first varsity goal at 19:04, gathering an assist from Breidenbach and booting one just inside the left post for a 2-0 lead. Two minutes later Colleen Hallinan got past the Brookville goalie and tapped one in to up the Oakwood lead to 3-0. At 15:03 the Jills were awarded a free kick, and Olivia Reasoner's strong boot skidded past the Blue Devil keeper. A hustling Alex Miller was there for the score, and the Jills held a 4-0 halftime lead.
The girls in blue continued to roll in the second half. At the 25:46 mark Brookville was called for a foul just outside the box. Breidenbach took the kick, a low shot that got past the keeper for Molly's second goal of the game. Forty seconds later Claire Davis tallied her second, intercepting a pass and taking it home. Maeve Harper finished the scoring with 1:19 left on a penalty kick. Final score: Oakwood 7, Brookville 0.
Last Thursday the girls played host to the always tough Alter Knights. The Jills played inspired soccer early, boosted by a large, boisterous student crowd, and got on the scoreboard quickly. Just over four minutes into the game Molly Breidenbach unleashed one of her powerful throw-ins, finding Christina Davis, who booted it in for a 1-0 lead. The teams battled evenly for the next 28 minutes. With just over seven minutes to go in the half Oakwood was whistled for a foul just outside the box, and the ensuing Alter direct kick tied the score at one all. A minute later the Knights were on the attack again, a loose ball in front of the goal being kicked in for a 2-1 Alter halftime lead.
The second half was scoreless, but not without plenty of action, as both teams played good, aggressive soccer. Oakwood nearly tied it with 22 minutes to go, when a Breidenbach corner kick was directed goalward by Alex Miller, but the Alter keeper came up with a nice save. Olivia Reasoner gave the home crowd a thrill at the 10:00 minute mark following an Alter foul when her long kick sailed over the goalie and into the net, but the referee had ruled it an indirect kick, and since it had not been touched by another player, the goal was not allowed.
The loss drops the Jills record to 2 wins and 2 losses, 2 wins and 0 losses in league play. This week is a busy one, as the Jills host Milton Union Tuesday night, travel to Bellbrook on Thursday, and return home to face Cincinnati Mariemont on Saturday (JV at 5:30, Varsity at 6:45).
Head Coach Dawn Gaydosh enters her 11th season with a nice blend of experience and youth. This year's squad is made up of eight seniors, four juniors, two sophomores, and two freshman. Coach Gaydosh is assisted by Kate Lohmeyer and Dave Klum (who has guided the junior varsity to two wins, 3-0 over Fairmont and 9-0 over Eaton, and one tie, 2-2 with Alter).
---
A fall junior high boys basketball league is to be held at The Miami Valley School. The League is open to all boys entering the seventh and eighth grades this upcoming school year.
The League features equal playing time for all players in Miami Valley's two gyms, which have collegiate size floors. The league will be held on Sunday evenings with game times of 4:30, 5:15, and 6 p.m., will not interfere with any fall sports. The league starts on Sunday, Sept. 7 and concludes on Oct. 26.
Cost of the league is $75, which includes game jersey and a minimum of eight games. Any questions, please contact Mike Piatt, varsity boys basketball coach, at (937) 638-7762 or mjpiatt@hotmail.com
---
The Dayton A's 14-and-under select baseball team will hold workouts for interested players from 1 to 3 p.m. on Sept. 6 and Sept. 13 at Action Sports (formerly Gateway) on Field 1. Players should bring their gloves, bats, and helmets, water, and wear baseball pants and cup. The A's are a member of the Midwest Ohio Baseball League. Players born after April 30, 1994 are eligi ble. More details about the team, including directions to the tryout, can be found at www.TheDaytonAs.com. For further information contact Kevin Canfield at 623-8486.
---
A mandatory meeting for Oakwood Pee Wee Cheerleading (children grades 3,4,5,& 6) will be held at the Edwin D. Smith School library on Thursday, Sept. 4 at 7 p.m.
Due to some unforeseen circumstances Pee Wee Cheerleading is in danger of being a non-event. All children interested MUST attend with a parent or guardian or (someone) able to fill out forms. ALL FEES will be collected at this time. All measurements will be taken at this time.
Children who do not attend will not be able to participate in the program this year.
Please contact Lynn Huelsman, 293-0721 or Kate Halpin, 299-4329 if you have any questions .