Being an arts reviewer is lots of fun. The performances, the artists, and the behind the scenes lore is full of gusto and zest. My annual interview with Maestro Neal Gittleman, discussing the upcoming season, rates near the top of that list.
Neal is a great artist but he is also a great deal of fun. Maestro Charles Wendelken-Wilson names him the best conductor speaking from the stage since Leonard Bernstein. I heartily agree. Perhaps his jokes are not quite as good as mine, but his informal and succinct stage speeches surpass my own wildest dreams.
I want to share the background of the upcoming season with my dear readers. With Neal, it's easy to discover the interesting, the exciting and the musical insights of these concerts.
The Philharmonic is a kinetic organization. It grows and changes with its personnel, its programs and its audience. This season marks several important returns.Principal cellist Andra Padrichelli, harpist Leslie Norris and 2nd horn Elisa Belck have returned from leaves of absence.
The day of our interview was audition day for aspiring violinists. The audition calls of the Philharmonic attract wide attention. More than 20 prospective orchestra members answered the invitation. Neal, and the principal musicians charged with the selections, stated that the candidates were superb musicians.
The Philharmonic audience has excellent choices. The Classical Concerts, Chamber Concerts and Classical Connections are all played in the magnificent acoustics of the Schuster Center.
The nine Classical Concerts begin September 18th and 20th. Maestro Neal's inventive programming will bring, this season, three unusual, read that unique, piano concerti by composers with less than familiar names – Moszkowski, Still and Ward.
Have no fear; Neal pronounces each of them to be "everyone's favorite concerto that they have never heard before!" His wry smile in describing each of these works is a guarantee that they will be crowd pleasers.
In September, pianist Richard Dowling will play the Moszkowski. Brahms' 1st Symphony, a great and beloved milestone, will join the wildly popular Sorcerer's Apprentice of Dukas to complete the concert.
October brings the Dayton debut of Schubert's Mass with chorus and orchestra. I have never heard it and my personal love for Schubert's music makes it a guarantee hit for my readers. The manifold talents of the percussion section will have a chance to show off in Tambor by Joan Tower.
An unusual Schuman evening in November will feature both the American Schuman and the German Schumann. The charming New England Triptych and the joyous magnificence of Schumann's "Spring" Symphony are both lovely works. They will sandwich Tchaikovsky's great violin concerto played by Vadim Gluzman.
The concert will mark a return of guest conductor Lawrence Leighton Smith. I always remind Maestro Neal that he is most generous to his guest conductors, assigning them some of the world's greatest music. His reply, "There's plenty of great music to go around."
December will have another mini-festival. William Grant Still is one of the major African-American composers. His opus of over 150 works is heard regularly in concert halls and on the air. His local connection - he attended Wilberforce University and played in pit orchestras in Dayton while a student - has prompted Wilberforce to give him special recognition this year.
The concert will feature three Still works, one Kaintuk, is to be played by Wilberforce music professor, pianist Dr. Everett Jones. Dvorák's incredible 7th symphony will complete the concert.
Maestro Neal and the Philharmonic are tempting Mother Nature again. Last season the January concert was snowed out. This will be a revival of that program. Soloist Rachel Barton Pine will play two works by Cordero and Sarasate. The orchestra will properly salute winter with a visit to Finland by playing Sibelius' monumental 7th Symphony.
February will give us a Mahler evening. Mahler's symphonies create a world of their own. His 9th Symphony is a galaxy.
A guest conductor, the lovely Sara Jobin, will conduct the final "unusual" piano concerto by Robert Ward with soloist Ian Parker in March. She will also present Tchaikovsky's innovative and melodic 4th Symphony.
The Dayton Philharmonic can be remembered as the one regional orchestra which has presented the symphonies of Shostakovich, numbers 1, 5, 7, 10, and 15. Not only have they presented them but they have electrified the audience and the musicians into performances which are completely memorable.
In April, they will add Symphony No. 6 to the repertory. This is an incredible tribute to our fine orchestra and their marvelous programming. Not content with the mountaintop, Neal then takes us to Olympus with Beethoven's Violin Concerto played by Stephanie Chase.
We remain on the mountaintop for the final concert. Beethoven refuses to leave without his unique "victory sign," the 5th Symphony. The chorus returns in Vaughan Williams' Dona Nobis Pacem – a much needed plea for peace.
The Philharmonic augments these marvelous concerts with our unique "Classical Connections." Gaining in popularity, these lecture-demonstrations are full of great music and Neal's clever wisdom.
The jewel-like Demirjian Chamber Concerts add so much spice to our musical life. Space prevents an account of the four concerts but I can describe them easily – delightful.
Final comment – Boy! Are we lucky!
Dayton Playhouse opened its season with The Music Man. These big musicals are usually difficult for community theaters.
To my surprise and delight, it was a sparkling performance. A cast of over 60, a full orchestra and kids of every size and shape were having the time of their life.
The highest compliment I can pay is that it was not a professional production. It had the effervescence that a community theater cast can bring to a musical.
The show runs through September 28th. Try it. You'll like it!
---
To open its 47th season, Vanguard Concerts presents the return engagement of the Claremont Trio on Friday, Sept. 26 at 8 p.m. in The Dayton Art Institute's NCR Renaissance Auditorium.
Widely regarded as the premier piano trio of its generation, the Claremont Trio is sought after for its thrillingly virtuosic and richly communicative performances. First winners of the Kalichstein-Laredo-Robinson Trio Award and the only piano trio ever to win the Young Concert Artists International Auditions, the Claremonts are consistently lauded for their "aesthetic maturity, interpretive depth, and exuberance" (Palm Beach Daily News). Celebrating their tenth anniversary season, the Claremont Trio returns to New York's Carnegie Hall and Washington's Kennedy Center and will appear in more than sixty concerts halls across the country.
Highlights of their 2007-08 season included a complete cycle of Brahms and Schumann trios at Boston's Isabella Stewart Gardner Museum and summer appearances at the Saratoga, Mostly Mozart, Bard, Rockport, and Hamptons festivals. In recent seasons, the trio has performed at Avery Fisher Hall and Alice Tully Hall in New York's Lincoln Center, the UCLA Center for the Performing Arts, Stanford Lively Arts, the La Jolla Music Society, the Performing Arts Center at SUNY Purchase, the Kravis Center for the Performing Arts, and Wolf Trap. They have been featured guests of the chamber music societies of Detroit, Kansas City, San Antonio, Louisville, Cincinnati, and of course Dayton's Vanguard Concerts.
Summer appearances have taken the Claremonts to the Caramoor, Ravinia, Norfolk, Moab, Cape Cod Chamber Music, and Great Lakes festivals. The trio has also performed at the American Academy in Rome, and in 2002 they traveled to Bosnia, Serbia and Slovenia as part of a cultural exchange program co-sponsored by the U.S. State Department and Carnegie Hall.
Deeply committed to expanding the trio repertoire, the Claremonts will present the world premiere performance of a work by Nico Muhly at Washington's Kennedy Center and will also premiere a new piece written for them by Howard Frazin. They will perform Mason Bates' new work, Red River (2007) for piano trio, clarinet, and electronics, and will perform in special concerts celebrating Leon Kirchner's 90th and Elliott Carter's 100th birthdays.
Believing that education on all levels is essential to the future of classical music, the Claremont Trio is extensively involved in teaching the next generation of musicians and music lovers. Sought after for their effectiveness in the classroom as well as on the concert stage, the trio will conduct outreach activities and master classes in more than ten states this season, including a mini-residency at the Peabody Conservatory and master classes at the University of Washington. In recent years the Claremonts have led master classes at the Eastman School of Music, Boston Conservatory, SUNY Purchase, Middlebury College, the University of Wisconsin at Oshkosh, the Longy School of Music, and Gettysburg College's Sunderman Conservatory.
Twin sisters Emily Bruskin (violin) and Julia Bruskin (cello) formed the trio with pianist Donna Kwong in 1999 at the Juilliard School. The Claremonts are based in New York City and live near their namesake, Claremont Avenue.
For their program in Dayton, the Claremont Trio will perform:
Piano Trio in G Major, Hob. XV:25 by Franz Joseph Haydn
Piano Trio in G minor, Op. 15 by Bedrich Smetana
Piano Trio in F minor, Op. 65 by Antonin Dvorak
Ticket prices are $20 for adults and $15 for students and may be purchased at Hauer Music, Wright State University Box Office, at The Dayton Art Institute on the night of the concert only, or online at www.daytonartinstitute.org. For additional information or tickets, please call Vanguard Concerts at (937) 436-0244 or (937) 512-0144.
Your guide to upcoming
art and cultural events!
Contact The Oakwood Register for more information!

435 Patterson Rd.
Dayton, OH 45419
By Pam McGinnis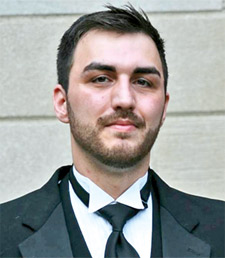 John Johns' grandmother used to tell him "God is in the details." These days John not only believes it; he is certain of it. How John Johns found St. Paul 's Episcopal Church back when he was at Capitol University is a story in itself. How he became the youngest music director at the parish is another story — an exciting, inspiring story.
During a voice lesson in Columbus, John's teacher received a phone from a choir master looking for a baritone. "I happen to have one right here." And, next thing you know, John Johns was a paid soloist at St. Mark's Episcopal Church in Upper Arlington. Despite being a Roman Catholic from Findlay, Ohio, John was drawn to the tradition of the Episcopal liturgy and mass and especially loved the music.
When John moved in with a friend in Dayton to cut costs, St. Mark's recommended that he contact St. Paul's Episcopal Church in Oakwood. Up until this spring, John had been the paid baritone soloist since 1999. Opportunity found him again, when the choir director at St. Paul's resigned and John stepped up to assume duties as the interim director of music. "It was two weeks before Holy Week and Easter. It was trial by fire," laughed Johns as he recalled his stint at the podium.
When Rev. Jack Koepke began the search for a permanent music director, they heard loudly from the choirs. Everyone wanted John! His gentle nature, leadership qualities and mastery of music combined to make him the perfect choice to take over the baton. He has sung with the Dayton Opera for nearly 10 years, has been musical director at several community theaters, performed for Stephen Schwartz at a recent Master Class and currently is musical director of Oakwood High School's fall musical.
Being the youngest music director in St. Paul's history, John brings an energy and vision that was sorely needed at the church. And he hasn't let much time pass before gently 'shakin' things up.' He is actively recruiting choir members and loves to add that auditions are not necessary. "Just join us and sing. Everyone is welcome." He oversees the hand bell choir which has 'ringers' of every age. He directs the children's choir and the youth choir and is always looking for youth who enjoy the challenge of performing.
He has also planned and organized the parish's first Artist Series. The series will showcase both local and professional talent. Proceeds from the series will benefit the music program at St. Paul's, renovation of the organ and a young artist scholarship.
The 2008-2009 Artist Series debuts with An Organ Spectacular celebrating the American Guild of Organists international organ celebration, as well as the 50th
anniversary of St. Paul's Austin Organ, Opus 2275. The recital will be presented by St. Paul's organist David B. Comer, as well as Russell L. Elias of Southminster Presbyterian Church on Sunday, Oct. 19 at 4 p.m.
John jokes that when people turn 50 we often fete them with black balloons. The organ at St. Paul's turns 50 next month but he doesn't plan to blow up any black balloons; he's hoping to raise funds to not only maintain but expand the organ. He's offering free "Organ Crawls" for anyone interested in seeing the 'innards' of a magnificent musical instrument. "This fabulous instrument needs more than a
face lift and it's my hope we can raise the funds to keep the music growing."
The series will continue with performances by the Hofeldt-Phillips Piano Trio on Nov. 15 at 4 p.m. and Due Colori on March 31, 2009 at 7 p.m. Anyone wanting more information about the Artist Series or about becoming involved in the music program at St. Paul's Episcopal Church should contact John at 293-1154.
John's late grandmother is right . . . God is in the details but the diligence, patience, desire and talent it takes to grow a music program are details John Johns brings to St. Paul's.
---
Caroline Clarke, a junior at Oakwood High School, plays Annie in "Over The Tavern" at the Loft Theatre through Sept. 21. It was her 16th birthday on Opening Night, Sept. 5. There was a beautiful cake from Ashley's in the lobby for the cast and audience following the performance, as well as pizza from Marion's. "Over The
Tavern" is a comical, yet honest, look at a Catholic family in the late 50's dealing with the many issues of life. The play is a must see!
Don't miss the fun to be had Over the Tavern, Sept. 4 – Sept. 21 at The Loft Theatre, 126 N. Main St., Dayton. Call Ticket Center Stage at (937) 228-3630 or toll-free at (888) 228-3630
---
Open auditions for children's roles in Dayton Ballet's annual holiday production, THE NUTCRACKER, will be held on Saturday, Sept. 27, 2008 at Dayton Ballet studios, located on the 4th floor of the Victoria Theatre, 140 North Main Street Dayton, Ohio 45402. Children ages 5-12, chosen by audition, will have the opportunity to perform with Dayton Ballet's professional dancers onstage at the Schuster Center, Dec. 12-21, 2008.
Audition times are scheduled by age group. For children age 11-12, auditions begin at 2 p.m., age 8-10 at 3 p.m. and age 5-7 at 4 p.m. The audition process will take approximately one hour for each group. Parents should register their children 30 minutes before the audition begins. Girls wear a solid color leotard, pink tights and pink ballet slippers. Boys dress in black tights, white t-shirts and black or white ballet slippers.
Experience in ballet is preferred, but not required. PLEASE NOTE: There is no audition fee, no resumes are needed and casting is at the discretion of the choreographer. THE NUTCRACKER children's roles include: Party-goers, Mice, Lambs, Angels and Toy Soldiers.
For additional information about auditions for THE NUTCRACKER, please call the Dayton Ballet School at 937/223-1542.
Performances of THE NUTCRACKER begin December 12th and run through December 21, 2008 at the Schuster Center. To purchase tickets contact Ticket Center Stage at www.ticketcenterstage.com or call 937/228-3630, toll-free in Ohio at 888/228-3630.
---
Playhouse South, A Community Theater will hold open auditions for the Barbara Robinson's "The Best Christmas Pageant Ever" on Sept. 23 & 24 at 7:30 p.m. at the Clark Haines Theater, 3700 Far Hills Avenue in Kettering.
Best Christmas Pageant is a hilarious Christmas tale good for all ages. A couple struggling to put on a church Christmas pageant is faced with casting the Herdman kids –probably the most inventively awful kids in history. You won't believe the mayhem and the fun when the Herdmans collide with the Christmas story head on.
Be prepared to sing your favorite Christmas song and read from the script. Some improvisational activities may also be part of the audition. There are up to 12 speaking roles for children and 9 speaking roles for adults available as well as a large chorus of children. Families are encouraged to audition together.
Rehearsals start Oct. 7 from 6:30-8:45 at the Clark Haines Theater. Production dates are Dec. 5-7 and Dec. 12-14. For more information contact Jill Proudfoot at 937-299-0618 or call 1-888-262-3792. Information can also be found at www.playhousesouth.org