Mr. and Mrs. Peter Newman of Oakwood, are happy to announce the engagement of their daughter, Miss Caitlin Meredith Newman, to Mr. Nicholas Robert Adams, son of Mrs. Judith Guenther-Adams and the late Donald Adams, also of Oakwood.
The bride-to-be is a 2004 graduate of Oakwood High School and received her bachelor's degree in Biochemistry and Spanish from Miami University. Caitlin is currently a first year medical student at the University of Toledo College of Medicine.
The groom-to-be is also an Oakwood High School and Miami University graduate. He received his bachelor's degrees in Philosophy and Psychology this past May. He currently is pursuing his Juris Doctorate at the University of Toledo College of Law.
The couple will be married on New Year's Eve in Dayton, Ohio. The newlyweds will make their home in Toledo, Ohio.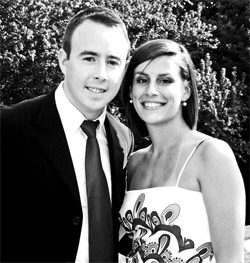 William and Ellen Leibold proudly announce the engagement of their daughter Sarah Ellen Rini to Brian Michael Schmitt.
Sarah is a 2003 graduate of Oakwood High School and a 2007 graduate of the University of Dayton with a BA in English. She will receive her MA in English from the University of Dayton where she teaches first year Composition.
Brian is a 2002 graduate of St. Xavier High School, Cincinnati, Ohio. He is also 2006 graduate of the University of Illinois with a BA in Graphic Design. He is currently employed as a Graphic Designer by Brand Image, Cincinnati, Ohio.
The couple will be married on June 20, 2009 in Dayton and will reside in Cincinnati.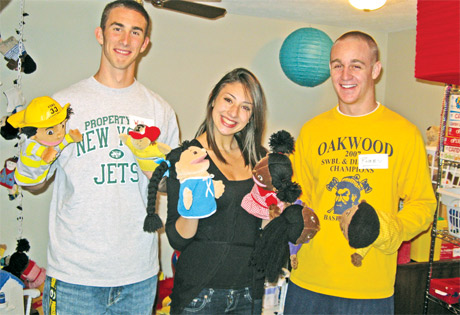 Oakwood High School students (L-R) senior Will Garner, sophomore Chelsea Bolger, and senior Robby Sherk volunteer twice a month at Oak Tree Corner, the Center for Grieving Children located in Oakwood on Far Hills Avenue. During each session the student volunteers work with the youngest children who attend group meetings. Oak Tree Corner helps children and teens who have experienced the death of someone special. Volunteers for and donations to the 501-C3 non-profit are welcome. For more information, contact oaktreecorner@mail.com or call (937) 285-0199.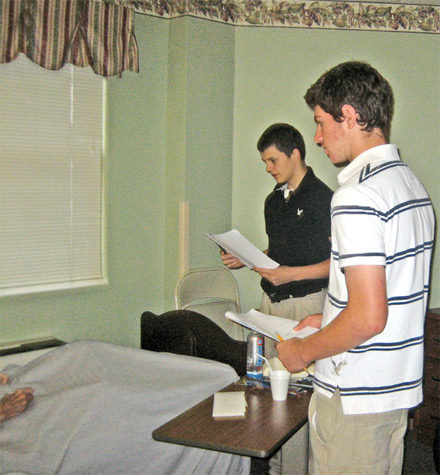 Eighth grade students Alfred Winkler and Andrew Stephenson interview a senior about her life.
The Oakwood Junior High class of 2013 had an exciting and inspiring experience on Thursday, Oct. 16th. They volunteered their morning bringing smiles to the faces of the elderly. The eighth graders went to senior centers across the greater Miami Valley area such as Sunrise, Walnut Creek, and Bethany Lutheran Village.
The students interviewed senior citizens, learned lessons from their life experiences, and intend to use this information to write memoirs. "Although we were interviewing them, we learned more about our own lives as well," said Mark Kravitz.
Some of the subjects that were discussed included changes in generations, the senior citizen's opinions on today's youth, and insights on life. One of the seniors shared his advice saying that students, "should just roll with the punches."
The students provided the senior citizens with conversation and companionship. Student Henry Blattner proclaimed, "I think it was a heart-warming experience for both us and the elders."
How does eating pesto serve the homeless? "All proceeds earned from homemade pesto sales," explains Oakwood High School student, Liam Jackson, "will be used to purchase table and chairs for the homeless shelter I helped renovate this summer in La Oraya, Peru."
Navidad sin Fin (Christmas without end) is the name of the homeless shelter Liam helped renovate in Peru this summer. It serves primarily the elderly and handicapped population. Everyone in the town is extremely poor but the people who attend church make weekly donations of food so that the E&H save some source of food. The shelter lacks tables and chairs. This is the immediate need Liam is trying to fill. There are ongoing plans to sustain the shelter by training people in particular trades who will then operate nonprofit enterprises to support the shelter but this will take years. For now the La Oroya community is just trying to give the homeless a place to eat.
Last spring Jackson asked Dr. John Buerschen to grow basil plants on his farm for the project and worked with Dorothy Lane Store Manager Tom Hart to secure the high quality ingredients needed to turn the basil into a pesto sauce for a competitive price. School friends and family members picked the basil leaves, mixed the ingredients and bottled it for sale and gift giving.
The shelter serves about 100 elderly and handicapped people per day in the mountainous, highly polluted City of La Oroya. "It's a little ironic," says, Jackson, "to think that by enjoying a product few people take the time to make, you can really make a difference in the lives of others." The cost of the pesto is $10 a jar and may be purchased by e-mailing: daceyjackson@yahoo.com.
---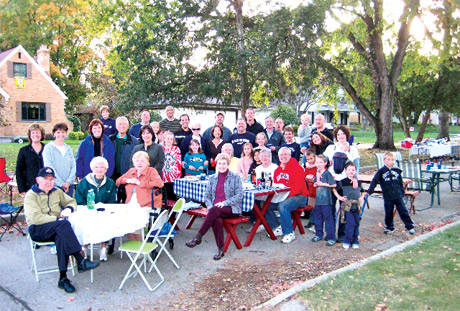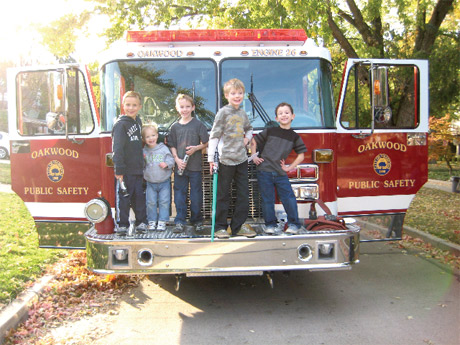 The neighbors of Harman Boulevard got together for a block party this past weekend. Friends and neighbors enjoyed a potluck picnic and the Oakwood fire truck made an appearance for the kiddies to inspect and explore.
---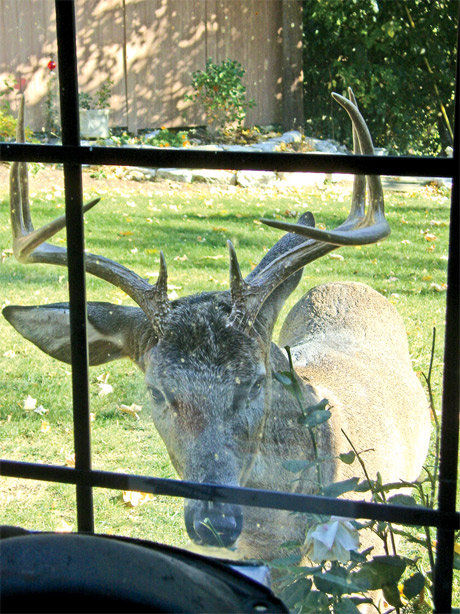 The big buck was enjoying the rose bushes of Portia and Dane Belden on Walnut Lane last week and didn't seem to mind when Mr. Belden took his picture from inside the garage.