Cooks of note –
a talented Quartet

By Tanya Noffsinger

Alice Roedersheimer, Dori Halpin, Barbara Reaman and The Oakwood Register's publisher, Do Winkler Wagner form an ensemble of cooks bound together in a gourmet group that traces its roots back to 1984. Their bi-monthly meetings have been theme based covering ethnic repasts inspired by the member's trips, seasonal fare and holiday meals. Next perhaps they will recreate literary meals a la Babette's Feast or a Shakespeare meal.
Alice Roedersheimer, interior designer, prefers the planning, menu and visual appearance of the table as her tasks. Many of the groups recipes are sourced from Cook's Illustrated, various web gourmet sites, regional cookbooks and the familiar to us all, The Joy of Cooking. Alice comes from a long line of bakers (uncle, brother and niece) Her niece owns Cakes by the Sea in Myrtle Beach and you have to check out her web site where she is decorating a live bald head!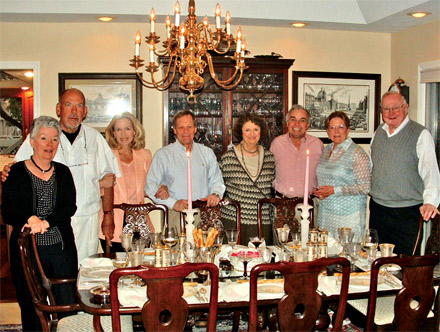 Pictured left to right: Alice Roedersheimer, John Halpin, Barbara Reaman, Chuck Roedersheimer, Do Wagner, Dave Reaman, Dori Dick, Jack Wagner, at hostess Dori's house.
Alice considers baking and soups her forte. Barbara does soup particularly well and is the wine connoisseur and Do handles the main courses, like the melodies in the quartets of Beethoven, passionately and eloquently, especially when lamb is the viande du jour.
Alice's large garden supplies heirloom tomatoes, sugarsnap and snow pea, scallions, leeks, Swiss Chard, and broccoli for counterpoint to the offerings for the group's consumption. She says she can't survive without her immersion blender and exercise so that she can continue to eat her favorite delicacies. Inquiring about future events, I was told that a Derby Day party is upcoming and perhaps a foray into a vegetarian theme which the group has not yet prepared. So, if the quartet decides at some point to invite another and to have fish as the entree may I suggest for your soundscape Schubert's Die Forellen (The Trout Quintet). For now Alice has sent along the following recipes which are high notes in the quartet's repertoire.
Gotta run! Soup's on.
Orange Almond Biscotti

2 cups flour
1 tsp. baking powder
1/4 tsp. salt
4 Tbsp. unsalted butter
1 c. sugar
2 lg. eggs
1/2 tsp. vanilla extract
1/4 tsp. almond extract
3/4 c. coarsely chopped almonds
2 Tbsps. minced zest from 1 orange

Sift the first three ingredients. Beat butter and sugar together until light and smooth. Add eggs, then extracts. Stir in almonds and zest. Sift dry ingredients over egg mixture and fold in until dough is just mixed. Divide dough into two. Shape each piece into 13"x2" log. Bake in a 325 degree oven for 35 mins. Cool for10 mins. Cut eah loaf diagonallyinto 3/8" slices. Bake at 325 degrees on cooling rack for 15 mins.
Creamy Mushroom Soup

5 Tbsp. unsalted butter
6 lg. shallots, minced
2 sm. garlic cloves, minced
1/2 tsp. freshly ground nutmeg
2 lbs. white mushrooms, sliced
3 1/2 c. chicken stock
4 c. hot water
1/2 oz. dried porcini mushrooms, rinsed well
1/3 c. dry sherry
1 c. heavy cream
2 tsp. juice from 1 lemon
salt and pepper to taste
sauteed wild mushrooms for garnish
Melt butter in Dutch oven over low heat and add shallots and saute until softened. Stir in garlic and nutmeg about 1 min. longer. Increase heat to medium and add sliced mushrooms and stir to coat with butter. Cook until mushooms release liquid about 7 mins. Reduce heat to med. low, cover pot and cook until mushrooms release all liquid, about 10 mins Add chicken stock, water and porcini. Cover and simmer 20 mins. Puree. Add sherry, cream and lemon juice. Salt and pepper to taste and garnish with mushrooms.
For questions, comments or suggestions contact this columnist at musicalfeast@att.net