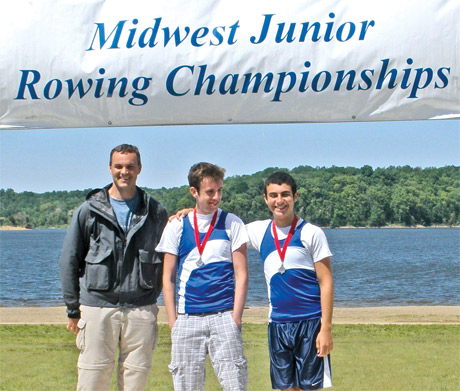 AJ and Jami Montesano both medaled with Dayton Boat Club at the Hoover Invitational Regatta on April 18 in Westerville, Ohio. AJ, a senior at Oakwood High School, placed third in the Varsity Men's Double. He is shown in the photo with his rowing mate Joe McAllister and Dayton Boat Club Men's Coach Dave Sutter. They will compete at Nationals in mid-June. Sister Jami, an Oakwood junior, took home a first place medal in the Junior Varsity Women's Four out of a field of 35 boats from a five-state region. Both athletes have been rowing since junior high school. AJ went on to Nationals last summer as the first men's boat from the Dayton Boat Club program. He plans to row at Ohio University in the fall.
---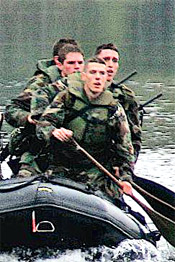 Midshipman Josh Elliott of Oakwood is one of 30 midshipmen, from an initial applicant pool of approximately 300, selected by the United States Naval Academy to act as rangers this summer for the National Scout Reservation at Philmont, New Mexico. Philmont is the Scouts' oldest national high-adventure base. Midn. Elliott was also the only midshipman awarded a slot in the United States Army Sniper School in Fort Benning, Georgia. In previous summer tours, he has cruised the coast of Australia aboard the aircraft carrier, the U.S.S. Kittyhawk, crewed on a 44-ft yawl sailing from Newport to Annapolis, and earned his wings at the U.S. Army Airborne School.
Midn. Elliott has just completed his third year at the Naval Academy, majoring in Systems Engineering.
He spent the 2008 fall semester as an exchange student at the United States Military Academy at West Point, qualifying for West Point's Combat Arms Team and participating in the traditional "prisoner exchange" in opening ceremonies of the 2008 Army-Navy football game. During the spring semester, Midn. Elliott represented the Naval Academy on the Infantry Skills Team in the Sandhurst Competition at West Point, involving select teams from military academies from the United States and other NATO countries. He has been selected to be the Squad Leader of the 2009-2010 Naval Academy Team.
Midn Elliott is a 2006 graduate of Oakwood High School and the son of Susie Elliott of Oakwood and David Elliott of Beavercreek.
---
WWII refugee rides with OSCA during TDIM parade
DLM brand reigns at chocolate tasting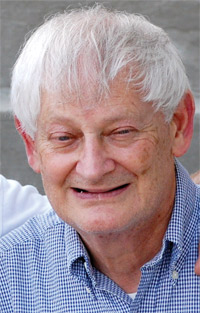 The Oakwood Sister City Association (OSCA) was honored with a special guest aboard its float in the That Day In May parade that made the renaissance of our city's global relationships truly meaningful.
Dr. Jean-Pierre Berwald, Professor Emeritus of French from the University of Massachusetts, rode along in OSCA Treasurer Ron Versic's 1959 Chevrolet flatbed truck, celebrating ties with Le Vésinet, France, that date back to World War II. A Jewish refugee from Belgium, Dr. Berwald was five when his family was welcomed by Oakwood's sister city at the beginning of a long and arduous escape from Europe that finally led him to the United States.
Closer to home, the OSCA's chocolate tasting during the festival on Saturday, May 16, produced some not-so surprising results. Of 177 tasters, the majority preferred the Dorothy Lane Market brand Belgian milk chocolate. Of the dark chocolates, the order followed cocoa per centage, with the preferred chocolates containing the least amount of cocoa.
"Thanks go out to our corporate sponsors, Dorothy Lane Market and Trader Joe's, and the Sister City officers and members who donated time and materials for the tasting and parade," said OSCA President Dr. Kirsten Halling.
Upcoming Sister City events include a Survival French mini language lesson taught by Dr. Halling of Wright State University on June 3 (6:30-7:30 p.m.) in the Wright Library Great Room, a Bastille Day party on July 12, and many more cultural and social events free to members. To join OSCA, send an e-mail to oakwoodsistercity@gmail.com or visit the groups Facebook page.
Two of Dayton's finest woodworkers are donating their artisanship to St. Paul's Episcopal Church. Dr. Burt Saidel and Mr. Harold Prigozen are designing and crafting a Communion table and matching credence table for the Oakwood church. "It's a beautiful example of devoutly religious men giving of themselves to help another place of worship," said Jack Koepke, rector of St. Paul's. Dr. Saidel and Mr. Prigozen have lent their talents to several other interfaith projects: the Great Hall
Ark for Temple Israel, a pulpit for Corpus Christi Catholic Church, the altar at Lewisburg United Methodist Church, and the podium used by the Dayton Philharmonic at the Schuster Center.
The Communion table is just part of a larger St. Paul's project. Beginning June 1, the Sanctuary at St. Paul's Episcopal Church in Oakwood will undergo significant restoration, repairing more than 50 years of wear and tear. The long-awaited restoration will include a new concrete threshold and door system for the front entrance, new carpet and floor tile, updated lighting, carpentry repairs to pews and kneelers, plaster repairs, and fresh paint.
During the restoration process, parishioners at St. Paul's will worship in the Parish Hall on Sunday mornings at 9:30 a.m. For more information about the project, including maps of the entrances to use during restoration, please visit www.stpauls- dayton.org