Chiropractic clinic BBB award recipient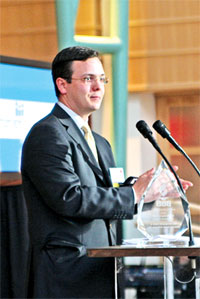 The Chiropractic Health and Wellness Center, 2301 Far Hills Ave. in Oakwood was recently the recipient of the Better Business Bureau's Eclipse Integrity Award. The firm was the winner in the 1-20 employees category. The Eclipse Integrity Awards are presented to businesses demonstrating significant, unique and continuous commitment to exceptional customer service, trust and fair-play in the marketplace.

"The integrity of our organization has been vital to our success. In an era with a myriad of healthcare shortcomings, we go the extra mile to help our patients become healthy, said Dr. Patrick Prikkel, president and chief clinician. Chiropractic medicine is often looked down upon and we strive to be a leader in our profession's growth and expansion. We can do this by embodying high ethical standards and professional integrity."

Founded in 1998, the practice has treated families for three generations and grew in business 12 percent in 2008.
---
Physician joins Patterson Woods practice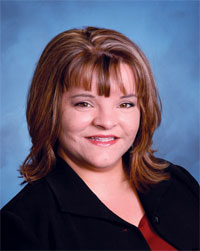 PriMed Physicians has welcomed Jennifer Lynn Machuca, M.D., to the Patterson Woods offices. She joins the practice of Drs. Thomas Greer and William Randall. The office is located in Dayton, at 948 Patterson Road.
Dr. Machuca earned her medical degree from the University of Toledo in 2004. She took part in the OB/GYN residency program at UT and completed her residency in family practice at the University of Cincinnati. As an undergraduate, Dr. Machuca received her Bachelor of Science degree in biology from Wright State University and pursued post-baccalaureate studies at Ohio State University.
"It is my pleasure to care for patients of all ages," said Dr. Machuca. "From infancy through geriatrics, we provide quality medical care. In addition to ill visits, I focus on prevention and early detection of diseases with my patients."
PriMed Physicians is an independent physician group with more than 60 doctors who specialize in family medicine, pediatrics, internal medicine, cardiology, endocrinology, neurology, podiatry, and physical therapy. PriMed Physicians has offices in 22 locations throughout Greater Dayton. PriMed Physicians welcomes new patients and looks forward to establishing life-long relationships with their patients to promote healthier, happier lives.
---
In nearly every measureable category, WHIO-TV is the number-one-rated CBS affiliate in the country. The CBS television network released national rankings for the month of May and WHIO attracted viewers like no other CBS affiliate in the country.
The Cox legacy station was rated number one during weekday mornings, primetime, late news, late night, and several other dayparts. The station was also the number one rated CBS affiliate in the country overall, all dayparts, all seven days. The station was rated along with 55 other national affiliates.
"Providing the best possible service to our viewers is our only goal, said Harry Delaney, vice president and general manager of WHIO-TV. "But being recognized by the network as the best overall CBS performer was an acknowledgement of our entire team and it made for a pretty nice moment around the building."
WHIO-TV Channel 7 is a Cox television station and CBS affiliate. Cox Television is a subsidiary of Cox Enterprises, Inc., based in Atlanta.
---
Wilbur and Orville Wright would be proud to know that Dayton is hosting the AeroMat 2009 Conference and Exposition June 8-12, 2009. The five-day conference which attracts over 700 delegates and more than 70 exhibiting companies provides a forum for discussion and display of the latest advances in materials and processes for aero
space applications. Appropriately, the 20th anniversary conference is held in the "Birthplace of Aviation," Dayton, Ohio.
The event takes place in the Dayton Convention Center and includes exhibits, technical presentations and education courses for aerospace industry leaders. The conference is presented by the U.S.
Air Force Research Laboratory at Wright-Patterson Air Force Base and ASM International, a materials information society.
For more information on AeroMat 2009 please log onto www.asminternational.org/aeromat or contact Rego Giovanetti, communications officer at 937-224-0800.
---
On June 12, 2009 Liberty Savings Bank will celebrate 120 years in business. Liberty Savings Bank, F.S.B., was founded in 1889 in Highland County, Ohio, when a group of businessmen pooled their funds to create the Lynchburg Building and Loan Association. The Association was formed to help meet the community's demand for home ownership, and over the years several business mergers helped to strengthen this small, rural bank.
Today, Liberty is a full service community bank with a variety of products and services to meet the personal, commercial and business needs of its clients. Liberty is staying competitive with its new reward checking account product line and is meeting the needs of its clients in a variety of innovative ways.
On Friday, June 12, 2009, all Financial Centers will host a complimentary reception to celebrate the milestone. Join the fun at your closest Financial Center or visit Liberty on the web at www.libertysavingsbank.com to find a location near you. There will be refreshments, product specials and giveaways while supplies last.
From its modest beginnings Liberty Savings Bank has grown into a successful financial institution as a result of superior banking products and a commitment to quality customer service. The future continues to look bright with even greater expectations of growth and excellence. Liberty Savings Bank is a full service community bank with 40 Financial Centers located in CO, FL, OH and SC. Assets total $1.5 billion as of March 31, 2009.
---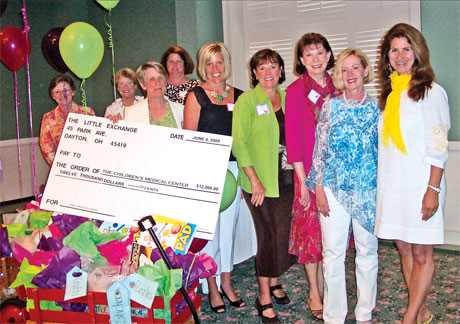 Volunteers and Board Members from The Little Exchange gather around to present a $12,000 donation and "Gifts" to The Children's Medical Center of Dayton.
During the The Little Exchange Foundation annual meeting on June 3, 2009, Board President Judy Gottman presented a check for $12,000 to Susan Brockman from The Children's Medical Center of Dayton. This donation represents continuing support of the Family Resource Center at the hospital. Along with the check, three large wagons of arts and craft supplies, books, DVD's, and journals were presented to Dayton Children's. These gifts were donated by customers visiting The Little Exchange during "The Gift that Gives" campaign this spring and are for children during their hospital stay at Dayton Children's. The Little Exchange plans to make "The Gift that Gives" an annual event along with its financial donation.
The Family Resource Center is located in the hospital and is a free library for patients, families, staff and the community who need information on pediatric health, safety and psychosocial issues. Information packets are available for specific diagnosis such as asthma and diabetes along with rare diseases. The center also loans books and DVD's to schools and health departments. Susan Brockman reported that this past year The Family Resource Center was filling 1,000 requests per month. This is an increase of 300 requests per month from the previous years.

Since 1957, The Little Exchange Foundation has donated over $1,400,000 to Dayton Children's. The Foundation operates The Little Exchange, a fine gift shop located at 45 Park Avenue in Oakwood. The shop is staffed primarily by volunteers with over 100 women assisting in the store each month. The Little Exchange stocks exquisite baby and children's clothing, unique wedding gifts, one of a kind home décor, gourmet kitchen items, jewelry and other unusual gifts. The Little Exchange is open Monday through Friday 10 a.m. – 5 p.m., Thursday 10 a.m. – 7 p.m., and Saturday 10 a.m. – 3 p.m.
Wright Library is offering an "Art Around the World" series on consecutive Tuesdays from 2 to 2:45 p.m. Children entering grades K-3 in the fall can travel around the world with Mrs. Bengson and learn about the art and music of China, Mongolia, Canada, India, Kenya, Iran, Vietnam, and Russia. Books related to that day's topic will be available for check-out.
Registration is necessary for this program. As always, children do not
need to live in Oakwood to participate, and parents are welcome to stay. All programs will meet in the Library Meeting Room.
For more information or to register, please contact the Youth Services Department at 294-7171.
As a compliment to the teen summer reading club theme, Express Yourself @ Your Library!, Wright Library is offering opportunities for teens to plug into their creative sides every Friday from June 12 through July 31. Programs will start at 2 p.m. and end at 4 p.m. unless otherwise noted.
June 12 Picture American collage/mosaic making
June 19 Henna (permission slip REQUIRED)
June 26 Cake decorating
July 7 Duct tape projects
July 10 Papermaking with Leesa Haapapuro and Chris Mannix
July 17 Cooking brunch outdoors (starts at 10 a.m.)
July 24 Tie-dye (bring your own white cotton shirt)
July 31 Scrapbooking (bring your own photos)
For more information, please contact the Youth Services Department at 294-7171. The web site is www.WrightLibrary.org.