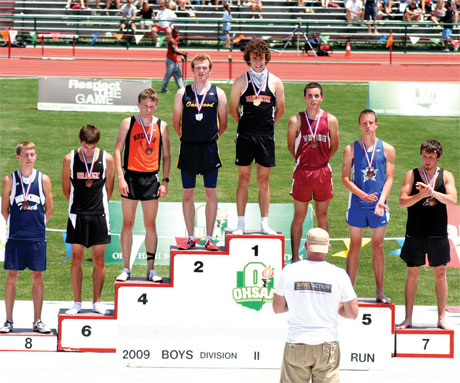 Peter Hix on podium for 1600m 2nd place win.
On Friday and Saturday, athletes from Oakwood High School ran at the State Track Meet at Jesse Owens Stadium in Columbus. On Friday the 4x800m relay team of Kelsey McDonald, Julia Sizek, Hannah French and Lucy Schafer ran to an eighth place finish and a spot on the podium. Schafer ran down several runners in the last leg and leaned at the line to finish ahead of the team from Cincinnati Archbishop McNicholas by one-hundredth of a second. This is the second year in a row that the Oakwood girls 4x800m relay team finished on the podium at the state meet. Saturday, Sizek closed out her OHS running career with a 13th place finish in the 3200m Run.
In individual competition on Saturday, Peter Hix ran a strategic race and finished 2nd in the 1600m run. His time of 4:18.28 was a new school record breaking the record he set last week at the regional meet. This was Hix's second trip to the state meet. The Jacks' 4x800m relay team of Troy Gould, Chris Wolcott, Keith Mueller and Peter Hix finished thirteenth.
The athletes would like to thank their coaches, Mark Stiver, Paul Buford, David Dobson, Carla Greene and Dean Harmony for the guidance and patience during another great year for the Oakwood High School Track and Field Team.
From Oakwood, but representing the Miami Valley School in Division III, Keta Burke-Williams, finished fourth in the long jump with a personal best leap of 17 feet and 7.25 inches. She was also on the 4x100 relay team that finished sixth.
---
Congratulations to the Champion Oakwood United Girls U14 soccer team for an outstanding performance and yet another total team effort in the May 30-31 Creek Classic Tournament! A balanced attack and stifling defense led the team to a 3-0-1 record, scoring 9 goals and allowing NONE on their way to the tournament title. This is the second tournament championship for the premier team, which also finished second in the league and recorded an impressive 13-4-3 season record.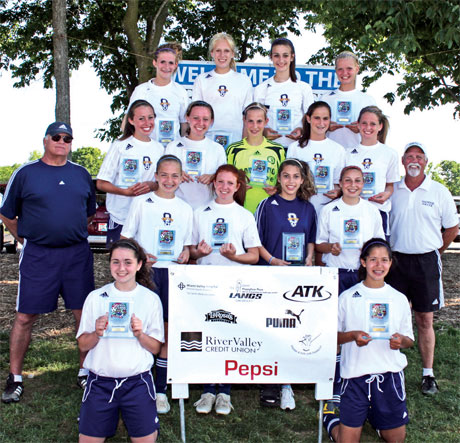 Pictured from left to right; Top Row: Ashley Nolan, Elizabeth Haley, Maggie Smith, Olivia Ireland; Second Row: Coach Dave Klum, Taylor Macaulay, Chelsea Reeder, Kate Hochwalt, Courtney Bachmann, Carder Gilbert, Coach Bill Sellers; Third Row: Emily Wootton, Jackie Pavlofsky, Jaime Jones, Jessica Piechota; Bottom Row: Anne Whalen, Hannalee Wade. Thanks for a Fantastic Season, Ladies!!!
---
The Oakwood High School Athletic Hall of Fame Committee would like to invite you to the 2nd Annual Oakwood Athletic Hall of Fame Banquet to be held Thursday, Sept. 3 at the Dayton Country Club (jacket/no denim) beginning at 6 p.m. Cost for the event is $30 for adults and $12 for children 12 and under. Social hour begins at 6 p.m. with heavy hors d'ouevres; program begins at 7:15 p.m.
To purchase tickets for the event, please send a check made payable to Oakwood Athletic Boosters, and mail to Oakwood Athletic Hall of Fame, 1200 Far Hills Avenue, Dayton, OH 45419 by Aug. 1, 2009. You will not receive a ticket in the mail; check in begins at 5:45 p.m. at the Dayton Country Club.
For more information, please contact Mark Hughes, Chairman, Hall of Fame Committee, at (937) 297-5342. The following individuals will be inducted at the banquet at the Dayton Country Club on Thursday, Sept. 3, 2009.
George Neal, Class of 1931
Howard Blose, Class of 1940
Howard Sales, Coach/Teacher/Athletic Director
Tim Coughlin, Class of 1964
Katy Deddens Dalrymple, Class of 1993
The Committee will also be recognizing the 1942 Football Team.
There will be a softball camp June 22, 23 & 24 from 1-3 p.m. for players entering 5-8th grades, and from 2:30-4 p.m. for incoming freshman and varsity-lettered players.
For more information contact Matt Money at mmoney@woh.rr.com or call the high school athletic office.
Any girl CURRENTLY in grades first through fifth that would like to attend the
Oakwood Girls Soccer Camp, please be sure to register with Coach Gaydosh by
July 8. The camp will be held July 13-17 from 10 a.m.-12 noon down at Old River
Fields.
Flyers were passed out to all elementary students~ if you have any questions or need a new form, please email Coach Dawn Gaydosh at dawngaydosh@aol.com or feel free to call at 439-0753. This camp promises to be a lot of fun! We hope to see you all this summer!
Oakwood Jills basketball summer camp

Camp is open to any Oakwood resident entering grades 4-8 in the fall
of 2009. Camp will be June 15-18, and cost will be $60.
Session 1: Grades 7-8
Time : 9-11
Location: The Pit (High School Gym)
Session 2: Grades 4-6
Time: 11: 30-1:30
Location: Smith School

Registration forms can be picked up in the high school athletic office or in the main offices at Smith and Harman Elementary. They can also be accessed online at the Oakwood District website.


Session 1
June 15th-18th
9:00-11:00am
at Smith School for incoming 4th, 5th, & 6th graders
Session 2
June 15th-18th
11:30am-1:30pm
at the Pit for incoming 7th & 8th graders


June 22nd-25th
9:00am-11:00am
High School Practice Field for incoming 4th-8th graders
Any questions: contact Paul Stone at 307-5818 or pws4141@gmail.com