It is August and I am officially brain dead. August is the only month during which it is both legal and therapeutic to suspend the being of your most efficient and practical self and just hang out. It is the only time when the make-the-bed police take a pass and nobody arrests you if the pile of laundry outweighs your car. If you ignored the dust bunnies and took the kids to the pool instead, you get an award. If you walked right by the lawnmower and went to the park, you get a cash prize. If you forgot to go to the store at all and so put the baby to bed in a tee shirt and a paper towel held on with duct tape, you win.
Being brain dead makes life so much easier. If perchance you start to feel guilty about not going to the gym, you can rationalize that getting threee squirming kids in and out of wet bathing suits twice a day is all the aerobic conditioning anybody could possibly need. If you occasionally fuss over the fact that you have fed the entire family nothing but pizza for breakfast, lunch, and dinner every day for a week, look at it this way….everybody loved it and nobody died. It doesn't get any better than that.
My August sloth encompasses all growing things. In May and June I scurry around arranging pots, planting petunias and strewing yards of mulch hither and yon. I weed and trim and spray with blissful abandon, pausing only to admire the loveliness I have created. By August however, I just don't care. The pots get scraggly, the petunias are wilted, and there's a crabgrass convention in the myrtle. With all the compassion of Mommy Dearest I ignore everything as I grab my book and head for a lawn chair. The most sympathy I can muster is a mumbled "sorry you're dead" and then I'm gone.
Finally, if I want to conclusively confirm my state of brain-deadedness, I only have to look as far as the book I am reading. I am not in line for a Pulitzer or a Booker, but I admire those who are. I sometimes read important books by important writers, on important subjects, with big fat important words. Not in August. I don't know about you but I want junk. I want mysteries, fluff, and gossip. I am not interested in anything that mentions Iraq, Nazis, or the recession. I will only read it if it begins with one of the following: 'The dead body was dumped in the alley', 'Rose fainted with desire when Thor galloped by on his white stallion', or 'Brad and Angelina to wed'. I know I will lose 30 points off of my I.Q. by Labor Day but I just don't care. It is August and I am totally, happily, legally, brain dead.
So enjoy the next couple of weeks. Pretty soon the schedule troll will snap you back into line but until then just don't sweat it. Well, gotta go. The pizza's here.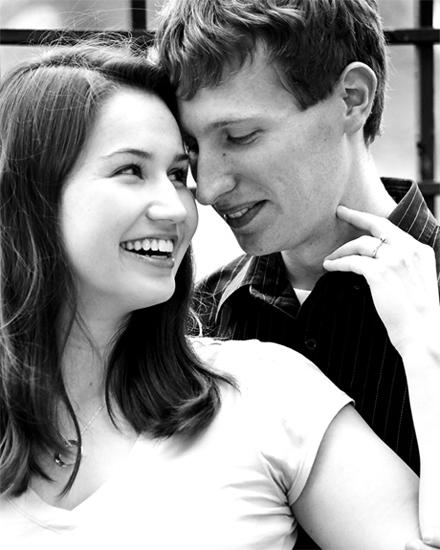 Dr. Dan and Kathy Quenneville and Michelle Kennard, both of Oakwood, announce the engagement of their two children, Kathryn Quenneville and Justin Kennard.
Kathryn is a graduate of the Oakwood High School class of 2004. Kathyrn and Justin were high school sweethearts. Kathyrn graduated magna cum laude from Miami University with a B.S. in Middle School Education with concentrations in Mathematics and Integrated Language Arts in 2008. Kathryn is currently employed as an Academic Advisor for the Clark School of Engineering at the University of Maryland, College Park, while pursuing her Masters degree in Human Development at the same institution.
Justin was Valedictorian of the Oakwood High School class of 2004. He graduated cum laude from OSU with B.S. in Electrical Engineering in 2008. Justin is currently employed as an Electronics Engineering at Northrop Grumman Corporation in Linthicum, Maryland.
An August 22, 2009 wedding date is planned. The wedding will be held at the Dayton Art Institute and will be officiated by Rev. Kathleen Johnston.
Mr. and Mrs. Robert Mues of Kettering, formerly of Oakwood, are pleased to announce the marriage of their son, Jeffrey Scott Mues to Ashley JoAnna Winston. The April 18, 2009 ceremony took place at Epworth by the Sea in St. Simons Island, Georgia. The Rev. Tim Steffan officiated at the outside ceremony.
Ashley is the daughter of Jeane Winston of Dallas, Texas, and John and Anet Winston of Denver, Colorado. Ashley grew up in Louisville, Kentucky, but attended high school near Dallas, Texas at Southlake Carroll High School. She is a 206 graduate of the University of Texas. Where she majored in economics. Ashley is presently employed as a trade accountant in prime brokerage for HBK Investments in Dallas.
Jeff is a member of Oakwood High School's class of 2000, and a 2004 graduate of Southern Methodist University in Dallas. Jeff majored in corporate communications and public affairs and is the manager of public relations for the Greater Irving-Las Colinas Chamber of Commerce.
The couple just purchased a home in Dallas with their beloved Australian Shepard, Lainee.

Stephanie Albrethsen, who resides in Oakwood, has recently joined Kamela & Company Realty as a licensed Realtor, specializing in the sale and marketing of residential homes and investment properties. Stephanie is a graduate of Wright State University with a BS in Economics. Albrethen brings with her; experience in banking, finance, property management and investment properties.
Stephanie knows timing is everything in this competitive market. Her dedication, work ethic and energetic nature enable her to find the right property that fits each of her client's needs. From first time home buyers to savvy real estate investors, Stephanie's personal commitment, attention to detail and warm personality assure a pleasurable real estate experience.

Kamela & Company Realty is pleased to have Stephanie join its team of dedicated
real estate professionals. She can be reached at Stephanie@kamela.com or
937-672-5567.
---
Ted Gudorf, J.D., recently announced that he has formed Gudorf Law Group, LLC. The new firm has four attorneys and its office is located at 8141 N. Main St. in Englewood, Ohio.
Gudorf has practiced law in Dayton for 23 years. For the last 12 years, he has limited his practice to estate planning, estate administration and asset protection planning. He is one of the first lawyers in Ohio to become board certified in estate planning. Gudorf resides in Clayton with his wife Sandy.
Joining Gudorf at the firm is Attorney Anne K. Thompson, J.D., LL.M. of Oakwood. Previously, Thompson worked as a clerk for former Montgomery County Common Pleas Court Judge Jeffrey E. Froelich. and as a corporate tax attorney for NCR Corporation. Thompson will head up the firm's estate administration and business succession planning departments.
In addition to Thompson, Attorney Russell Golowin, J.D. LL.M has joined the firm as a contract attorney. Golowin's practice is limited to Medicaid crisis planning and veteran's benefits planning, Golwin currently resides in the Columbus, Ohio suburb of Upper Arlington.
In addition to changing the firm name to reflect the additional staff attorneys, Gudorf said the North Main Street office has been completely renovated. An Open House is scheduled on Thursday, Aug. 13, from 3 p.m. to 7 p.m. The public is invited to attend.
---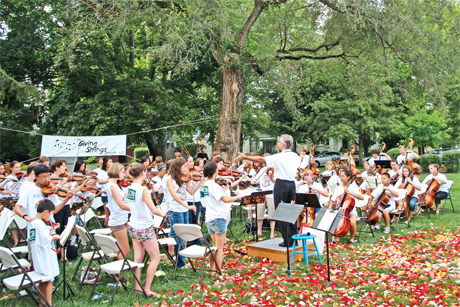 The Giving Strings 2009 Concert was a huge success this past Saturday, August 8th. The benefit concert raised $3,001 for the St. Vincent de Paul Transitional Housing Program. We would like to thank those organizations and people who went above and beyond to help us achieve this.
First, we thank the Lebanon Citizens National Bank for being our major sponsor for two years in a row. Alley Cat Designs, Marco's Pizza, Ashley's Bakery were other businesses who helped us tremendously with making the concert happen. Thank you also to the Judge family, for always being there when we needed help, and for starting the Giving Strings tradition, and thank you to all the volunteers at the rehearsal and concert who helped make things run smoothly.
We thank our loving and supportive parents, Mark and Betsey, for giving us constant support, and we thank Dr. Patrick Reynolds for conducting our orchestra and helping with the music and repertoire. Without the Giving Strings Orchestra, we also would not be functioning, so a huge thank you to all the musicians who dedicated their time to this great cause.
Lastly, thank you to everyone who came to the concert and contributed to our cause. Your generous support paid off, and we are glad to announce that this year's donations doubled last year's total. Thank you everyone, and we hope to see you next summer!
---
The Little Exchange is located at 45 Park Avenue in Oakwood and sells fine gifts, high quality baby clothes and unique items for bridal registries. What makes this shop so special? With only a few paid staff and a over 100 volunteers, the Little Exchange donates all of its proceeds to the Children's Medical Center of Dayton.
Volunteers at The Little Exchange have an opportunity to work with wonderful customers, assisting with gift selection and wrapping packages. The Little Exchange volunteer make a significant contribution to Dayton Children's and all of the young patients it serves. Volunteers generally work twice a month, a shift of three and a half hours. Openings are available weekdays or on a Saturday shift with a onc time per month commitment.
The Little Exchange is open Monday - Friday 10 a.m. – 5 p.m., Thursday 10 a.m. - 7 p.m., and on Saturday from 10 a.m. – 3 p.m. Anyone interested in more information about volunteering to help this non-profit organization, should contact The Little Exchange Store Manager Judy Washburn at 937- 299-1561 or visit the web site at www.thelittleexchange.org. A volunteer position at The Little Exchange is a great way to work and meet new people from all over the Miami Valley while the proceeds benefit The Children's Medical Center of Dayton.