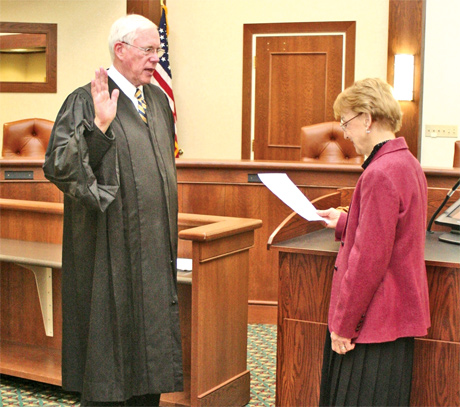 A swearing-in ceremony for Judge Robert Deddens' fourth term as Oakwood Municipal Court Judge with Mayor Judy Cook presiding took place on Dec. 31, 2007 in the court chamber.
---
By Lance Winkler

The Oakwood City Council met on Monday evening with all members counted as present. The first order of business was for the city council to re-elect and swear in Judy Cook as mayor and Carlo McGinnis as vice mayor to two-year terms. Mayor Judy Cook then swore in the three election winners – incumbents Stanley Castleman and William Duncan, and new council member Steve Byington to two-year terms on council.
The Oakwood Planning Commission was next up for changes in membership seats. Vice-chairman Jeffrey Shulman was appointed to the post of chairman, taking the place of William Kendall who has stepped down from a position he has held for 25 years. Due to Mr. Kendall's leaving the planning commission, a vacant seat still remains open. Becky Butler was appointed to the seat vacated by Steve Byington.
Mr. Byington has not entirely given up a spot on the planning commission as he has been appointed to be the city council representative to the planning commission, replacing Vice Mayor Carlo McGinnis who formerly held the position.
In the visitor's portion, representatives of the Wright-Patterson AFB Honor Guard performed a moving flag ceremony, unfurling and then folding the U.S. flag and presenting it to the city council to fly over the city building for the entire Centennial year.
A resolution was passed on behalf of a request by the Oakwood Investment Group, LLC, asking that "For Lease" signs be allowed to be erected announcing that Buildings A, B and D have been renovated and are now open for business for potential business tenants. The signs are permitted to be erected and advertise the buildings' availability for one year.
The next formal meeting is scheduled for February 11, 2008.
---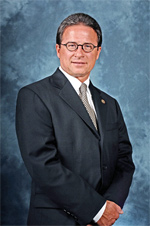 On Monday, Dec. 31, Roger Blumensheid will conclude a term of nearly six years as a
member of Oakwood City Council.
Mayor Judy Cook, city council and city staff
will honor Roger's outstanding public service
at a reception from 4:30 to 6 p.m. on Tuesday, Jan. 8.
The celebration will take place in the
council chambers at the city building,
30 Park Avenue.
All citizens are invited and encouraged to
attend.
The Board of Trustees of the Wright Memorial Public Library is accepting applications for an open Board position. This appointment will be for a partial term of four years, commencing in 2008.
Current trustee Steven Byington will be leaving the Library Board when his term on the Oakwood City Council begins in January. The regular term of office is seven years and trustees may serve two terms.
Applications may be obtained at Wright Library's Checkout Desk, on the Library's web site at www.WrightLibrary.org or by calling Linda Cosgrove at 294-8572.
Individuals who have applied previously are encouraged to reapply. Completed applications are due at the Library by 8 p.m., Wednesday, Jan. 9, 2008.
Members of the Board should live in the Oakwood School District. The Board meets on the third Monday of the month at 7 p.m. in the Library's meeting room. Each board member is also assigned to at least two committees that meet on an as-needed basis. Library trustees should show a strong interest in the welfare of the Library and its place in the community. They must have the time and energy to devote to the Library. Board members must make a commitment to active participation and consistent attendance. They should be team players. Trustees are chosen to reflect the community.
Some important issues the Wright Memorial Public Library will be facing include the wide variety of new technologies, future funding, strategic planning, and intellectual freedom. Board responsibilities include approving long-range goals; monitoring short-range goals; approving annual budget and capital expenditures; making final decisions on building, renovation, or expansion; establishing policy and budget for materials; adopting policies on fines and fees; adopting service policies; and evaluating the Director and Fiscal Officer.
For more information on the Wright Memorial Public Library and its Board of Trustees, contact Ann Snively, Library Director, at 294-8572.
With the new year, Wright Memorial Public Library Foundation announces a new webpage, wrightlibraryfoundation.org.
Library supporters will find links to the Dayton Foundation where they can make donations either by credit card or through their charitable checking account.
To find out more about the Foundation, make a gift, or to volunteer for future projects, please go to wrightlibraryfoundation.org.
The next Oakwood Junior and Senior High School PTO meeting is Thursday, Jan. 10 at 11:45 a.m. in Room 211 at the high school. Superintendent Dr. Mary Jo Scalzo will present the findings from the 26-member South Suburban Teen Alcohol and Other Drug Task Force. This 10-month study resulted in specific recommendations for combating underage alcohol and drug use in the south suburbs. There will also be reports from Principals Joe Boyle and Dan Weckstein.
Plans for the Father/Daughter-Mother/Son Junior & Senior Dinner at Bravo Restaurant on Sunday, Jan. 27, will be finalized. All parents are encouraged to come.