Aileen & Bud Welch began one of the 'New Year's Eve' bashes with their cocktail party at '333' – the 'condo at five-points'. Three-three-three'ers-in-residence, in attendance, were Marilyn Gans, Jane Heywood, Midge & Jim Harlan, Dotty Bachus, and Ginny & Bill Cuthbertson.
'Non '333' residents'' included Wise Glossinger, Marty & Bob Wind, Nancy & Tom Gillaugh, Connie Breen, Audrey & Jack Margolis and Marty & Fred Ohme…et al..
Then at eight o'clock – everyone was asked to leave and to proceed to Dayton Country Club for dinner. Dotty Bachus and Joe Aceto did not take orders – they went to DCC alright – but joined the 'black-tie-ball' held by the 'Fork and Fiddle' Dance Club. DCC also had a members-only 'Black Tie Ball' – so the club house was packed, and lots of time was spent chatting-up friends 'from one of those other groups!' Virgil Ricks, the dining room manager and Walter Schaller, the general manager – were as busy serving tables as were the regular waiters and waitresses.
Following dinner the 'marching orders' were given to proceed to 1221 Oakwood Avenue to 'officially greet the New Year'. Now, not everyone of the diners obeyed. Some felt the 'better part of valor' was to go home and go to bed! But twelve 'night owls' managed to play 'Clue' 'til eleven forty five, to don funny hats, pick up their 'horns' and watch the ball fall in Times Square. "Happy New Year!"

January first, 2008 was clear, cold, and bright – boding well for the New Year. Tracy & Irv Bieser affirmed a propitious beginning with their traditional Brunch. The 'brunchers' were a mixed-bag – age-wise and other-wise. It was a delight!
Alan & Pattie Edmonson were there. Pattie was full of plans for the annual Junior League Sustainers Spring Tea. Barbara Rion, Soni & Bill Kasch, Barb Thomas and her daughter (Jr. at Miami U.), and Hope & Bob Taft were enjoying the beautiful buffet table. Tracy's centerpiece was a knock-out! "It was from Furst's…"
Cathy Black was just home from her 'digs' in Wyoming. Sally & John Fisher, Pam & George Houk, and Ginny Whalen added lots of fun to the group. Jane Scharrer felt right at home…"I lived across the street until about a year ago." Sara Woodhull and her mother, Jean Woodhull, had a great conversation with Hope Taft about Hope's creating a 'prairie' at her new place near Bellbrook.
Jo Granzow was waxing enthusiastic about her efforts to restore the downtown Dayton Arcade. Francine & Ludolph van der Hoeven, both accomplished amateur musicians, were praising the Dayton Philharmonic and Neil Gittleman. Cindy & Mark Garner were there with their daughter. Adele & Dick Good regaled everyone with their New-Year's-Eve-Water-Wars. "We had a lot more than we needed! But would you believe the City of Oakwood got someone out to our house that evening…and fixed the problem!" "It helps to be Chair of the Centennial Committee," suggested one wag.
Stacy & Rod Yarger were there – without their dog "Lacy'. Maggie & Richard Mantia waved – well Maggie did. Richard was chewing something delicious but was able to nod. Ralph Johnson & Margaret Karns greeted lots of friends. Margaret and Bob Taft had an in-depth discussion…obviously about Bob's new affiliation with the University of Dayton.


A Lockwoodfest! That's what it was. Bill and Jackie Lockwood had something to celebrate – their three children were home for Christmas, and the youngest, John, was home with his new bride, Robyn. Let's have a party, said the kids to their parents. And that's what they had. It happened at the Engineer's Club, which, by the way, was a terrific venue. Great atmosphere, good food all being enjoyed by their many friends and family members.
The Lockwoods have been almost-forever-Oakwoodites. All three children– Jane, John and Jim – attended Oakwood Schools. All three enjoy outstanding success, not only professionally, but as giving citizens.
Jim has his own company in Boulder, Colo., Aero Solutions, involved with the reinforcement of vertical bridges and communication towers. He and his wife, Jane (nee Benedict – they were Oakwood high school sweethearts) lived in New York when 911 occurred. Immediately helpful, he spent nine months at Ground Zero contributing muscle and brainpower to help solve the engineering problems inherent in the site clearing and leveling of the ruins of the Twin Towers and Bldg. 7
- three of those months as a volunteer.
Jane Lockwood Lynch is an endocrinologist in San Antonio where she is involved in research, teaching and clinical work on the correlation between childhood diabetes and obesity. She is married to Jim Lynch, who recently retired from the Air Force.
The honoree and youngest of the Lockwood children, John, and his new wife Robyn, have left for California where both have accepted professorships at Stanford University, John in electrical engineering/computer systems, and Robyn in English as a second language, primarily for graduate students from other countries.
Challenges, accomplishments, kudos and cake! Indeed, there was much to celebrate.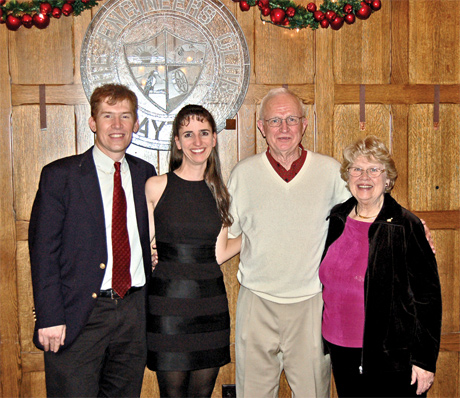 Pictured, left to right: John Lockwood, new bride Robyn Lockwood, Bill and Jackie Lockwood.