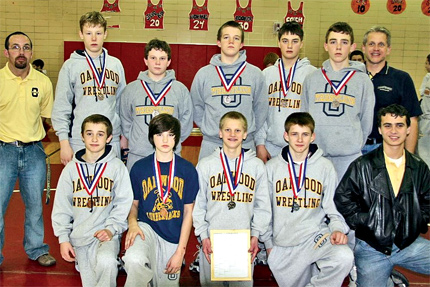 Pictured, top left: Coach Terry Wright, Sam Stanley, Max Breidenbach, Noah Roberts, Alex Hoecht, Cameron Wedding and Keith Buckingham. Bottom left: Thomas Bustillo, Jacob Hootman, Pat DeBrosse, Buck Powell and Coach Thomas Gossard. Photo by Jeff Breidenbach.
Patrick DeBrosse and Buck Powell led the junior high wrestling team to a big finish against ten tough schools at the Northridge Invitational on Saturday. The following athletes won medals in their weight classes: Patrick DeBrosse (first place), Buck Powell (second place), Thomas Bustillo, Jacob Hootman, Max Breidenbach, Cameron Wedding, Noah Roberts, and Sam Stanley (third place) and Alex Hoecht (fourth place).
Coaches Terry Wright and Tom Gossard and coaching volunteers Kelly Kooser and Keith Buckingham inspired the wrestlers to come back from a disappointing first round to dominate the finals in the competition.
To see these awesome athletes in action, come to the Oakwood J.H. Invitational at Oakwood Junior High School on Jan. 19.
Lumberjack wrestlers drop one to Carroll

By Gary Kesler
OHS Wrestling Coach

Saturday evening the Oakwood High School Wrestling Team traveled to Carroll H.S. for a dual match up of Division II foes. Josh Hootman started the evening off with a win by forfeit leading to a freshman match up between Oakwood's Dan Pohlman and Carroll's Codey Wolfe. Pohlman used a number of turns in route to a third period pin giving the Jacks a 12-0 lead. Oakwood forfeited the next match at 189 lbs, giving Carroll their first six points of the evening.
Next up for the Jacks was Junior Matt Suits, working well on his feet and scoring late in the match to prevent Carroll's Luke McGlaun from walking off with bonus points giving the home team three instead of four team points.
Jake Horlacher was matched up next against Carroll's Steven Pisut and came away with a six point pin for the Jacks.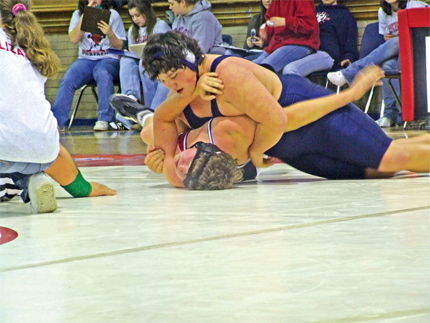 Jake Worlacher goes for the pin.
Oakwood again was forced to forfeit a weight class at 103, moving up Daniel Jacobs to challenge Carroll's Travis Von Neumann for what appeared to be the match up of the evening. They did not disappoint as both wrestler's battled for six minutes, before Von Neumann managed to hang on to a 4-3 victory.
Next for the Jacks was the always tough, Paul Hochwalt wrestling Josh Nelson for the Patriots. Nelson never trailed in the match, only giving up a reversal late in the third period to defeat the Jacks 2-4, adding three more points to the Carroll total.
Alex Kooser then wrestled at 125 pounds for the Jacks and came away with a 4-2 overtime victory of Corey Cagle.
Up next, Junior Brandon Bustillo for the Jacks and Carroll's Tommy Willis. Willis came out with a first period takedown while Bustillo escaped quickly, leaving the first period score at 2-1 Willis. Both wrestlers went scoreless through the second period, with Willis catching a pinning Bustillo in the third period to add six big points to the Carroll total.
Jamison Kordik accepted a forfeit from the patriots, extending six points to the Jacks with another Jacks freshman, Will LeBoeuf, stepping up to wrestle senior Alex Guy, losing a highly contested match 3-4.
Freshman Brian Huey then wrestled Carroll's Adam Luke, giving up a late first period pin and six points to the home team.
The final match of the evening pitted Oakwood's Dan Kendig against Carroll's Kevin McKenzie. McKenzie went on to win the match by a fall, and sealed a Carroll victory over the visiting Lumberjacks, 42-27.
The Lumberjacks will wrestle next at Bellbrook this Saturday.