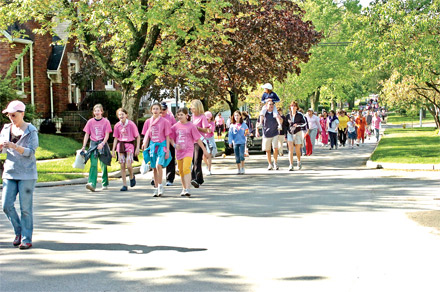 Photo by Leon Chuck, Welcome to the Oakwood Register - Front Page://www.PressboxPhoto.com" target="_blank" class="T_Caption">www.PressboxPhoto.com
CARE Walkers wind their way down the avenue.
The seventh annual Breast Cancer 5K CARE Walk on May 10, 2008, at Oakwood High School stadium attracted more than 500 walkers and raised more than $13,000 for the Breast Cancer Foundation of Dayton with monies still coming in. After a couple days of heavy rain, the weather cleared on Saturday to make a glorious day for walkers and runners.
Dan Edwards of Channel 2 News emceed the walk and Health Fair. Miss Teen Ohio 2008 Lindsay Hanson signed photos and loaned her crown to the young participants. Diane Butler-Hughes, co-founder of the Noble Circle Project, and Jocelyn Whitfield, founder of Sisters Network of Dayton, spoke to the crowd about their experiences with breast cancer, the importance of early detection, and their gratefulness for the walkers who gave of their time to help in the fight against breast cancer.
CARE Walk is sponsored by Whispers Home, Miami Valley Hospital, Laura's Cookies of DLM, the Asian Arts Center, Alley Cat Designs, Blue Turtle Toys, Clark's Mr. Prescription, Deck the Walls, Dr. Danny Reveal, Fazel Rug Gallery, Invoked Projects, KTC Quail Tennis Club, Nancy Chifala Design, the Oakwood Register, and Standard Register.
For more information about CARE Walk, go to www.carewalk.org.
---
Dramatic interpretation, funny talk and speed reading by Oakwood High School's award-winning speech and debate team members was showcased at last night's Oakwood Board of Education meeting.
The students—Rob Mitchell, Joanna Draper, Julia Goff and Siobhan Tellez—have advanced to the national competition that will take place next month. They are among about 50 students on the school team coached by Brianna Doyal.
The students at the meeting presented snippets of their speaking talents. Mitchell kept the audience laughing with his humorous interpretation of a teenage girl who's a little vain and loves to emphasize a "perfectly symmetrical" face. Draper in her dramatic interpretation told a moving story about a young girl who meets and helps an autistic boy named Matthew. Goff, who specializes in student congress debate, did an amazing speed reading of the story "The Stinky Cheese Man."
Tellez, who does international extemporaneous speaking, was unable to attend to board meeting.
Also in curricular showcase at the meeting was a team presentation by Smith Elementary School sixth-grade teachers Lynne Irwin and Lisa Henry on the differentiation strategies they have used to teach certain novels. The lesson plan book they compiled for presentation was completely original, a real "work of art," said Irwin.
The teachers said they gave their students a choice of how to earn their credit points and a number of options of how to review the novels depending on individual interests. Some projects they chose were writing a community journal, composing letters, making character dolls and showing examples of irony, many of which were displayed at the meeting.
"These kids are unbelievably creative in what they did," said Irwin.
"They really got into it," added Henry.
The novel the students worked with included "Holes," "Roll of Thunder, Hear My Cry" and "Just Ella.
Kim Kappler, district curriculum director/Lange School principal, commented on how Irwin and Henry's lesson activities could serve as a exemplary published book on classroom differentiation. "The work they're doing is really impressive," she said.
"We work good as a team…If I can't do something, she (Henry) steps up and if she can't do something, I step up," said Irwin.
Irwin and Henry have worked together for a number of years and have collaborated with teachers at Harmon Elementary School.
Among commendations, the school board recognized the following "Dome Newspaper" students who received awards at the Ball State Journalism Conference: Austin Kellogg (superior, personality feature and superior, editorial); Elli Anne Karras (superior, magazine news story and excellent, sports feature); Zach Gorman (excellent, magazine news story); Riki Sagraves (honorable mention, multi-page layout); Ally Moder (honorable mention, cover design); and Tristan Schnader (honorable mention, feature story).
In information topics, Kappler reviewed summary data from the recent kindergarten screening assessment for next school year. The screening, based on the Kindergarten Diagnostic Inventory-II, consisted of 13 subtests, both verbal and non-verbal.
Kappler said a total of 131 students (less than last spring) were assessed, most of which (63 percent) are in the "older/on-time" age category. Thirty-four percent are in the "young" age group, and three percent fall under early entrance. The "young" group had a higher mean/median score than the other groups, of which Kappler noted it is usually the "on-time" group that scores the highest. Comparing gender, girls scored higher than boys.
Also in information, Superintendent Mary Jo Scalzo stated that as part of the city's centennial celebration this summer each school will present a time capsule to Ann Snively, director of Wright Memorial Public Library, on June 8, 2:15 p.m., on the front lawn of the library. In case of rain, the presentation will be held in the Smith School gym.
Among resolutions, the school board approved to:
*Award the contract for the roof replacement project at the high school and Smith School to Command Roofing of Dayton. Total cost for the project will be $172,700, paid from the district's permanent improvement fund.

*Approve its tentative agreement (dated April 29, 2008) with the Oakwood Teachers' Association, effective July 1, 2008-June 30, 2011.

*Support a Waiver Day application by the district for next school year.

*Continue membership in the Ohio High School Athletic Assoc. for next school year.

*Notify the public of a hearing on June 16, 7 p.m. at central office to consider the potential retirement and rehiring of Thomas Griffith, an art teacher at the junior high.

*Accept a $30,000 donation from the Estate of David Clevenger and establish the Clevenger Culinary Scholarship Fund. The memorial scholarship will be awarded later this month in honor of the 1972 OHS alumnus.

*Accept a Graphite iMac computer, keyboard and software from Ed Bowman.
Oakwood Board of Education will hold its next regular meeting June 16, 7:30 p.m. at the central office.