Jasmine Al-Masri was a state winner in The Ohio Governor's Youth Art Competition-Exhibition with her commanding mixed media piece, Skyline at Dusk. This exhibition, sponsored by the Ohio Department of Education, continues to be Ohio's most prestigious way of honoring students in grades nine through twelve for their creative expressions and artistic achievements in visual art.
Jasmine's work was selected from over two thousand works of art that were judged at the state level. It will be part of the exhibit held at the James A. Rhodes State Office Tower, 30 East Broad Street, Columbus, from April 13 through May 15, weekdays, 8 a.m.-5 p.m. The opening ceremonies with Governor Strickland, took place on April 13 at The Riffe Center, Capitol Theatre in Columbus.
Additionally, Kaye Carlile's senior high school art students did very well in the regional judging, as seventeen winning works of art were selected at that level. The following students' works of art were selected as regional winners: Lauren Shine had three winning drawings, Ginny Beth Fulford had two winning drawings, Viktoria Harlan had two winning drawings, Kaitlin Key had one winning drawing, Macallan Skipton had three winning drawings, Catherine Ordeman had one winning mixed media piece, Erin Golden had two winning paintings, and Ben Quinn had three winning paintings. These pieces were selected from hundreds of works judged at Stivers School for the Arts.
---
Brian Beck, who distinguished himself in the classroom and on the playing field, has chosen to attend Carnegie Mellon University in Pittsburgh, PA where he plans to study physics and engineering.
The 6'2" 260 pound lineman was heavily recruited by Carnegie Head Football Coach Rich Lackner because of his rare combination of academic and athletic ability. During Coach Lackner's 22 year tenure as head coach, the Carnegie Tartans have 22 winning seasons and a 156-64-2 record, a win rate of over 70 percent.
Beck, who had a 3.93 GPA at Oakwood High School, combined SATs of over 1400 and a National Merit finalist, was also offered admission to the University of Chicago, Case Western Reserve University and Occidental College in Pasadena, CA.
During his four years at Oakwood High School, Beck played offensive and defensive tackle for the Lumberjacks, and was co-captain of the football team his senior year. He was also named SWBL offensive lineman of the year in 2007.
Beck attributed his admission to so many good schools to the strong academics at Oakwood High School, and the strong coaching and mentoring of Oakwood Head Football Coach Paul Stone.
"Brian was a coach on the field for us. He was the kind of player that you took for granted. We put him at left tackle as a sophomore and didn't have to worry about it for the next three seasons," said Coach Stone. "Brian is a young man of tremendous character. He led by example on and off the field and was respected by other league coaches as being one of the best offensive lineman they have seen. He will go down as one of our best young men to graduate from a school with a great academic tradition like Oakwood.''
"My coaches and I are thrilled with Brian's decision to attend Carnegie Mellon University. Brian has proven himself in the classroom and on the football field throughout his years at Oakwood and I would expect the same from him at Carnegie Mellon. He is a great fit for our university and football program," said Coach Lackner.
Beck is the son of Matt Beck and Susan Kettering, both of Oakwood.
---
Lauren Shine, a senior at Oakwood High School, has received a Deans' Award scholarship to attend the Columbus College of Art & Design. The merit scholarship was awarded as a result of an art portfolio competition held at the college which was judged by a team of CCAD faculty members.
Shine will begin her studies this autumn and plans to major in Illustration. She is the daughter of Robert M. Shine, 131 Rubicon Rd., Oakwood, and is a student of art instructor Kaye Carlile.
---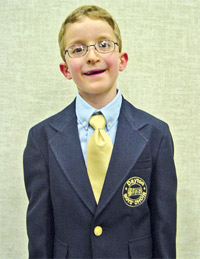 On Saturday, May 17, 7 p.m. at the First Baptist Church, 1009 Lytle Rd. in Waynesville, Theodore Hale, a second grader from Harman Elementary School will perform one of his favorite activities – singing as a member of the Dayton Boys Choir. It is his first year with the choir but is clearly one of his favorite things to do.
Theodore is a very active young man with a lot of things to do and a lot of future plans. In addition to playing baseball, swimming and trying to fly by jumping off his backyard swing at full tilt, he also enjoys studying social studies, math and science at school. He hopes
to be an animal police officer when he grows up. He also aspires to be a musician – he wants learn to play both the string bass and the cello sometime in the future. His favorite music groups are currently the Dixie Chicks and Fleetwood Mac.
Among his favorite songs he sings in the choir is Under the Boardwalk in addition to the many holiday and religious songs on the choir playlist. The choir is in its 64th year and is the oldest boys choir in Ohio. The choir has made the rounds this year, with performances at Stivers School of the Arts, as well as a church in Van Wert, Ohio being two of the venues. The choir practices at the First Lutheran Church downtown.
Theodore is the son of Jennifer and Joseph Hale of Oakwood. Good luck on Saturday, Theodore!