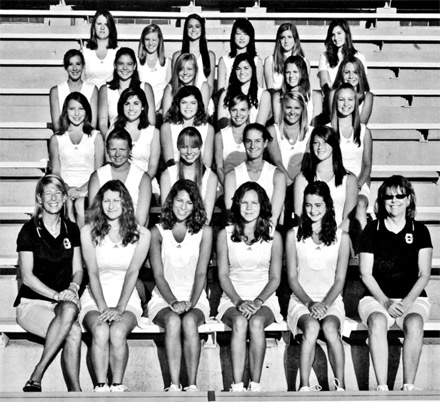 Oakwood's girls tennis team
Congratulations to Oakwood's girls tennis team for another highly successful season! The team finished 13-3 winning SWBL for the 7th year in a row! SWBL Champions this year include 2nd singles freshman Anne Connelly, 3rd singles Christina Corbean, 1st doubles Kate Berthy and Ellie Rodebeck, and 2nd doubles Tiffany Corbean and Kseniya Mikityanskaya. Hilary Paisley was runner-up in the SWBL 1st singles flight and was awarded 2nd Team All-Area. Ellie Rodebeck was awarded 3rd Team All-Area while freshman Anne Connelly and Kate Berthy made 1st Team All Area in doubles! Honorable Mention All Area includes Tiffany Corbean and Kseniya Mikityanskaya!
Time, commitment, and determination all contributed to the accomplishments made this season. The Sectional Individual Tournament included a runner-up doubles team of Ellie Rodebeck and Hilary Paisley for the second seed in Districts, while Anne Connelly placed third qualifying for districts as a freshman. We had a remarkable season and look forward to another successful season in the fall.
Congratulations!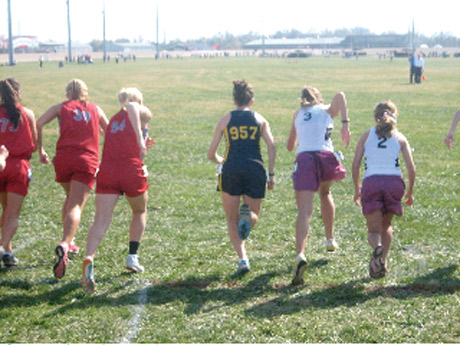 Girls team sprints out on last run of season.
Two Oakwood High School Cross Country runners closed out the season at the Ohio State High School Champion-ships at Scioto Downs in Columbus.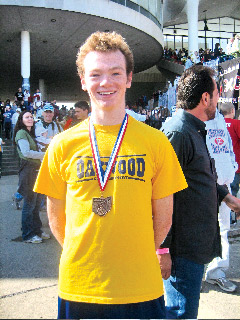 Junior Peter Hix ran a personal best at 15:50.77 and finished fifth overall in the Division II boy's race.
Senior Julia Sizek finished her cross country career at Oakwood by placing forty-third in the girl's Division II race.
The athletes and parents would like to thank Coach Bryan Ammer and Coach Carol Enns for their support and guidance throughout this season.


November 4, 2008
Volume 17, No. 45
front page
arts
schools
sports
editorial
'round town
people
events
obituaries
---


SUNWATCH VILLAGE AND ARCHAEOLOGICAL PARK