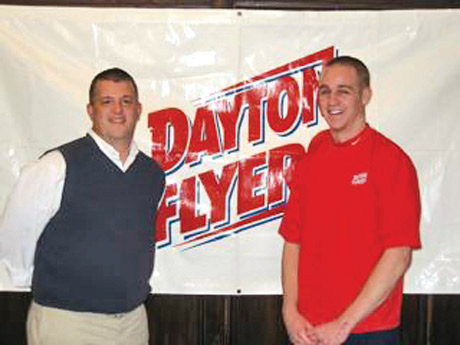 Oakwood High School senior Robby Sherk has committed to play football at University of Dayton. Pictured above is Football Coach Paul Stone and Robby Sherk.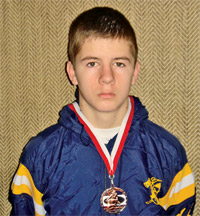 It was a tough day for the JV grapplers at Tipp City Saturday. Our Jacks were up against stiff competition in this 19-team bracket tournament. On that day, Oakwood had several wrestlers close to making the finals, but it was freshman Dylan Kooser that battled his way back through the consolation rounds after losing the opener to earn a 7-2 victory over his opponent from Miamisburg and third place honors.
Congratulations Dylan!
By Keith Buckingham

Our JH wrestlers wrapped up a very successful season at the SWBL tournament on Sat., Feb. 7, at Bellbrook Middle School, with five wrestlers winning medals. A large crowd of Lumberjack fans were in attendance as Oakwood wrestled 12 other teams for the league championship.
Leading the Lumberjack grapplers was co-captain Sam Stanley at 205 pounds. Capping off a 23-0 season (with 22 pins) the top-seeded Stanley fought a tough match against Milton Union's Matthew Bracci, pinning him in the final round to win a first place medal and the SWBL championship title.
Oakwood powerhouse Alex Hoecht in the 245 pound class, pinned Carlisle's Jared Lynch to take home the third place medal. Dalton Pearce at 80 pounds, capitalized on his strength, quickness, and technical proficiency to score a decisive 8-5 victory over Monroe's Chase Elfers and take a third place position on the award podium. Also on the award podium were Daniel Stoecklein at 172 pounds.and co-captain Jacob Hootman 128 pounds, both formidable wrestlers, who brought home individual fourth place medals.
Our league is a very tough league and, with that, I'm very proud of the way the kids came through", said Coach Terry Wright. I'm especially proud of those that placed… they showed they could wrestle through adversity and their hard work paid off."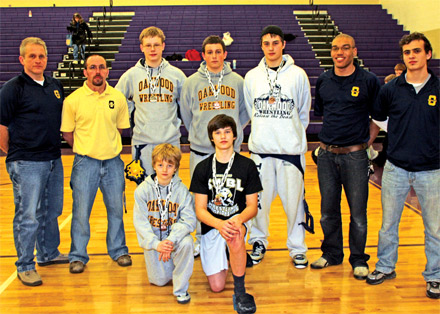 Pictured, left to right: back row: Coach Buckingham, Coach Wright, Sam Stanley, Daniel Stoecklein, Alex Hoecht, Coach Kinion, Coach Gossard; front row: Dalton Pearce, Jacob Hootman.


By Mark Bustillo

The Oakwood Varsity Wrestling team had another outstanding performance this weekend as they took on 15 other teams at the big St Charles Wrestling Invitational this last Saturday. This was the last Jacks regular season tournament for 2009 which is a pool style event held every year – and wow what a scene! The event started early and ran all day. Despite forfeiting 5 weight classes the Jacks blazed on bringing home a fist full of beautiful medals – and a handsome 3rd place team trophy for the day!
At 103 pounds Kevin Lee once again met his challengers with fury and precision decisively beating each opponent during the day's regular rounds. Lee then carried his skill and style into finals delivering a crushing defeat by major decision 13-5 to Varazashuli of Worthington. Very impressive.
Senior Daniel Jacobs at 112 pounds came down hard on his opponents during the days matches with a few close ones in there but ultimately going undefeated for the day. In the final round Jacobs met Thatcher of Centerburg annihilating his challenger with a win by tech fall in a 17-1 route. Spectacular!
At 130 Junior Alex Kooser started the day seeded #2 overall behind Espinoza of Malbury Lake. Both Kooser and Espinoza battled through their pools undefeated. Prior to the finals, Senior Espinoza was acknowledged by the announcer and crowd for his 100th career victory achievement earned in the semifinals. Kooser was not impressed and came out and took care of business by scoring the first takedown and then tilted his opponent to his back for a 5-0 lead. Kooser controlled the rest of the
match and secured the 8-5 win and his third championship of the year. Outstanding!
Sophomore Will Leboeuf at 135 ruled the day with his aggressive style pulverizing his opponents in a string of punishing matches. Progressing to finals undefeated Leboeuf then met Williams of Franklin Heights in what proved to be another wild match that yielded a close loss 6-1 for Will and a nice Silver place finish. Excellent!
140 pound sophomore Jameson Kordik, won his pool during the preliminary rounds only to lose a heartbreaking back and forth match in the semi-finals 12-9 to Worthington Kilbourne. Jameson ended up in 4th place after the final round which ended a pretty good day that included a match won by pin in 25 seconds! Awesome!
At 152 pounds Dan Kendig looked solid all through the days events with mixed wins. Moving into final round and wrestling for a fifth place spot Kendig destroyed his challenger from Franklin Heights with an impressive first period pin! Phenomenal!
Other big performers for the included Josh Hootman at 140, Andrew Raichle at 171 and Ben Raichle at 215 who all put some nice team points on the board. Oakwood forfeited 119, 125, 160, 189 and heavy weight due to flu and injury.
At the end of the day - even with a number of Jacks on the sidelines - Oakwood cleaned up with a handy Third Place finish behind Worthington Kilbourne and St Charles Columbus. What a great day – congratulations men! Next stop for our mighty Lumberjacks is the end of season SWBL tournament next Saturday and Sunday at Bellbrook High School.
Go Jacks!