By Burt Saidel
The Dayton Art Institute gives us beautiful art experiences but few surprises For example, when we enjoyed the last special exhibit, Children in Art, we knew that there would be beautiful paintings of lovely children by great artists.
The announcement of the new special exhibition featured glass art by William Morris. I fully expected a very decorative and colorful show echoing the familiar and voluminous outpouring of Dale Chihuly. Even the title: Myth, Object and the Animal, seemed predictable.
The works of Chihuly and the lovely pieces in the DAI's glass gallery are unmistakably glass. They feature transparency, vivid colors and often fantastical shapes, doing tricks to the light passing through. Morris, who was Chihuly's chief glass blower for several years, has made glass into the sculptor's equivalent of clay or marble.
His works are sculptured glass. The final product can emulate stone, metal, bone, flesh, feathers. It has transparency admixed with opacity to create new and unpredictable combinations of forms, colors and dazzling effects.
Attending the special press showing, I was interested but not enthused. The very first sight at the entrance to the show changed my feelings and expectations completely.
What greets the entrant is a Canopic Jar, a large gold, translucent vase on which is mounted the head of an eland. The animal head is opaque but shimmers with gold flecks. The gaze is mystical, intelligent and piercing.
This remarkable work hearkens to Ancient Egypt and to realms of great history and mystery. You will be transformed in your appreciation as the animal head is transformed by the artistry.
Every work in the large exhibition has the same effect for different reasons. One knows that this is glass but in different guises. Morris, working with white-hot molten glass, uses it like sculptor's clay.
The next room houses Mazorca or "ear of corn" - an assemblage of pots, ears of corn, utensils and totem-like figures hanging from ceiling supports. The colors, all varied, are earthy. The objects are solid, even massive. Ears of corn up to two feet long join with tiny animal figures, ex-votos and pots of all sizes to celebrate the essence of corn, this very basic staff of life.
In gallery after gallery, we depart from cleverness and enjoy complete artistry. Ravens which adorn jars have an eerie, almost threatening demeanor. Several of them are eating insects with kinetic hunger.
There is one room which is completely appealing. The terra-cotta colored walls are broken by niches of various sizes. Morris' figures are unrelated but create a complete feeling. Pre-Columbian macquettes mix with American Indian and animal heads, unified by their differences yet making an exciting completeness.
Perhaps the most exciting room looks like the fabled place where elephants go to die. A huge table is filled with tusks. The shapes vary and the colors change. Many of them are mottled white but have a glass lining of a contrasting color.
To make any animal rights activists happy, there are some human heads and bones signifying those hunters who failed to take their prey. You know that these are glass and not real, but the effect is transporting.
DAI Director Jan Driesbach led the media tour. Her enthusiasm and knowledge of the craft, the art and the artist was complete and wonderful. She mentioned that the artist has retired at age 51. Many questioned how such an artist could abandon his life's work at such a young age.
We got the answer when we watched the film presentation which runs continuously in a side gallery. Watching handsome William Morris heave red-hot masses of partially molten glass between work space and oven, forth and back many times, it is a wonder that he could work as long as he has.
The film is so fascinating that I recommend coming to the museum and going directly to the film. I guarantee that once seeing the process and then experiencing this incredible art, you will not leave the exhibit easily and you will return again.
These remarkable sculptures are only partly described here. Find them for yourselves now through May 31. As an added enticement, the third Thursday of each month is free.
Another art exhibition was far from the elegance of the Art Institute and the startling art of William Morris. Thanks to a Middletown industrialist, Egon Evertz of Evertz Technology Services, a most compelling collection of the lithographs of Surrealist Salvador Dali was made available for display. The exhibit honors Justin King, son of one of Evertz' employees, who has battled cystic fibrosis. Now a recipient of a double lung and liver transplant, he is on his way to a normal life.
Sandy Mendelson, always ready to assist a worthwhile project, made his Webster Street Market available. I saw a couple of billboards and my interest was piqued. A call from Karah Fairchild, project coordinator, further intensified my curiosity.
The exhibition is largely lithographs of the unconventional artist whose Limp Watches had us all scratching our heads 40 years ago. Dali made a career of his eccentricities. His paintings, seen in major museums, do not inspire but are treated as examples of a particular offshoot of art.
Seeing the lithographs changes much of that prejudice. Dali is a master draftsman. His drawing skill is exciting, even inspiring. With clear free lines the drawings spring from simplicity into complexity. They illustrate several of my favorite subjects, Dante's Divine Comedy and Cervantes' Don Quixote. Also on display are 43 lithographs by noted German Surrealist Max Ernst.
The displays are simple, almost industrial. The lithographs are marvelous. This is an opportunity to visit great art in a most unusual setting at 32 Webster St. – but only until March 15.
---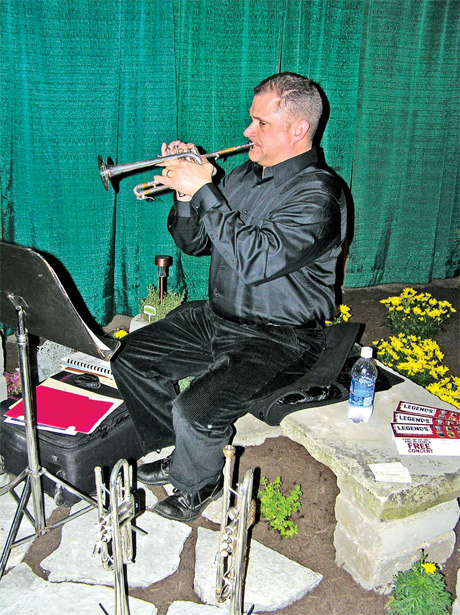 Sitting in a showcase herb garden set up for the Dayton Home and Garden Show, trumpet player Eric Knorr played a number of solo orchestral pieces for audience members attending the Evening Preview held last Thursday evening at the Dayton Convention Center. Knorr was one of five musicians from the Dayton Philharmonic Orchestra who entertained patrons during the preview. A resident of Oakwood, Knorr is also first trumpet in the U.S. Air Force Band of Flight.
---
The Dayton Art Institute today announced it will feature the artistic legacy of Dayton native Robert Whitmore, with the retrospective exhibition, "In the Glen: The Art of Robert Whitmore." The exhibition will open Jan. 31 and close April 5, 2009. It features approximately sixty works of art that were jointly selected by Will South, DAI Chief Curator, and Kay Koeninger, Associate Professor of Art History at Sinclair
College.
Whitmore attended Steele High School in Dayton before going on to study at the prestigious Art Institute of Chicago from 1913 to 1917. He is known for being an accomplished painter, printmaker and draftsman.
From Chicago, Whitmore served in World War I, and attended the Cincinnati Art Academy in 1919. In the 1920's, he began teaching at the recently established Dayton Art Institute. Whitmore purchased twenty-nine acres outside of Yellow Springs in 1924 that were once part of a farm owned by Horace Mann, the first president of Antioch College.
Whitmore's youngest son, Jon, lives on that same acreage along with hundreds of works of art by his father, and it is through Jon's generosity in sharing them that "In the Glen: The Art of Robert Whitmore" was made possible.
---
Bass-baritone James Morris will be performing in Dayton Opera's 7th annual Star Gala on Thursday, March 5 at 8 p.m. and Sunday, March 8th at 3 p.m. at the Schuster Center. Mr. Morris will perform an exciting and wide-ranging program encompassing concert and opera arias by Handel, Mozart, Verdi, and Tchaikovsky as well as selections from the song repertory by composers Richard Strauss, John Duke, and Rodgers and Hammerstein. Joining him for this program will be pianist Joshua Greene, a member of the assistant conducting staff at the Metropolitan Opera and acclaimed recital accompanist.
Tickets are on sale starting at only $15. Call Ticket Center Stage at 937.228.3630 or visit www.daytonopera.org. Discounts are available for seniors, students and military families.
---
Link Gallery, 519 East Fifth St.., located in The Oregon Arts District, presents the work of Glen Cebulash and Rachel Stanzione. Glen Cebulash and Rachel Stanzione are placing their work together in this husband-and-wife exhibit for the first time. Their work addresses the human form in a variety of mediums, including painting, sculpture and collage.
The exhibit will run through the month of March 28 and will be part of the First Friday Event, March 6, 5-10 p.m. Gallery go-ers can board the Wright Flyer Trolley for free rides along Fifth Street, taking participants to all of the OAD galleries and to other art venues in downtown Dayton.
Artist Talk-Wine Reception: Saturday, March 21, 6:30 p.m., talk begins at 7 p.m.