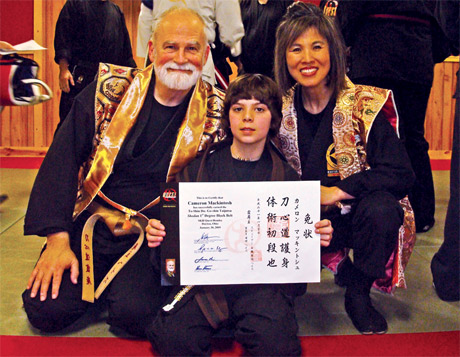 Martial Arts Master Stephen K. Hayes, Cameron Mackintosh, and Rumiko
Cameron Mackintosh earned his Black Belt in the Japanese art of To-Shin-Do Taijutsu, having successfully completed his black belt testing on Jan. 30, 2009. Cameron began his journey in martial arts at the age of 4-1/2 years old, joining the Dayton Quest Center's "C.O.O.L KIDZ", a program for small children. As he grew older, Cameron committed to the "Black Belt Club", taking more advanced courses through the years to finally achieve his Black Belt.
To-Shin-Do is a form of Taijutsu (commonly called Ninjitsu) which was introduced to the United States by local Martial Arts Master Stephen K. Hayes and his wife Rumiko.
Cameron is the son of Brent and Lori Mackintosh.
---
By Aaron Oakes

The Oakwood Jills advanced to the District Finals in Mason with a 49-41 win over rival Bellbrook on Friday night. The Jills trailed by as many as 14 in the first half until Sophomore Ellen Smith connected on two free throws to make it a 12 point deficit at the half. The second half saw the Jills come out fired up as they outscored Bellbrook 20-5 in the third quarter. Switching to a trapping style defense proved to be the difference in the second half as the Jills created 10 turnovers in the third quarter alone.
Oakwood was led by Senior Cathryn Hardy with 16 points and 16 rebounds to go along with six steals. Sophomore Brooke Trauthwein contributed 13 points and Junior Alex Miller threw in 12 including six of eight from the free throw line in the fourth quarter to seal the victory. Senior Molly Breidenbach with four points, Freshman Claire Davis with two, and Sophomore Ellen Smith with two points rounded out the scoring.
The Jills will play in the District Finals versus Tipp City at 9 p.m. on Friday, March 6 at Mason High School Arena. Tickets can be purchased in the high school athletic office this week from 8 a.m.- 4 p.m. Tickets purchased at the high school will cost $5. Those purchased at the gate will be $7.
---
By Mark Bustillo

This last Saturday our 2009 Oakwood wrestling team found itself in the tiny town of Goshen, Ohio for a very big event. The coaches and team have worked so hard all season to prepare for this trip to Districts to battle among the best and a chance to progress to State competition this weekend. The Jacks amazingly brought eight contenders from the Dome who placed in the top 4 at Sectionals to compete in this District competition - so Oakwood's presence was pretty obvious despite the fact that there were 52 other teams with at least some representation at the event. So it was a huge event in a tiny place.
Our lightest wrestler at 103 lbs., sophomore Kevin Lee had just an outstanding achievement. Lee put on a spectacular performance demonstrating something not seen in these parts in quite a while. Like all our men - Lee faced extremely tough competition. One thing you will notice about Kevin is his continual focus – always watching, thinking, prepping for each bout long before the whistle. He's intense and visualizes the win before he even steps foot on the mat. And so throughout the event – both Friday and Saturday Lee pounded his competition one at a time. Sometimes by decision, sometimes by pin, but the man never stops moving flowing one move into the next. During regular rounds Lee sliced through Nick Christen of Wilmington with a pin and then lost a decision to Jon Edwards of Greenville 8-4 in the Quarterfinals. Lee, now in the consolation bracket, battled past a tough Patrick McKernan from Ross 4-2, then pinned Tyler Jackson from Athens to setup his "Go-To" match with Nick Simpson from Clermont Northeast.
The climatic scene came late in the match with the score deadlocked at 3-3 with only 20 seconds left in the third. Lee hit a switch and after a tumble amazingly came out on top turning the match into a huge win 5-3 win clinching a chance at the state title and a trip to the final round to wrestle for 3rd or 4th place. The final round was a nail biter and despite Lee's effort he fell to secure a 4th place finish. So congratulations to Kevin and his family for a fantastic finish.
Other performers at Districts performed valiantly and put some huge points on the board but ultimately fell in difficult matches.
Congratulations also goes out to senior Daniel Jacobs at 112, senior Brandon Bustillo at 125, Alex Kooser at 130, Will Leboeuf at 135, Jameson Kordik at 140, Josh Hootman at 145, and Jake Horlacher at 285. The State competition starts Thursday at the Schottenstein Center in Columbus.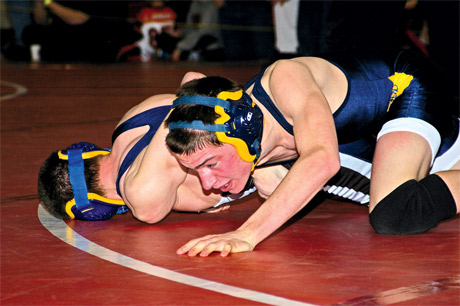 Pictured above is sophomore Kevin Lee winning his match to qualify him for the State Wrestling Tournament in Columbus which begins this Thursday. This is the first time since 2004 a wrestler has qualified.