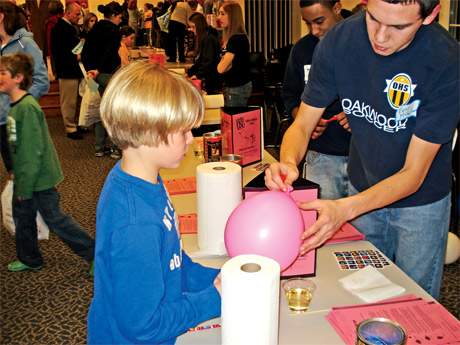 Fourth grade students and their parents were treated to a fascinating Family Science Night at Harman Elementary recently.
Smith and Harman fourth graders were invited and the event was co-chaired by Monica Brouwer and Kim Walther who are both fourth grade teachers in the district. The students rotated among ten different stations that included Kooky Pencils, Gobs of Fun, and the Nifty Balloon Trick which were evening favorites.
The high school Energy Club also brought their Energy Bike and the kids got the opportunity to ride it and experience the effects of the invention. High school students got involved and kept the stations running smoothly.
The night was a wonderful success!
---
Senator Jon Husted (R- Kettering) is seeking local high school seniors who are interested in pursuing higher education at one of Ohio's 35 participating career colleges.
The 2008-2009 Legislative Scholarship program sponsored by the Ohio Association of Career Colleges and Schools, offers over 180 scholarships opportunities worth more than $500,000 to graduating Ohio high school seniors working to obtain a job in an Ohio business or industry. The available scholarships would cover one-half tuition, or specific amounts that would be used toward the completion of a certificate, diploma or associate degree. Any student wishing to apply must complete the Legislative Nomination form and obtain the signature of a member of the Ohio House of Representatives or Ohio Senate. Senator Husted encourages all interested high school seniors to apply.
"I fully support the Legislative Scholarship Program because it provides high school seniors with an opportunity to pursue a quality, affordable higher education. As we work to compete with other states and countries, it is vital that we seek out new ways to equip our young people with the tools they need to succeed - this program works to accomplish that goal".
For a complete list of approved schools and additional application materials, including the Legislative Nomination Form, please visit www.ohiocareercolleges.org.
If you have any additional questions, or are interested in obtaining Senator Husted's nomination, please contact his office at (614) 466-4538 or via email at SD06@senate.state.oh.us. The scholarship application deadline is April 1, 2009.
---
Oakwood Junior and Senior High School will offer summer school classes beginning Tuesday, June 9, 2009. Summer school packets will be available to students beginning Tuesday, March 10 in the Senior High Office, the Senior High Guidance Office, the Junior High Office, and the Senior High Book.
Open enrollment began on Monday, March 16. A completed registration form with parent signature as well as full tuition and any fees for all classes must be paid in the form of cash or check at the time of registration. Registration will take place in the Senior High Bookroom.
For more information please call 297-5325.