On Friday, March 6 the Oakwood Jills made an appearance in the District Finals of the State Basketball Tournament for the first time in 17 years.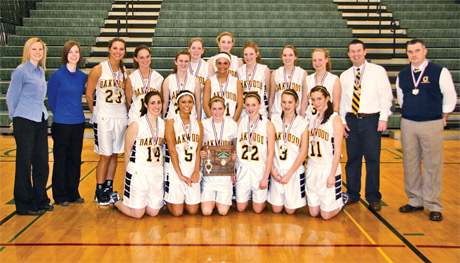 2009 Jills basketball team
The Jills found themselves taking on the 23-0 and No. 1 ranked Tipp City Red Devils. Trying to shake out the nerves the Jills were down 15-5 at the end of the first quarter and it looked like Tipp City may run away with it.
The second quarter saw the Red Devils score the first four points and then go scoreless for the next six minutes as Oakwood started to settle in. The Jills went on an 11-0 run and found themselves down 19-16 going into half time. The third quarter saw the Jills tie the game up at 21 before Tipp City scored on the next two possessions. Going into the fourth quarter the Jills were down 33-25.
The game never got closer than six points the rest of the way as Tipp City proved to have a little too much fire power.After connecting on five of eight free throws in the last two minutes of the game the Red Devils claimed a 50-33 victory. Alex Miller led the Jills with 16 points followed by six points for Brooke Trauthwein. Cathryn Hardy's four points, Molly Breidenbach 3, and Hannah French and Ellen Smith with two each rounded out the scoring for the Jills. Oakwood finishes the season 17-6.
We want to thank everyone who showed up Friday to support us, as well as those who supported us throughout the season. It was a great season and a true team effort.
---
The OHS swim team brought home seven SWBL championships for the girls' team and four for the boys.'
At the state meet in Canton. The girls' medley relay comprised of Sarah Wilhoit, Haley Pohlman, Natasha Wahl, and Ellen Viereckl placed 15th in the state and set a new school record of 1:57.96. Along with sophomore Maddie Hochwalt, this is the girls' second trip to state as a relay team. Natasha Wahl placed 19h in the 50 free (25.16) and Haley Pohlman 20th in the 100 breaststroke (1:11.05).
Haley broke the previous school record with a time of 1:09.24 at the district swim meet. Natasha Wahl also broke the school record in the 100 butterfly previously set by Leah Henninger (1:02.52). The girls' 400 free relay also broke their own record at the district meet (3:53.06).
The boys' team of Brent Turner, David Ireland, Daniel Schmitz, and Andy Lamb placed seventh in the 400 yd. free relay, setting a new school record of 3:17.65, and placed 12th in the medley relay, also setting a new school record
(1:42.10). In the 100 yd. butterfly, David Ireland finished 11th, setting a school record of 52.14. Andy Lamb finished 20th in the 500 yd. freestyle and Daniel Schmitz placed ninth with a time of 4:39.01, setting a school record. (Daniel actually finished with the fourth fastest time in the state, but was first in the consolation heat). Daniel also placed fifth in the 200 yd. freestyle, with another school record of 1:43.58.
The team would like to thank the administration, parents, swimmers, and friends for all of their support throughout the season.
---
The Oakwood Lumberjacks Football program will have their annual "Quest for Excellence" meeting on Monday, March 23 at 8 p.m. in the Auditorium. Any incoming 9th-12th grade boy is encouraged to come with a parent to obtain a calendar for the spring and summer weight program.
Any questions, contact Head Coach Paul Stone @ 307-5818 or email stone.paul@oakwood.k12.oh.us
---
Applications are now being evaluated for the Ten Star All Star Summer Basketball Camp. The Ten Star All Star Summer Basketball Camp is by Invitation Only. Boys and Girls ages 10 - 19 are eligible to apply.
Past participants include: Michael Jordan, Tim Duncan, Vince Carter, Jerry Stackhouse, Grant Hill and Antawn Jamison. Players from 50 states and 11 foreign countries attended the 2008 Camp. College Basketball Scholarships are possible for players selected to the All-American Team.
Camp locations include: Phoenix, AZ, Babson Park, FL, Gainesville, GA, Champaign, IL, Glassboro, NJ, Ithaca, NY, Marietta, OH, Lebanon, TN, Commerce, TX, and Blacksburg, VA. There is also a Summer Camp available for Boys and Girls ages 9 - 18 of all skill levels.
For a free brochure on the Summer Camps, please call 704-373-0873.
---
Registrations are now being accepted for spring baseball at Patterson Park Little League. Games are played at our Little League Complex on Irving Ave. close to University of Dayton Campus. Players age 5 & 6 (T-Ball), 7 & 8 (coach pitch), 9 & 10 (minors) and 11& 12 (majors) will begin practice in late March. Games will begin in mid April.
Nine to twelve-year-old players registered for above leagues may also register for our Transitional Baseball program. This program is designed for a limited number of 9 to 12 year old players seriously interested in advancing their baseball skills. This is open (on a space available basis) to minors and majors players registered to play spring ball at Patterson Park. The schedule will include skill improvement sessions, games and possibly tournaments.
Activities will be on 70 and 80 foot bases to challenge the young player and ease the eventual jump to 90 foot bases in junior high school and beyond. Sessions will generally be on weekends so that the player can still participate fully on their regular team at Patterson Park.
For 2009 registration information please call Jim Murphy at 298-8473 or email Pete Kramer at prk2@sbcglobal.net