Mr. Don May of Dayton, Ohio and Ms. Brenda May of Atlanta, Georgia are pleased to announce the engagement of their daughter, Jill Elizabeth May to John Charles Ray Basom, son of the late Charles Ray Basom and Kathleen Basom of Columbus, OH.
Ms. May is a 1995 graduate of Oakwood High School and a 1999 graduate of Ohio University. She is employed with Sharonbrooke Assisted Living and Alzheimer's Care as the Director of Marketing.
Mr. Basom is a 1993 graduate of Worthington Kilbourne High School and a 1997 graduate of Ohio Wesleyan University. He is employed with Stanley Steemer International Inc. as the Director of Recruiting.
The couple will reside in Columbus, Ohio.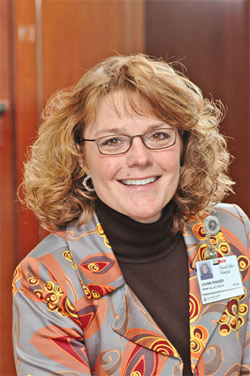 Joann Ringer has been promoted to vice president, Miami Valley South Health Center. Ringer led the construction of the 268,000 square foot outpatient center and free-standing 24-hour emergency department located in Centerville. She was appointed to the role of administrator when the facility opened in the fall of 2007. As vice president she will continue to be responsible for the management and day to day operations of Miami Valley South Health Center and its continued growth as it becomes a hospital this summer.
Ringer began her career in health care at Miami Valley Hospital and has served in various capacities including operations manager of the hospital's occupational health program, manager of physician support services and director of business development and physician relations.
She holds a bachelor's degree in business administration from The Ohio State University. Active in the community, Ringer is a past president of the Dayton Junior League and currently serves on the grants committee of the Oakwood School Foundation Board. Additionally, she is an active member in the Kappa Kappa Gamma Fraternity Alumnae and serves on the house board for the Miami University Kappa Kappa Gamma chapter.
Ringer resides in Oakwood with her husband, Paul and daughter, Sydney.
---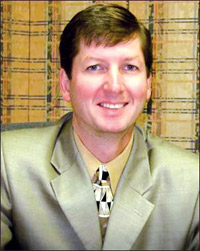 Attorney Joseph E. Balmer III of Holzfaster, Cecil, McKnight & Mues has been chosen for inclusion on the 2009 Ohio Super Lawyers Guide. Super Lawyers selects only the top five percent of attorneys in each state, as chosen by their peer and through independent research of Law & Politics.
Joseph is one of only 17 attorneys in the Dayton area to be board certified as a specialist in estate planning, trust and probate law by the Ohio State Bar Association. He is a partner with Holzfaster, Cecil, McKnight & Mues and has concentrated his practice in estate planning and business law with that firm for 20 years. Joseph attended Oakwood High School and graduated in 1981.
For more information, including a video biography of Joseph E. Balmer, please visit www.hcmmlaw.com
---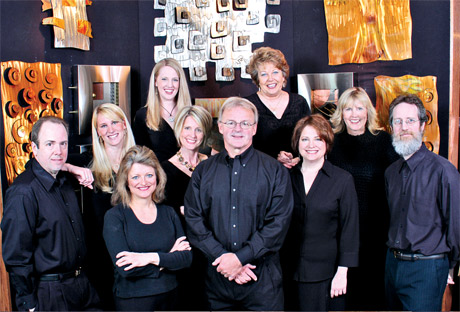 Deck the Walls staff
Tom and Chris Hartzell, took home the 2007 Franny Award at the Deck The Walls National Convention last month for the performance of their Castle Hills location. This prestigious honor is awarded to just one franchisee each year in the nation wide Deck The Walls franchise system. It is presented to the franchise owner with the highest percentage sales increase over the previous year.
"After almost ten years of owning and operating our store in Kettering, it is exciting to be able to beat our last year's sales by more than any of the other stores in our franchise. Chris added, "We want to encourage all business owners to keep trying to grow your business – even when faced with tough challenges, and would like to thank all of our neighbors in the Dayton community for your continued support!" Tom Hartzell said.
The Franny Award is an International Franchise Association Award established over twenty years ago and is the highest award to achieve in Deck The Walls system.
Founded in 1979, Deck The Walls is headquartered in St. Louis, MO and is committed to excellence in custom picture framing.
For more information on store services, contact Tom or Chris at (937) 294-4300 located at 4005 Far Hills, Kettering, OH 45429, or visit www.castlehillsplaza.deckthewalls.com.
---
The Junior League of Dayton, Ohio, Inc. is an organization of women committed to promoting volunteerism, developing the potential of women, and improving the community through the effective action and leadership of trained volunteers. We are welcoming new members. Open house events are scheduled to learn more about the Junior League of Dayton:

April 4, 3:00 pm - 5:00 pm (Culps Café at Carillon Park, 1000 Carillon Blvd., Dayton)

April 18, 10:00 am - 12:00 pm (Junior League Office, 601 W. Riverview Ave., Dayton)

April 20, 6:30 pm - 8:30 pm (786 Murrell Dr., Kettering)

May 5, 6:30 pm - 8:30 pm (Moraine Country Club, 4075 Southern Blvd., Kettering)

Open houses are free to attend. For more information, visit www.jldayton.org. RSVP at: office@jldayton.org , or call (937) 222-5541.