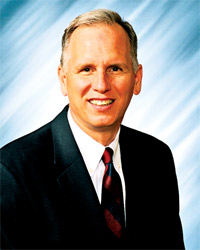 The Litigation Counsel of America™ (LCA), a trial lawyer honorary society composed of less than 0.5 percent of American lawyers, has selected Thompson Hine partner Thomas A. Knoth as a fellow. Fellowship in the society is highly selective and by invitation only. Fellows are selected based on their effectiveness and accomplishment in litigation, both at the trial and appellate levels, and superior ethical reputation. The LCA's mission includes recognizing experienced and highly qualified lawyers, fostering the exchange of ideas, advancing superior advocacy and ethical standards in the practice of law, and providing a channel for scholarly creativity and authorship.
Knoth, a member of Thompson Hine's Business Litigation practice group in the firm's Dayton office, focuses his practice on complex commercial cases, including disputes relating to contracts, product liability, health care, trademark and copyright infringement, environmental law, insurance law, fiduciary and probate law, real estate and land-use regulation, trade secrets, restrictive covenants and employee benefits. He is admitted to practice in the states of Ohio and North Carolina and has handled cases and appeals in federal and state courts throughout the United States. He received his law degree from the College of William and Mary and his B.S. in economics from the University of Dayton.
Wright Library's citizens advisory council met on Wednesday, March 25. Eleven members were present to hear the library's plans to update its automation system within the next twelve to eighteen months. The current system has been in use since 1991. Technical Services Coordinator Anne Frantz facilitated a brainstorming session on features council members would like to see in a new automated library catalog, such as Google-like searching and reading recommendations similar to Amazon.com.
Ann Snively, director, reviewed the recent increase in library use. When the economy is in a downturn, libraries often fill the needs of those looking for inexpensive entertainment, help in creating a resume, or other information to help them cope with hard times. Snively talked about the library's plan to move the Youth Services Department to the lower level of the building and reopen the rear entrance.
Audiovisual media will be moved to the upper level. The remodeling will include new carpet and paint for those two areas. The first phase of the project, removal of an interior wall in the future AV area, will be done before the Summer Reading Club begins in June. The plan will be completed in the fall after the Summer Reading Club ends. The goal of the project is to improve service to youth in a newly remodeled, more attractive environment while reopening the rear entrance for the convenience of all patrons, without hiring additional staff. Planned replacement of old carpet and paint can be accomplished at the same time. Funds for the remodeling will come from funds previously set aside for property maintenance, supplemented by grants and contributions.
Debra Schenk, fiscal officer, reviewed the library's financial picture for the next four years. Approximately 80 percent of the library's revenues come from the State Public Library Fund. The State is forecasting that this fund, which is directly tied to the State's total tax revenues, will be down from 8 to 15 percent in 2009. The library has made cuts in its 2009 budget to offset this revenue loss in the areas of professional development, printed reference materials, and the HVAC replacement schedule. The fiscal goal continues to be providing first class library service and waiting until the current .94 replacement levy expires in 2012 before going to the voters again.
The advisory council meets twice each year and is charged with reviewing library finances and business operations to provide feedback for the library board and administration to assist in planning and budgeting for the future. The council's current chair is Maureen Anderson.
Meet local author Carrie Bebris, author of the popular Mr. and Mrs. Darcy mystery series, at Wright Library on Wednesday, April 29 at 6:30 p.m. Ms. Bebris will discuss her series and her new book, The Matters at Mansfield (Or, The Crawford Affair), featuring some of Jane Austen's most memorable characters. The Matters at Mansfield is the fourth novel in the award-winning series which features the married Elizabeth Bennet and Mr. Darcy from Jane Austen's Pride and Prejudice as reluctant sleuths who become embroiled in intrigues surrounding their friends and family.
There will be a question-and-answer period at the end of the program. Tea and light refreshments will be served. The program will be held in the library meeting room. No advance registration is necessary. Anyone with questions can contact the library at (937) 294-7171.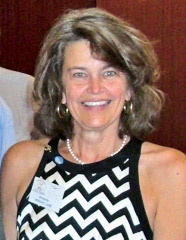 Amanda Wright Lane, great-grandniece of Wilbur and Orville Wright and trustee of the Wright Family Foundation, is recipient of the 2009 Trailblazer award presented annually by Aviation Trail, Inc. Her selection by the ATI Board of Trustees recognizes her dedication as an untitled ambassador for the Dayton area's early aviation heritage which began with her ancestors, the Wright brothers.
Amanda supports more than a dozen aviation groups or events—nationally and internationally—with an enthusiasm and dedication that enhances their prestige and mission and her reputation for volunteerism.
As a Wright family spokesperson she consults with researchers and academics who are working to preserve the legacy of the Wright brothers, gives lectures on her family's history, and works with state officials in both Ohio and North Carolina to raise awareness for the two national parks in the United States that tell the story of the Wright brothers. On Monday, March 30, 2009, Amanda was invited to Washington, D.C. by President Barack Obama to witness the signing of the Omnibus Public Lands Management Act of 2009, which transfers the Wright family home, Hawthorn Hill in Oakwood, and the Wright airplane factory buildings in Dayton to federal oversight and makes them part of the National Park Service.
She is actively involved with Aviation Trail, Inc., and the National Aviation Hall of Fame, and currently serves on the boards of NAHA, Dayton History, Wright-Dunbar, Inc., Wright B, Inc., Engineers Club of Dayton, First Flight Foundation (in N. Ca.) and is an honorary chairman of both the Le Mans Sarthe Wright 2008 Centennial Committee, and Pau Wright Aviation—both in France.
---
Transformation at its best - service learning

By Steven A. Ingram

A bus of American students from Wittenberg University drives through the countryside of the southern African Kingdom of Lesotho. The bus stops and students file out to stretch and walk around. They stop in front of one of the busiest businesses in the area. The coffin maker has over one hundred coffins on display. The coffins are mainly the size for children—about three feet long. The important impact of the students' mission is clear.
Located right in the center of South Africa, the communities in Lesotho (pronounced "La-sue-tue") are some of the poorest in the world. Lesotho has one of the highest HIV/AIDS rates at nearly 30 percent. A recent United Nations study shows that over 90,000 children have lost at least one parent to the epidemic. A place where ten year olds are head of households taking care of siblings and sick adults.
Dr. Scott Rosenberg, a resident of Oakwood for four years and professor of African history at Wittenberg University, takes college students to the southern African Kingdom of Lesotho every summer. The students spend a month building houses, playgrounds, schools and orphanages. What started as a pilot program of 21 students in 2003 has grown to 62 students participating this summer. Over one hundred students applied from the 1900 member student body.
There is a reason that so many students are clamoring to participate. Just as hungry people are quick to tell other hungry people where to get food, word has traveled among the Wittenberg Campus community that this is a guaranteed transformational experience of a lifetime. Students return with a richer understanding of poverty. They return with a healthy reflection regarding life's true worth, a gratitude for the simple things in their world and a firm self-efficacy of making a positive impact for persons who need it most. Everybody wins.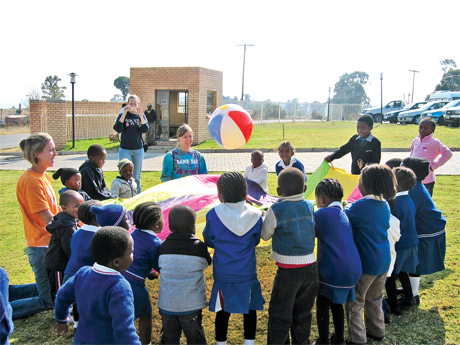 HIV positive children playing with parachute during carnival run by Wittenberg Students.
Rosenberg's unassuming presence belies his incredible passion for the Basotho ("Ba-sue-tue") people. A Peace Corps Volunteer from 1989-1991 in Lesotho, he continued his study of the African People as a Fullbright Scholar from 1995-1996. Rosenberg received his Ph.D. in African History from Indiana University and is in his ninth year of teaching at Wittenberg. He has written two books: Historical Dictionary
of Lesotho, which is essentially a one-volume encyclopedia; and Promises of Moshoeshoe ("Ma-schway-schway"), which is a history of the Basotho people. This history book—written by Rosenberg and published in Lesotho—is used in the history classes at the University of Lesotho.
Since 2003, Wittenberg students helped build four houses with Habitat for Humanity. The houses are for women who work at the local textile factories and earn less than $60 per month. At the Maseru Children's Village (an orphanage for children 2-10 years old) the students fix roofs, install playgrounds, plant vegetable gardens and fruit trees and, most of all, spend precious time with the children. A five year orphan last summer asked by name for one of the students who had spent a few hours with her the previous summer: "Where is she?" That student made a connection with this impoverished orphan and that positive connection remains in that child's mind.
Dr. Rosenberg is grateful to all persons who contribute clothing, medical supplies and money to fund these service-learning projects. Ms. Bridget Fiore, a teacher at Oakwood Middle School, has raised money for these projects. Also, gratitude goes to the many persons in Oakwood who donated clothing.
With six weeks until the first team of volunteers will leave (May 20, 2009) the United States dollar falls 15 percent against the South African Rand. This means a short-fall of funding of $5,000. Anyone wanting to share in the impact of this service-learning trip may make any contribution. Contact Dr. Scott Rosenberg at srosenberg@wittengerg.edu
All money goes directly to fund the projects and is not used for any overhead costs.
This summer the groups will be returning to the Little Angels Day-Care orphanage to build a greenhouse garden, chicken coop and a rabbit hutch to help meet the nutritional needs of the 40 orphaned children under six years of age. There will be further work on homes through Habitat for Humanity. "In every case our projects are designed to help orphans and the facilities that help orphans, and other poor and vulnerable children," says Rosenberg.
In addition to all the students, Rosenberg takes his wife, Crystal, two-year old daughter, Diane and four-year old son, Josh. This year, Josh will be wearing a tool belt and helping orphans—many of whom are his same age. Josh is growing his own passion for helping poor, abandoned and hungry children.
Thanks to Dr. Rosenberg, Wittenberg students and generous persons like any reader of this article, the impact of poverty and death is met by willing hearts, strong muscles and eager minds ready to be transformed.
---
Sylvie Kademian, OHS 2002, took up synchronized figure skating while at the University of Wisconsin and competed on that team while attending there. Graduating from UW in 2007, she continued her skating career at Ohio State University in Columbus, Ohio while earning her Masters degree in Education working to be a high school biology and chemistry teacher.
She was then contacted by the Australian Figure Skating Team and traveled to Sydney, Australia and began training as a member of their team. She recently competed with the Australian team at the Interrnational Synchronized Skating Championship in Zagreb, Croatia in early April.
---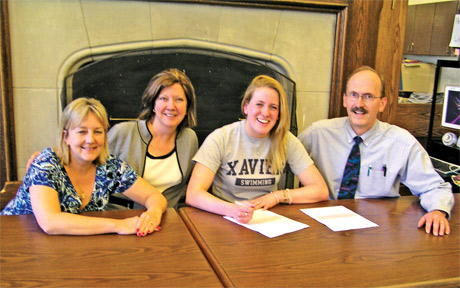 Pictured, left to right: Coach Jennifer Jervis, mother Margaret Quinn, Haley Pohlman and father Dr. Ronald Pohlman, look on as Haley signs on the dotted line.
On Thursday afternoon in the OHS Library, senior Haley Pohlman signed a "Letter of Intent" to attend Xavier University in Cincinnati and become a member of their Division I swim team. She has been awarded a dual academic/athletic scholarship and plans to major in International Relations or Political Science.
Pohlman has been swimming since she was eight years old and seriously since she was 10. She is currently a member of the Dayton Raiders swim team and has been a stalwart member of the Oakwood swim team as well. She swims an average of five miles a day, getting up at 4 a.m. for practice and another round after school. At OHS, she is coached by Jennifer Jervis.
Her only hobby is she likes to play the Scottish bagpipes. She is the middle child of five children in the family with two younger brothers and two older sisters. She is the daughter of Dr. Ronald Pohlman and Margaret Quinn.
---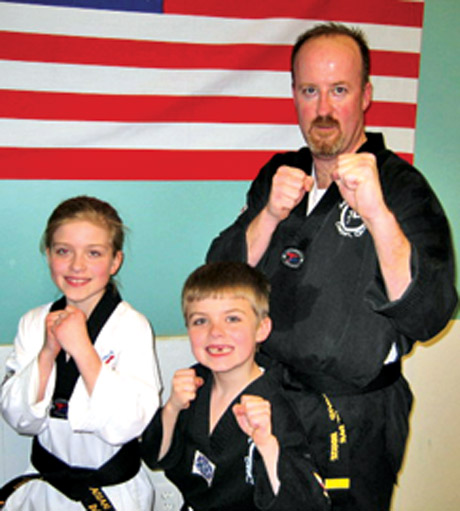 Hannah, Alex and David House instructor.
On Dec. 6, 2008, Oakwood resident David House watched as his daughter Hannah received her 1st Degree Black Belt in Taekwondo. He then stepped forward to receive his own Black Belt. Both father and daughter had been training diligently for the past four years at the Asian Arts Center in Kettering, Ohio. Watching the graduation ceremony was David's wife Barb and his son Alex, who will test for his Black Belt some time next year. For David, a 42-year old finance manager at Proctor and Gamble, the previous six months of intense black belt training with Hannah had been especially satisfying. "It was a cool experience," he said, "we really connected as father and daughter."
Hannah, a 10 year old in the fourth grade at Harman Elementary and Alex, a seven year old in second grade, started Taekwondo on the recommendation of a neighbor whose child was already attending classes at the Asian Arts Center. "We all went down and watched some classes," said Hannah. "Alex and I liked it right away. My Dad started soon after."
David quickly caught up. "I have always been intrigued with martial arts and became totally inspired," he said. "I was going five nights a week."
Getting into better shape for baseball and basketball has been one of the fringe benefits for Alex. There is also more harmony at home. "I have stopped using my sister as a punching bag," he says.
Hannah likes challenging herself to beat the boys in gym class activities and teaching other children how to stand up for themselves. Most importantly, both she and Alex have seen their grades improve. "Earning a Black Belt is a lot of hard work, but it teaches you to handle responsibilities," says Hannah. "I know it is a big honor that I have earned." She is now working towards becoming an instructor.
For David, the rewards have not only been seeing his children accept the challenges and succeed, but also seeing the changes in his own life. "Since I started training, I have lost about 30 pounds and overcame a ruptured disc," he says. In addition to the physical benefits, David has also seen a reduction in his stress level. "I have more control, more balance," he says "and I've just gotten started."
---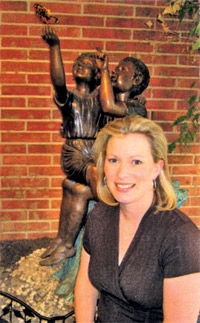 Oakwood resident Jennifer (Dehner) Sauer has agreed to be the lead teacher of the new toddler program at the Montessori Center of South Dayton for the upcoming 2009-2010 school year.
In addition to being AMS certified, she has over 10 years of Montessori teaching experience. Children between the ages of 18 months and three years will have a variety of half-day and full day options at the school.
A school-wide open house is planned for Sunday, May 3, from 1 p.m. until 2:30 p.m. to meet teachers from all the classes and tour the building.