By Lance Winkler

Oakwood investor Jason Liff was bored with real estate. After over 25 years in the business and watching real estate investments tank over the past three years, Liff was looking for a new venture to pursue and when the energy crisis raised its ugly head, Liff had his own heads-up idea – going into the motor scooter business.
"Let's just say I had a late, late, late midlife crisis," Liff quipped. "I thought I'd try something new and fresh and scooters seemed like a lot of fun. It combines practicality with pleasure." With gas prices going up at the rate they were, marketing a two-wheeled mode of transportation that got between 50 and 90 miles per gallon sounded like a good idea.
The result is a black and lime green-highlighted building at 1400 Wayne Ave. with the moniker 'Moto Scooto.' Liff obtained distribution rights for two established scooter manufacturers from China - Fly and Linhai – which have been in the business for over 40- and 53 years respectively. Liff also went out and obtained a number of used Italian, Spanish and Japanese motorscooters to round out the stable and a couple of used motorcycles to boot. Among the used motorcycles are some real classics. For example, a '72 Honda CB 350, a 75 Kawasaki Eliminator and a '75 Kawasaki Z-1
for starters.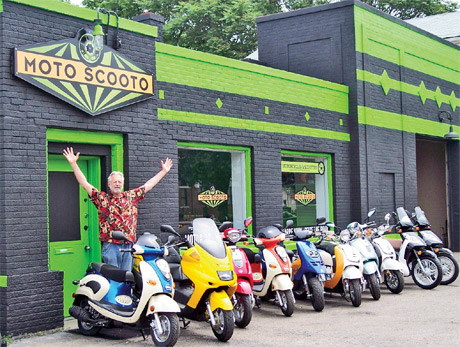 Jason Liff in front of his newest venture, Moto Scooto on Wayne Avenue.
He located a nearby garage to store them in and set motorcycle repair ace Mahayarrah-Starr Livingstone to the task of making what's wrong with them right. The result? In addition to 25 new scooters, there are 12 used scooters and 15 reconditioned motorcycles all ready for the street.
"We are basically in the business of selling new motorscooters and repairing, maintaining and selling used motorcycles and motorscooters," Liff said.
Interested in saving gas? Interested in a little street adventure? Give Jason a call at 535-2222. Tell him Lance sent ya.
---
The Ohio State Bar Association's (OSBA) Legal Education Committee today announced Judge Jeffrey E. Froelich is the recipient of the 2009 OSBA Friend of Legal Education Award. This award is given to the bar member who has contributed most to legal education. The award was announced today at the OSBA Annual Meeting in Cleveland and will formally be given to Judge Froelich Saturday during a University of Dayton School of Law alumni association event.
Judge Froelich served on the General Division of the Montgomery County Common Pleas Court for 14 years and is currently serves on the bench of the Second District Court of Appeals. While on the common pleas bench, Judge Froelich was instrumental in establishing the drug court as well as the court's victim-offender restorative justice programs.
Prior to common pleas court, Judge Froelich served on the county court for 16 years, as an assistant county prosecutor and was in private practice. From 1976 to 1980, he was an assistant professor of law at the University of Dayton Law School and was the first director of its clinical law department. Since 1996, Judge Froelich has been an adjunct professor at the university, teaching mostly in the criminal procedure area. Many of his classes involve real-world experiences, including inmate panels at local penal institutions.
Of his current involvement with legal education, Froelich said, "It's invigorating. Not only does it help you to stay absolutely current on the law and to profess the benefits of a logical, fact-based approach to problems and the impact of the law on human beings, but it is an opportunity to learn from the students—the people who will be shaping the law for our children and grandchildren."
Judge Froelich is a past president of the Dayton Bar Association and makes frequent presentations to the bar, schools, community organizations and at the Ohio Judicial College. He has judged innumerable moot court and mock trial competitions at the law school and has had the opportunity to have several of his former students argue actual cases before his court.
In nominating Judge Froelich, Montgomery County Common Pleas Court Judge Mary Katherine Huffman wrote, "My experience observing him interacting with attorneys, litigants, families, students and the community has led me to the conclusion that there is no finer example of an individual dedicated to selfless service to others."
Judge Froelich is a graduate of Miami University and the University of Michigan Law School. He is active in the community, and has served on the boards of the Family Service Association, DayMont Mental Health Center, A Special Wish Foundation, the Legal Aid Society and the Miami Valley Alzheimer's Association.
---
Peyton Wheat, 10, won the Troy Strawberry Festival golf tournament in the 12 & Under category at the Miami Shores Golf Course in Troy, Ohio last weekend. Peyton scored a 47 on the nine-hole course.
Peyton is a fourth grader at Harman Elementary School. He is coached by junior golf instructor Jim Rue. Peyton is the son of Patrick and Lisa Wheat of Oakwood.
---
The Little Exchange Fine Gifts in Oakwood announces extended hours this summer. The shop will be open Monday through Friday 10 a.m. - 5 p.m., Thursday 10 a.m. - 7 p.m. and Saturday 10 a.m. - 3 p.m.
The Little Exchange is staffed by volunteers whom assist customers with gift selection along with providing complimentary gift wrap and local delivery. All proceeds benefit The Children's Medical Center of Dayton with donations over $1.4 million since 1957.
The Little Exchange is located at 45 Park Avenue across from the Oakwood City Buildings off Far Hills Avenue/Route 48. For more information and directions, visit www.thelittleexchange.org or call The Little Exchange at 937-299-1561.
---
Marked Observations opens June 5 at Link Gallery

The Link Gallery, 519 East Fifth Street, an art gallery in The Oregon Arts District and home to a group of Dayton's most notable artists, presents Marked Observations, an exhibit of works by Erin Holscher Almazon and David Leach.
The show opens during the "First Friday" gallery open house on June 5, from 5-10 p.m. The exhibit will feature Holscher-Almazon's monotypes, drawings and solar plate prints and Leach's lithographs, screen prints and intaglios, as well as ink, graphite and watercolor drawings.
Mr. Leach is professor emeritus - Wright State University, and Ms. Holscher-Almazon teaches printmaking and drawing at the University of Dayton.
An Artist Reception and Talk will be held on Thursday evening, June 11 from 6:30 -
8 p.m.
---