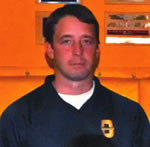 The MAC Award – Make A Contribution 2009, was presented to Gary Kesler by the family of Mac Hall for his outstanding leadership, dedication and contributions to the athletes, students and families of Oakwood.
Gary Kesler is a teacher and senior wrestling coach at Oakwood High School. Gary received his B.A. in Education from The Ohio State University and Educational Leadership distinction from the University of Dayton. Gary's community and professional memberships include St. Albert the Great, National Strength Coaches Association, Certified Strength and Conditioning Specialist; Oakwood Teachers Association, Ohio Education Association, Ohio Association for Health Physical Education Recreation and Dance, Oakwood Wrestling Association, Greater Miami Valley Wrestling Association and National Wrestling Coaches Association. Gary resides in Kettering with his wife Becky and their three children.
The MAC Award for Leadership has been established to recognize individuals who best maximize their leadership skills, abilities, and/or positions to make a significant positive contribution to the community. The MAC Award recognizes those who work consistently at the grass roots level to help others – making life better for the other person and for the community as a whole.
For the second year in a row Sunrise Assisted Living in Oakwood has been State Deficiency free! The entire team is proud of their award!
---
Elizabeth Clymer joins J.P. Morgan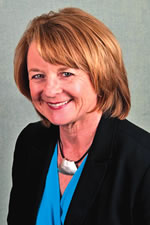 J.P. Morgan announced today that Elizabeth M Clymer (Betsy) joins its Private Wealth Management office in Dayton, Ohio. In her new role, she will be advising high-net-worth clients in the area on their investment management, banking, financial and wealth transfer needs. Ms. Clymer will be reporting to Zachary M. Gates, Market Manager for J.P. Morgan's Dayton office.
Betsy brings with her a deep knowledge of our business. We are thrilled to have her join the team to help guide our clients through these challenging market conditions," said Mr. Gates.
Ms. Clymer has been a member of the financial services industry for more than 25 years. Most recently, she worked at Fifth Third Bank as a Private Banker responsible for managing a private banking portfolio for professional organizations and individuals with high net worth. Prior to that, she spent nearly 12 years as a Private Banker at National City Bank and PNC Bank.
A resident of Oakwood for more than 25 years, Ms. Clymer is an active member of the community and serves on the boards of the Greater Dayton YMCA, the Dayton Ballet Association. She is also a member of the Rotary Club of Oakwood and the Junior League of Dayton.
Ms. Clymer earned an M.B.A. from the University of Dayton and B.S. from the University of Georgia. She also holds the Accredited Wealth Management Advisor (AWMA) designation from the College of Financial Planning.
---
Dayton Foundation named IABC award winner
The Dayton Foundation has been named an award winner for excellence in communications by the Dayton and Greater Cincinnati chapters of the International Association of Business Communicators (IABC). This year the two IABC chapters combined their individual Bronze Quill Awards programs to recognize outstanding communications created by corporations, other companies and nonprofit organizations in both the Dayton and Greater Cincinnati regions. Entrants from all types of organizations compete against one another, with no distinction made between nonprofit or for-profit organizations.
The Dayton Foundation received three 2009 Bronze Quill Awards of Merit for its publications and for its brand communication efforts. Futures, the Foundation's publication for financial and estate planning advisors, and Good News, the Foundation's general newsletter, won in the newsletter categories with circulations up to 5,000 and above 5,000, respectively. Gina Sandoval, a resident of Oakwood, was cited as a member of The Dayton Foundation department responsible for the award-winning publications.
"The Foundation is honored to be recognized by this prestigious organization for excellence in communications," said Michael M. Parks, president of The Dayton Foundation.
Since 1921 The Dayton Foundation has been helping people help others in the Dayton community and beyond. The Dayton Foundation helps donors find the best and most tax-wise ways to achieve their charitable objectives, invests and manages donors' charitable funds, and provides grants and leadership to grow philanthropy and help meet present and future community needs. More information about The Dayton Foundation and its services is available at www.dayton-foundation.org.
---
In the early hours of Saturday, May 23, members of Troop 101, under the direction of their Scoutmaster, Col. Matt Kell, properly disposed of over 650 American flags. The retirement ceremony involved a special reading, followed by respectfully burning the flags until they were fully consumed by flames. The troop will hold another ceremony later in the summer, as the troop was given several hundred more from the Dayton National Cemetery to retire. Several members of Troop 101 also helped decorate graves at the National Cemetery later that same morning.
---
Sixteen local Boy Scouts and seven adult leaders from BSA Troop 320 at South Park United Methodist Church are training to participate in the Great Ohio Bicycle Adventure later this month. They have been working on the cycling merit badge and riding hundreds of miles since early April. Members of the group usually meet on Tuesday and Thursday evenings at the home of Jim and Charlotte Wuebker on Patterson Road and can be seen cycling in their safety green T-shirts in a large well-organized group headed east towards Xenia, south towards Miamisburg or north towards Dayton on local streets and bike paths. Saturday and Sunday morning rides also allow the group to ride farther and see more of the area.
As part of the merit badge work, the scouts have learned bicycle safety, how to change a tire and tune their bikes and have planned and ridden on several long-distance rides. The trip leaders laid out a training program and required that all participants ride at least 350 miles prior to the trip and complete at least two 50 mile rides on consecutive days. The scouts have enthusiastically embraced the training schedule and several scouts and adults have already ridden over 600 miles. On Saturday morning, June 20, the group will load their gear and a trailer holding 23 bicycles and head to Norwalk to begin the adventure. The Great Ohio Bicycle Adventure is organized each year by Columbus Outdoor Pursuits and is sponsored by Bob Evans Farms. The towns included on the tour this year are Norwalk, Elmore, Bowling Green, Defiance and Fostoria.
This will be the first time Troop 320 has participated in GOBA, which is in its 21st year. Last summer the scouts and leaders from Troop 320 traveled to Virginia to visit Shenandoah National Park for hiking and backpacking for their summer Big Event. Scouts and adults participating in the event this year include: Bradley Alexander (Kettering), Thomas Chuna (Kettering), Bobbie Durham (Kettering), David French (Kettering), Perry Fulford (Oakwood), D'Wayne Howard (Kettering), Russell Keith (Kettering), Justin Matlock (Dayton), Robert McIntosh (Kettering), Colin Ray (Kettering), Griffin Ray (Kettering), Alex Schilb (Kettering), Michael Sharon (Oakwood), Robbie Smith (Kettering), Matthew Stroud (Kettering), Sam Wittman (Kettering), Kathy Alexander (Kettering), Joe Fulford (Oakwood), Dwight Matlock (Dayton), Tom McClory (Oakwood), Pam McIntosh (Kettering), George Ray (Kettering), Charlotte Wuebker (Oakwood) and Jim Wuebker (Oakwood).
---