The disconnect between high schools and colleges
By Jim Uphoff Ed. D.
A May 28, 2009 New York Times article by Sam Dillon carried the headline, "New Push Seeks to End Need for Pre-College Remedial Classes." He quickly refers to "a disconnect between high schools and colleges" and as evidence of this he points out the more than a million college freshmen must take remedial courses each year.
About seven years ago as a result of community-wide dialogue, our Oakwood schools became aware of reform efforts to address what was termed the high school-to-college disconnect and set about to reduce such disconnects for our own students. The Board of Education established several procedures which the administration and teachers have been implementing ever since. Fundamentally, the Board wanted to know exactly what the disconnects were, how our graduates compared with graduates of schools designated as our comparables, and whether or not disconnects were caused by just one or by both of the educational institutions involved, i.e. did the colleges also have some problems that they needed to face if solutions were to be found.
Oakwood began to call together each December its most recent graduates who had just finished their first term of college. Free-flowing discussions about how well they had been prepared at OHS for what they encountered in college were held. Very quickly, it became obvious that even more was needed in that our educators needed to meet with key university/college leaders if we were to establish a solid information base.
In the Spring of 2005, OHS teams of administrators, teachers, and counselors began to make very systematic visits to one Ohio college campus per year. During these College Connection (CC) visits, the Oakwood team meets with as many Oakwood alums attending the college at that time as possible to collect both quantitative and qualitative data. They also meet with Deans and Department Chairs and others at the colleges. Open discussions which examine programs and policies at both institutions are held with the goal being to reduce or even eliminate major disconnects.
Oakwood has now conducted 5 College Connection visits at the following Ohio universities: The Ohio State University, Miami University, Ohio University, University of Dayton, and Wright State University. Additionally, Kim Kappler-Hewitt, Curriculum Director, conducts one-on-one interviews with graduates who attend out-of-state universities and volunteer for the study using the same data collection instruments that are used for the CC studies. Annually, Kappler-Hewitt presents a report to the Board of Education at one of their regular meetings.
OHS has made some significant changes in its high school curriculum as a result. For example, nearly all math exams now include sections with and without use of a calculator. Writing assignments include both those with expected multiple drafts and those that are 'one-time' writing. Why?
Among the disconnects WITHIN individual universities were the following! Calculator use was found to be inconsistent within a university. One institution allowed the use of a calculator if the placement test were taken during the school year but not if taken in the summer. Also, it was found in several places that there was much disconnect WITHIN a given department. (One calculus prof demanded the use of calculators while another teaching the same course prohibited their use!)
In many college academic departments the standard English writing process ranging from pre-writing to drafting to editing to re-writing was BOTH ignored or used extensively when papers were assigned in subject area such as business, social sciences, engineering, etc. The bottom line was that there was not a common college expectation or process that could be anticipated and for which high school students could be prepared.
I am very proud that the leaders and teachers of our school system, along with community members, began to examine the high school-to-college-connection even before the issue gained national prominence. I am very proud that the district has been aggressively working with Ohio universities for the benefit of our students. Both levels of schooling (pre-college and college) have work to do, but our Oakwood leadership is well positioned to be successful in this effort!
For information about Oakwood's College Connection studies, please contact Dr. Mary Jo Scalzo, Superintendent, or Kim Kappler-Hewitt, Curriculum Director (297-5332).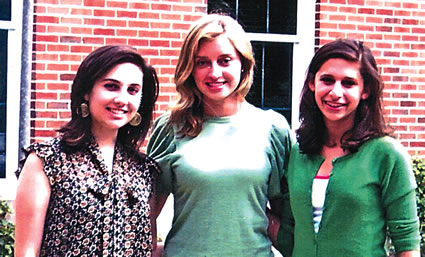 Three seniors-to-be from Oakwood High School, Christina Borchers, Lucille Shafer and Erin Maher (pictured left to right), will be among the 900 girls participating in the 63rd annual session of Buckeye Girls State at Ashland University. The session began Sunday, June 14 and concludes on Saturday, June 20. The main objective of the Girls State program is to train young women, who have completed their junior year in high school in the duties, rights and privileges of citizenship by providing the attendee the opportunity to actively participate in a democratic form of government. Kettering Unit 598 of the American Legion is sponsoring the girls. Assisting at Buckeye Girl's State will be Auxiliary Unit 598 President Carol Kelly, who will be Residence Hall Counselor. As the girls arrive at Girls State they are assigned to one of two political parties. The residence hall in which they live during the program is their designated county and the floor on which they live is their city. The students will file petitions for candidacy for a variety of offices from governor to city council and participate in the election process. After elections and inaugurations, they will put government in action.