Mike Miller of M & M Construction and a Moraine Materials cement mixer pours the cement for the foundation for the first home to be built in the Pointe Oakwood housing development. The house is slated for completion in three months and will serve as a model home and sales center for the development.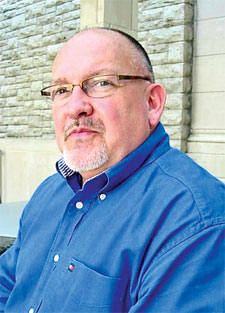 Oakwood resident and Sinclair Community College English teacher Gary Mitchner was honored last week at the college's graduation Convocation by being named Professor Emeritus.
"As a matter of record, Gary taught at Sinclair Community College from 1972 to 2006, but in reality Gary devoted 34 years of his life to the college. He was Sinclair's biggest fan and promoter and he wove his own energy and varied interests into a long and successful teaching career to the benefit of all who knew him," wrote fellow English professor Kay Berg, in one of his nomination letters.
Mitchner started out teaching English at Oakwood High School for one year from 1971 to 1972. He began teaching at Sinclair and among his many accomplishments founded the Paul Lawrence Dunbar Memorial Poetry Prize and the Helen Peterson Literary Prize. He was editor of Flights, the English Department's literary magazine. He served on almost every committee on campus: assessment, merit, student conduct, faculty senate, North Central Association, Clarion board, library director and grants director among many others.
---
A national banking publication, U.S. Banker, has recognized LCNB National Bank for its outstanding three-year average return on equity (ROE) in its June 2009 edition. LCNB is ranked 139th among all community banks and thrifts across the United States which qualified.
The rankings were based on an analysis of data compiled by SNL Financial LC.
"We are honored to be recognized as one of the top 200 community banks. This recognition is shared by our entire team who take great pride in LCNB National Bank and in serving our customers' financial needs, every day."
He continued, "It also reconfirms our philosophy of responsible lending, offering state-of-the-art financial products, providing excellent customer service, and increasing shareholder value," said Steve P. Foster, president of LCNB Bank.


The Moraine 64th Men's Invitational at the Moraine Country Club had one first
place tie and a three-way tie between teams.

They were as follows:

First
Jack King- George Skestos +11

Second - Tie
Bill LeBoeuf- Bob LeBoeuf +10
John Giering- Brian Huffer +10
Brian Crotty- Scott Hause +10
Erin Koepke was the recipient of the Rotary International Ambassadorial Scholarship of $24,000 where she will be in South Africa for one year to work with women who are HIV positive and to help develop techniques to improve their livelihood to minimize the spread of HIV. Pictured left to right: The Rev. Jack Koepke, Nanci and Erin Koepke, Oakwood Rotary member Earl Pritchard, Mayor Judy Cook and Oakwood Rotary President Bill Schuerman.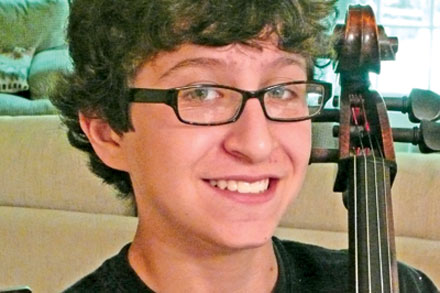 An Oakwood High School student participated in this summer's Boston University Tanglewood Institute (BUTI), a program of musical study and performance that is considered one of the most prestigious summer music programs for high school students in the country.
Josh Halpern has studied cello for six years. A freshman at Oakwood High School, he is the son of Alan and Julie Halpern.
Halpern was among 338 students selected from auditions held in seven cities throughout the country to work with members of the BSO, BU faculty, and world-renowned visiting artists. While in residence at Tanglewood, these young instrumentalists, singers, and composers keep a demanding schedule of rehearsals, master classes, and concerts.
Every summer, BUTI welcomes a select group of gifted high school musicians to the Tanglewood grounds for a summer training program for orchestra, voice, wind ensemble, piano, composition, and harp as well as workshops for individual instruments and chamber ensembles. Led by Artistic Director André de Quadros and Executive Director Phyllis Hoffman, this year's students represent 41 states and eight foreign countries, including Germany, Korea, Israel, Brazil, Venezuela, China, Hong Kong, and Canada.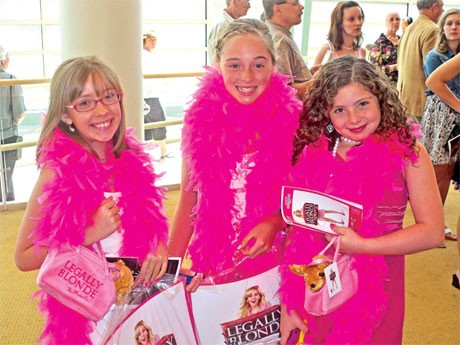 On Saturday, Annie Murphy-Zahora with friends Lauren Varley and Jenna Gisenfield celebrated summer by attending the Schuster Center for the musical Legally Blonde. It was a great day celebrating good friends...good weather and a great show. The girls also got to meet the cast afterwards. Annie said, "We all agree...after seeing the show that girls can do anything!"
---
Izzy Armitage with her Smith School, third grade teacher, Mrs. Katy Herms, and her award for finishing third place in the "Keep Montgomery County Beautiful Poetry Contest". The awards were given out at a winner's reception at Wegerzyn Gardens Metro Park on Saturday, May 30. The competition attracted over 500 entries from all over Dayton.
Wright Library is offering an "Art Around the World" series on consecutive Tuesdays from 2 to 2:45 p.m. Children entering grades K-3 in the fall can travel around the world with Mrs. Bengson and learn about the art and music of China, Mongolia, Canada, India, Kenya, Iran, Vietnam, and Russia. Books related to that day's topic will be available for check-out.
Registration is necessary for this program. As always, children do not
need to live in Oakwood to participate, and parents are welcome to stay. All programs will meet in the Library Meeting Room.
For more information or to register, please contact the Youth Services Department at 294-7171.
As a compliment to the teen summer reading club theme, Express Yourself @ Your Library!, Wright Library is offering opportunities for teens to plug into their creative sides every Friday through July 31. Programs will start at 2 p.m. and end at 4 p.m. unless otherwise noted.
June 26 Cake decorating
July 7 Duct tape projects
July 10 Papermaking with Leesa Haapapuro and Chris Mannix
July 17 Cooking brunch outdoors (starts at 10 a.m.)
July 24 Tie-dye (bring your own white cotton shirt)
July 31 Scrapbooking (bring your own photos)
For more information, please contact the Youth Services Department at 294-7171. The web site is www.WrightLibrary.org.
Scouting News...

Serving with a Smile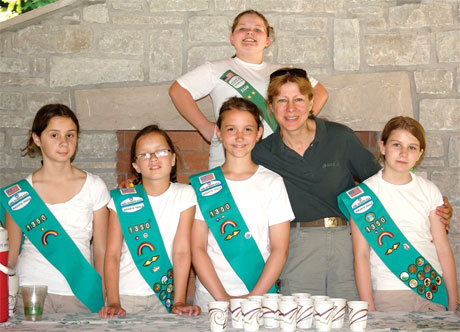 Girl Scout Troop 31350 of Oakwood served free lemonade and cookies during the Grand Re-Opening of Hills and Dales Metro Park on Saturday, June 20. Shown left to right: Colleen, Lindsey, Elizabeth, Megan (top), Leader Debra Edwards and Emmaline. Not shown, Co-Leader Wendy Lewis. Hundreds of visitors streamed through the five separate areas of the park: Paw Paw Camp, White Oak Trail, Dogwood Pond, Twin Oak Camp and White Oak Camp. Two of the camps are available by reservation. The main shelter at Paw Paw Camp accommodates up to 100; Twin Oak Camp offers picnic facilities for up to 50. White Oak and Dogwood Pond are on a first-come, first-served basis. To reserve a picnic area, call 275-PARK.