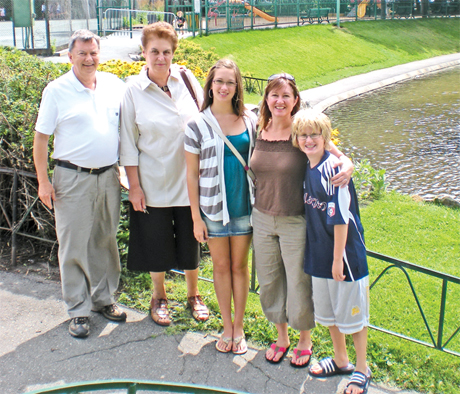 The Montreal, Canada, suburb of Outremont, has played host to many Oakwood residents this summer. Gathering for a photo in Outremont Park are (from left) Jacques Grégoire (an original signer of Outremont-Oakwood twinning agreement), Francine Unterberg, President of Outremont Sister City, Charlotte Berwald, Kirsten Halling, President of OSCA, and Walker Berwald.
Six Oakwood residents have visited Outremont, our sister city in Canada this summer.
Bob and Wisch Hitchcock represented Oakwood at Outremont's annual Lobsterfest in June, a huge fundraiser for their sister city association, with over 600 attendees. Wisch Hitchcock was very pleased with the warm reception they received from friends they have made in the many years they have been involved in Oakwood Sister City Association. "After 29 years of membership," Hitchcock said, "we were given the VIP treatment."
Oakwood Sister City Association president Kirsten Halling also visited Outremont with her family in early August.
"It was great to get to know the officers of the Outremont Association," Halling said. "I don't think most Oakwood residents realize what amazing sister cities we have. Outremont is a suburb of Montreal, an incredibly dynamic and diverse city."
Halling said that in addition to all the cultural opportunities Outremont offers, their sister city association has an apartment in a beautiful location that is reserved exclusively for residents of their sister cities. Halling's husband, Peter Berwald was impressed with the location of our Canadian sister city and its amenities. "Outremont is one of the most vital neighborhoods of Montréal," he said. "It's beautiful, safe, well located and really cool," he said.
With the 35-year anniversary of the official twinning agreement between Oakwood and Outremont coming up in 2011, both Sister City associations are swinging into full gear to prepare for festivities. Oakwood Sister City members Bill and Wendy Campbell have planned a group trip to Vermont and Outremont to experience the splendor of New England and Canada's fall foliage and discover the unique bilingual urban offerings of Montreal and Outremont.
The "Outremont/Fall Foliage Group Tour" is planned for October 12-19, and is currently accepting participants. Prices are reasonable, and although OSCA membership is required, it is very easy to join. Interested parties should contact oakwoodsistercity@gmail.com for more information.
---

One of Dayton's longest running parties is the annual Chili Festival held each year at Polen Farm in Kettering, and hosted by the South Dayton AMBUCS (American Business Clubs). Oakwood resident Al Mayhew will again serve as the chairman for this event, now in its 24th year. Mayhew says he is fairly certain that there are a few folks around who attended the very first Chili Cookoff when it was put on in a parking lot on Route 725.
"There were about 400 folks attending that first event. Back then it was a chili cook-off among amateurs. The event became so popular that the amateurs couldn't provide enough chili to keep up with the crowds," Mayhew said. For this year's event, Mayhew has 26 restaurants lined up to provide the crowd with chili. The AMBUCS bring together the chili, the beer, wine, and soft drinks, the music and the casino games. The people provide the party because they know they are going to run into a bunch of folks they hadn't seen for awhile.
The 2009 Chili Festival is Friday, Sept. 11 from 6 - 11pm at Polen Farm. The proceeds from this event go to the AMBUC Scholarship Foundation. In addition to funding scholarships, the Foundation assemble special tricycles called AMRKES which are designed for children with disabilities. For more information about this year's event visit www.bestchili.org
---
Blue Turtle Toys opened its doors ten years ago, on Sept. 9, 1999 at the corner of Far Hills and Triangle Avenues in the Shops of Oakwood. The miniature boutique complete with charming nooks and crannies was perfect for the large imaginations that accompanied its young customers.
In 2005 the specialty toy store relocated to a larger space one block north at 2314 Far Hills Avenue. The new location maintained much of the charm of the original store, while offering space for additional products. A trip to Blue Turtle continues to be reminiscent of the days when a trip to the toy store was a special treat for children and parents alike.
To celebrate its tenth Anniversary, Blue Turtle Toys is throwing a ten-day birthday sale with 20 percent off storewide beginning Sept. 9 and continuing through Sept. 19. Owner Carolyn Meyer says "Blue Turtle has received great support from the Oakwood community and from people across the Miami Valley. Our annual sale is a way to show our appreciation for the support our customers provide."
Blue Turtle Toys specializes in toys for all ages from birth to adult. There are games and puzzles that encourage family togetherness; an array of crafty projects for all ages; one of the largest selections of dolls in the area, and toys for infants that help nurture early childhood development. The store features quality items from the United States, Europe and toys makers around the world.
Meyer has been in the specialty toy business since 1981, working with Larson's Toys and Games in Columbus before opening Blue Turtle Toys in 1999. She credits her store's success to years of experience and membership in the American Specialty Toy Retailing Association (ASTRA ) and The Good Toy Group. "We share information about new items, safety issues and business trends daily with other members of ASTRA and TGTG throughout the country. After so many years you get to know vendors and their products pretty well." Meyer adds "we have a great customer base and have received many recommendations over the years that have added to the interesting selection of toys in our store."
"After 10 years, we've had the opportunity to get to know many of our customers and their children. Many people want their children to experience the wonder of this type of traditional toy store. It's rewarding to think that our little Blue Turtle Toys has created some cherished memories for our youngest customers," Meyer said.
---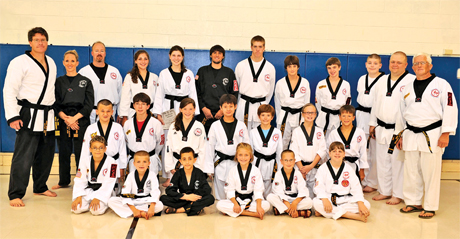 On Sunday, Aug. 23, the Asian Arts Center held their martial arts promotion test at the Oak Grove Elementary School multi-purpose room. Over 50 students advanced to the next belt level, including four Oakwood residents who advanced to the 1st Dan Black Belt level and one to the 3rd Dan. Alex House - 1st Dan, Robbie Kramer - 1st Dan, Claire Winch - 1st Dan, Dan Pohlman - 1st Dan, Dennis Schaefer - 3rd Dan.
---
The Rotary Club of Oakwood announced renewal of their 2009 Scholarship Award to Mr. James Tolles. The Club awards the scholarship annually to a high school senior who is an Oakwood resident. The recipient may be attending any area high school. The children of members of Rotary International are ineligible.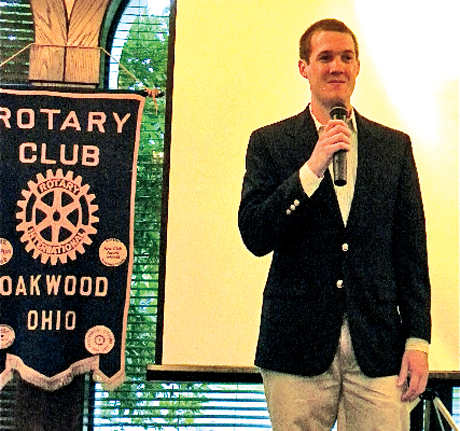 The club received applications from a number of students from Oakwood High school. "This is very competitive, and the field of applicants represented a very impressive set of credentials", said Russell Maas, Vocational Service Director for the club. "This scholarship is somewhat unique in that we renew the scholarship every year for the entire four years providing that the student remains eligible through a combination of academics and community service at their college or university."
Students were required to apply for the award by showing good community citizen qualities while demonstrating that they are good students as well. "We are interested in finding the applicant that had reached out into their community to perform a leadership role in extracurricular service. It was more important to us, as Rotary members who serve the broader community completely outside our professional lives, that our winner demonstrates that quality as well," Mass pointed out. "Being class president or having a GPA of 4.0+, while a marvelous accomplishment, didn't carry as much weight with us as someone who might organize a team to support a homeless shelter."
Mr. Tolles is entering his senior year at Miami University at Oxford, Ohio focusing on a major in finance and a minor in management information systems. This past summer he completed an internship with Ernst & Young's Fraud Investigation and Dispute Services unit in Chicago, IL. While at Miami, he assisted low income families in the Oxford area to file tax returns through the IRS Earned Income Tax Credit Program. He also renovated Oxford homes for those in need and helped raise money for Living Water Ministries, an after school program for at risk teens in Hamilton, OH. James is the son of Joan and the late Robert S. Tolles, Jr. of Oakwood.
The Oakwood Rotary Club is comprised of men and women working to further the principles of truth, fairness and equality. The Club supports community activities through its numerous fundraising projects such as That Day in May held in Oakwood each year.
---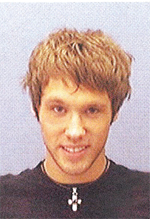 A Springfield man has been charged by the Montgomery County Prosecutor's Office with identity fraud and grand theft. Michael Rohrer, 23, apparently photocopied credit cards of some clients where he worked at the Kettering Animal Hospital, 1600 Delco Park Drive. Rohrer was employed there as a front desk clerk and was taking charge cards from customers who were paying for veterinary services to the back of the office and making copies without their knowledge. The card numbers were then used to reserve hotel rooms in Columbus, according to police.
According to Oakwood detectives, at least $33,000 in fraudulent charges on the victims' credit cards were made. At least 10 victims have been identified in the case.
An investigation was begun when an Oakwood resident contacted the Oakwood Safety Dept. regarding $2,800 in charges that appeared on her credit card which she did not make or authorize.
The case has been sent directly to the Montgomery County Grand Jury. The suspect is charged with one count of grand theft and three counts of identity fraud. All of the charges are felonies.