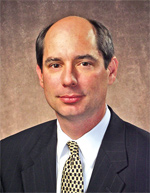 Christopher R. Conard, an attorney and shareholder at Coolidge Wall Co., L.P.A., has been appointed to the Unauthorized Practice of Law Committee of the Ohio State Bar Association.
Members of the Unauthorized Practice of Law Committee serve both the legal profession and the public by conducting investigations of complaints regarding persons unauthorized to practice law in the state of Ohio. Through this committee and others, the Ohio State Bar Association promotes the highest standards in the practice of law and the administration of justice.
Christopher R. Conard is a member of Coolidge Wall's litigation department, and is active in the firm's general business, commercial, construction and criminal litigation. He practices in both state and federal courts.
Conard is a member of the Leadership Dayton Class of 2007-08 sponsored by the Dayton Area Chamber of Commerce. He serves as a trustee of the Community Blood Center/Community Tissue Services and is General Counsel for the Dayton Visual Arts Center. He is a former adjunct professor at the University of Dayton and the University of Dayton School of Law. Mr. Conard is a founding member of the Dullard Society, an Oakwood High School alumnus and a resident of Oakwood.
---
Sisters Abby, 9, and Lily, 5, got their hair cut last Friday to donate to Locks of Love (11 inches from Abby and 13 inches from Lily). Abby attends E.D. Smith School and is in the fourth grade. Lily attends the Lange school.
---
The Dayton Area Board of Realtors swore in the 2008 officers and directors at the annual Realtors Installation Banquet, held at the Benjamin and Marian Shuster Performing Arts Center on Jan. 8. The highlight of the event was the inauguration of Debra J. White as president of the 3400-member association.
White, broker/owner of RE/MAX Resources in Beavercreek and Centerville, has been a member of the Realtor organization for over 22 years. In 2006 she served as DABR treasurer and chairperson of the finance committee, and in 2007 she was elected president-elect and oversaw the strategic planning committee.
"As president, I look forward to working with the officers, directors, committee chairs and our excellent staff to implement the Board's strategic plan. This is a plan that has a vision for the organization to be the Realtors' premiere service provider," White stated during her inauguration. She added, "My personal mission as your 2008 president is to encourage our younger Realtor members to get involved with the Board. Letting our generation X and Y members know that we value their opinions is the first step in encouraging these talented individuals to volunteer for important Board projects."
Other Board officers installed include Harry Vearn, president-elect, and Deborah McCuiston, treasurer. Associated with Irongate Realtors, Vearn is a 27-year veteran of the real estate industry, and McCuiston, who is associated with Coldwell Banker Heritage, has been a Realtor for over 34 years.
Newly elected and re-elected Realtors serving three-year terms on the Board of Directors are Sham Reddy, associated with RE/MAX Spirit Realty; Jim Weckesser, associate partner for Coldwell Banker Heritage; Robert Wilson, broker-manager with Irongate Realtors; Anjanette Frye, associated with RCF Properties; and John Youker, broker and part owner of Keller Williams Advantage Real Estate.
Realtors who are serving unexpired terms on the Board of Directors are Lisa Arzate and Nancy Farkas, associated with Coldwell Banker Heritage; Ed Griffith, Howard Schumacher and Russell Wiessienger, associated with Irongate Realtors; Brent Moore, associated with Prudential One Realtors, and Guy Roth, associated with Big Hill GMAC. Georgiana Nye, associate partner with Coldwell Banker Heritage, will continue to serve on the Board as Immediate Past-President.
---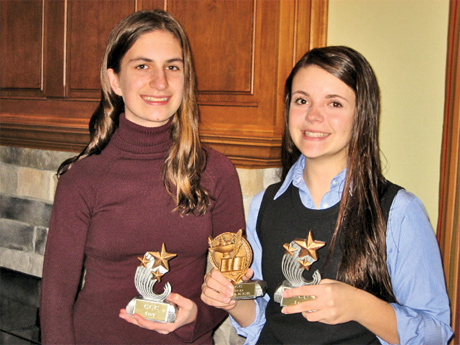 Debate winners Julia Sizek and Julia Goff.
At a recent State qualifying debate tournament in Canton, OH, Julia Goff, an Oakwood High School senior, and junior Julia Sizek took first place honors in policy debate beating out 27 other teams from throughout Ohio. Goff also received recognition with a second place out of 58 speakers at the event. Goff, debate captain for the past two years, looks forward to participating in debate at the university level

---
Last week on Monday, Connie Foster, the receptionist on the city side of the Oakwood Municipal Building and retired Oakwood Safety Officer James Luckett both passed away about two hours apart. The likes of either will not pass our way again.
For the past eight or so years, I had occasion to visit Connie's desk every Tuesday with a fresh stack of Register newspapers. At her request, I would separate out a dozen or so papers from the front rack and bring them for her to distribute to the city office staff. She always greeted me with a kind look in her eyes and a guileless smile that would put me right with the rest of the world the rest of the day. When I was told by her that she had cancer, there was not the least trace of fear or concern in her face - just a wistful look of hope that she would win her health back.
When she passed away last week, Deputy City Manager Jay Weiskircher sent a heartfelt letter to her family. It read in part:
"I know you already know this, but those of us who had the good fortune of knowing and working with Connie during the past ten years will never forget the courage and dignity she displayed since being diagnosed with her illness. Connie never outwardly complained or felt sorry for herself, and continued to approach life with a zest and zeal that was unique to her. She taught us not to take for granted the blessing of good health and how to live life to the fullest. Connie was universally liked by everyone she came in contact with and had the unique ability to make everyone feel good about themselves. We will never forget her engaging smile, random acts of kindness and spirit. She will always hold a special place in our hearts." Godspeed Connie.
Lance Winkler
Jay Weiskircher
| | |
| --- | --- |
| | |
| James Luckett | Connie Foster |

Jim Luckett began his career with the Oakwood Public Safety Department in August of 1970 as a public safety officer. Jim was later promoted to the rank of sergeant and retired as a lieutenant in 1999 after 29 years of service. During Jim's career, he served as police officer, shift commander, a fire inspector and fire instructor, teaching in numerous area fire recruit classes. Jim was one of the original paramedics in Montgomery County when the program began in the 1970's. Jim enjoyed photography and ran the department's photo lab for a number of years when many departments developed and printed their evidence photographs.
Jim was a member of the Fraternal Order of Police Lodge 107, the Knights of Columbus, a veteran of the United States Navy and a member of Box 21 Rescue Squad. Jim was a tall, imposing man in uniform, but everyone who knew Jim knew that he cared about his fellow officers and he knew no strangers. Jim liked helping people and making a difference. Jim will be missed by all who had the privilege of knowing him.
Captain Randy Baldridge
See obituaries...
---
THANK YOU to all who collected and sent in their Yoplait lids for breast cancer. We mailed in 2,260 lids the last week of December—that's almost 200 more than last year.
A special thanks goes to OHS's Oakwood Giving who put up collection boxes around the schools, and Brownie Troop #30031 who counted the majority of the lids at their last meeting of 2007.
Every one of those lids is worth 10 cents, so we raised $226 for the Susan G. Komen Breast Cancer Foundation. That's money that went to a cause instead of into a trashcan. You can't beat that kind of money!
Each year we collect more than the year before. Since we began six years ago, we have raised over $1,200 in this Yoplait campaign. We collect lids all year long, so
keep saving them for next year's submission. THANK YOU for helping this fundraiser grow.
Leigh Ann Fulford
CARE Walk, Inc.
219 Orchard Drive
Dayton, OH 45419-1722
937.294.3816
www.carewalk.org
Prior to Oakwood and even Montgomery County, there was Federal Land as surveyed by the government under an Act of Congress in 1876. This part of the country and west to the Rocky Mountains was laid out in units called Sections in a grid of Towns and Ranges. Revolutionary War soldiers were paid in warrants which were redeemable for land, thus paying the obligation to them for their service, and encouraging the westward settlement of the country.
One such veteran who put together a substantial number of these claims, was Col. Robert Patterson who had been an Indian Scout and a soldier, suffering ten wounds during his career as both. He was with Daniel Boone at the Battle of Blue Lick and accompanied Col. Bowman against the Shawnees in the Miami campaigns. He also accompanied George Rogers Clarke to Illinois, where he earned his commission and land grants. He built a little log cabin in Louisville, Kentucky from which he expanded his holdings. He also defended the rear during the defeat of St. Clair in 1791. As a citizen-statesman he was in the first Kentucky Legislature.
Because he had guaranteed some debts for a friend in Louisville which became uncollectible, he was in dire financial straits in 1804, so he used his only assets – land rights, and combined with his brother-in-law Robert Lindsay, to purchase a substantial piece of ground in what is now Montgomery County, Ohio. He bought Lindsay's interest and then added to it by buying a large tract from Daniel Cooper, the proprietor of a large portion of south Dayton. Thus he owned 2,417 acres, extending from Gettysburg Avenue east to the border of Woodland Cemetery and Wayne Avenue, south to Patterson Road, and east to Schantz Avenue. Included in this was a cabin and three mills which he ran successfully, serving the area for many miles. He became known as a shrewd businessman, establishing a grist mill, a carding mill, and a saw mill. During the War of 1812, he became a quartermaster, supplying troops. In 1816, he was able to build the substantial home we now know on Brown Street as the Patterson Homestead.
When Col. Patterson died in 1829 he left a very careful Will which divided his property among his nine children. After some intra-family sales and a partition action, his son Jefferson ended up with 281.5 acres, including the Homestead. Jefferson was not as careful in his estate planning, because he died without a Will. In 1865, a partition action was brought by his adult heirs and their mother, asking that the remaining land be split up and sold. A survey was made, and a sale held, but only five of the lots sold. The property was resurveyed and the remaining lots were distributed. His son, John H. Patterson got a 25.50 acres and later bought 15.30 acres from his brother Stephen to develop into "The Far Hills" (which we now know as the site of The Lutheran Church of Our Savior). Jefferson's widow, Julia Patterson, got some lots in Trust, and upon her death many of the remaining parcels, including what became the N.C.R. factory and Sugar Camp, came under the control of John H. Patterson.
But the memory of Col. Robert Patterson, the pioneer Indian fighter, founder of Louisville and Cincinnati, lives on in Oakwood. In 1904, John H. Patterson had the original log cabin of the family, built in 1775, moved from Louisville to the intersection of Far Hills Avenue and Oakwood Avenue, and erected on the little triangular piece of ground that remained there for 35 years. He maintained it and had his grounds keeper watch over it, opening it for visitors on weekends. He left the three fourths of an acre to the City of Dayton (Oakwood was still a village), as a public park, and left 50 shares of NCR stock as a perpetual care fund. The city had two years to accept this. Years later, the city decided it didn't want to own and maintain a park in Oakwood, so they conveyed it to the State who in turn conveyed it to Oakwood.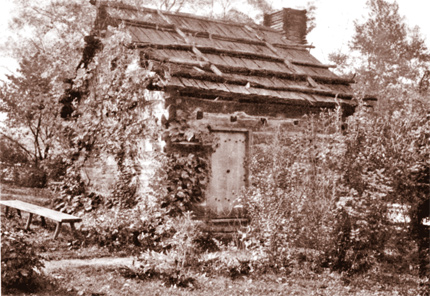 Col. Robert Patterson's log cabin as it stood at the corner of Far Hills and Oakwood Avenue from 1904-39.
In 1939, Dr. Charles Allen Thomas, son-in-law of Katherine Houk Talbot, prominent chemist and later President of Monsanto, the pioneer researcher of polonium at Runnymede Playhouse, and a graduate of Transylvania College, arranged to have it transferred back to Lexington, Kentucky, where it is still on the campus. Compare this to the controversy over Building 26 !
The plaque on the large stone monument in the park is dedicated to Col. Patterson as "Explorer, Surveyor, Patriot, Statesman, Farmer, Manufacturer and Leader in Education, Religion, Good Government, Industry, and Transportation". It concludes that his "…intrepid soul, adventurous spirit and sterling integrity helped make possible the great middle west of today."
By Norbert Klopsch
Oakwood City Manager

On July 15, 1907, a group of 78 distinguished Daytonians living on unincorporated land in Van Buren Township decided by a 76-2 vote to establish a new village just south of downtown. Thus, the "Village of Oakwood" was created. Official incorporation documents were recorded by Montgomery County on Jan. 9, 1908 and the first village council meeting was conducted in Oakwood on Feb. 18, 1908.
The petition for incorporation read, in part:
"That the inhabitants of said territory desire that same shall be incorporated into a village; that the number of inhabitants residing within said territory is about 300; and they respectfully petition your honorable body that said territory may be incorporated into a village in the manner provided by law, and that the name of said village may be the "Village of Oakwood, State of Ohio"; and hereby designate John H. Patterson and H. E. Talbott their agents to act for them in all matters relating to the hearing upon this petition, and in other matters relating to the incorporation of said territory into a village; and further petition your honorable body that an election may be ordered to obtain the sense of the electors of said territory upon the question of its incorporation into a village as prayed for in this petition".
(Note: By 1930, Oakwood's population exceeded 5,000 so on January 1, 1931 we changed from a "village" to a "city".)
This year, we are celebrating our 100th anniversary. Over the past two years, a large group of Oakwood citizens have been working together to plan a number of special centennial events. These citizens are led by Mayor Judy Cook and Centennial Co-Chairs Madeline Iseli and Dick Good.
The major events for our celebration will begin with a very special "That Day in May" to be conducted on May 17. As always, the Oakwood Rotary Club will take the lead on planning and executing the activities. Rotarians Perry Martin and Rob Stephens are sharing leadership responsibilities. The highlight will be a large parade running down Far Hills Avenue.
On June 8 we will celebrate Oakwood's Excellence in Learning through events led by School Superintendent Dr. Mary Jo Scalzo and Wright Library Director Ann Snively. As a showcase for Oakwood's outstanding schools and students, these events will feature a time capsule, essay contest, visual arts, performances and sporting events.
On June 22 we will celebrate Oakwood's Environment and Fitness with an event entitled "Haven on the Hill". Cindy Garner and KC Stack are leading a group of citizens in planning activities focused on appreciation of the natural beauty of Oakwood. Physical fitness and outdoor recreation will be emphasized in activities for the whole family. This will include the dedication of a pedestrian bridge in Houk Stream. Construction of the pedestrian bridge is the first part of our plan to enhance Houk Stream by connecting the newly acquired city land into the existing natural area. "Centennial Park at Houk Stream" is a project headed by Irv Bieser and will be a legacy feature of our Centennial Celebration.
On July 12-13, we will celebrate a retrospective of our first 100 years featuring, among other things, the premiere of a historical documentary film about Oakwood and citizen tours of Hawthorn Hill. These events are being led by Harry Ebeling, Harrison Gowdy and Mark Risley.
On Aug. 17, we will close the Centennial Celebration with our traditional, yet enhanced, community Ice Cream Social. The day will end with a spectacular outdoor concert at the Oakwood High School Stadium featuring the Air Force Band of Flight. Becky Butler and Sally McBride Solarek are leading planning efforts.
In the course of celebrating our great community, we will also take time to recognize our long-time residents and businesses through an exciting "Centennial Club". Membership in this "exclusive" club is for persons whose age plus the number of years of Oakwood residency (or years working at an Oakwood business) totals 100 or more. This is being led by Sally Riffle and Dick Cummings.
The final major component will be creation of a centennial publication. This will be a beautiful "keepsake" to be distributed, at no cost, to all Oakwood citizens. Creation of this hard-cover "coffee table" book is headed by Dick Good, Ann Rasmussen, Joanne McPortland and Nina Anglin.
Much of the cost for our celebration will be paid from financial contributions by major corporate sponsors and from Oakwood businesses and citizens. Laura Byington is coordinating all fundraising efforts.
So…let's get ready to party! Please mark your calendars and plan to participate in everything. It will be a grand celebration. Ongoing information about the Centennial events will be included in the local newspapers, on the city's website www.mvcc.net/oakwood, in the city newsletters, and other separate mailings. If you have any questions, please call me or e-mail (298-0600 or klopsch@oakwood.oh.us).
A dark blue nylon bag was left by the curb across from 2518 Hillview on Monday, Jan. 7 containing toys and dolls. If found, please call 298- 4255 and we will come pick it up and make a little girl happy again.
---
Recently the City of Oakwood has experienced a rash of stop sign thefts at various locations throughout the city. This has created a serious safety issue. The Safety Department is requesting citizens call 911 or 298-2122 to report any suspicious activity or individuals observed around intersections. We would also request a call from citizens to report any missing traffic control device they might observe.
Removal of stop signs and other traffic control devices is taken very seriously by the Public Safety Department and could lead to serious injuries or deaths due to a traffic crash. It is a misdemeanor of the first degree to steal or tamper with a stop sign or similar traffic control device. Large civil penalties could also be imposed against suspects if an injury or death results from the act. The penalty for a first degree misdemeanor could include six months in jail and a $1,000 fine.
Anyone having information regarding these thefts is asked to contact the Oakwood Public Safety Department at 298-2122.
Due to a low turnout for the December Food Drives in and around the Dayton Area, the Emergency Food Bank is in DIRE need of non-perishable contributions! The Food Bank serves several area pantries and shelters. They can not provide food unless we all pitch in and help. We hope we can count on you!!!
Please bring your non-perishable items (ex: canned fruits and vegetables, boxes of cereal, dry milk, etc.) to the OCC between now and Friday, January 25th. Together we can make a difference!
Monetary donations can be made online at www.thefoodbankdayton.org. For each dollar donated, the Food Bank can purchase $5 worth of food!!! Thank you for your help!!
Lori Stanley
Secretary, Leisure Services
105 Patterson Road
Dayton, OH 45419
937-298-0775