The Oakwood Historical Society will be presenting the first of its Centennial series of programs of interest to all area residents. Author Glenn Harper will talk on the subject Helping Build America: The National Road on Thursday, March 13 at 7 p.m. at the Lutheran Church of Our Savior, 155 E. Thruston Blvd.
There is no charge for the presentation and a coffee and cookies social period will begin at 6:30 p.m.
Harper is a co-author of A Travelers Guide to the National Road, and has written and lectured extensively on the subject. He will present highlights of the road's (also known as U.S. 40) origins, its heyday, resurgence during the golden age of automobile touring, and its modern era.
There are many icons on the road, including inns and taverns and unique "S" bridges. Dayton people may recall the so-called "Dayton cutoff," built by local boosters when U.S. 40 bypassed the city. A free copy of the Travelers Guide will be available to attendees.
The city of Oakwood will begin a major improvement project at Orchardly Park within the next few weeks. This is the first of a two phase project to completely rebuild the park. The Phase I project constitutes a vast majority of the total work and involves reconstructing all of the park playground areas and replacing equipment and amenities that were installed 18 years ago. The existing tennis courts and basketball court will remain as is.
Current plans for a future Phase II include improvements to the basketball court, installation of new
picnic shelter, a new baseball backstop and creation of some passive recreation space along the west side of the park.
The new playground area will be built in the northeast quadrant of the park where the multi-sports lawn area/open green space is currently located. A new multi-sports lawn area/open green space will be constructed in the southeast quadrant. Seeding of this area will take place during Phase I with final improvements slated for Phase II.
The new playground will include two distinct play areas with state of the art equipment and amenities. One area will have equipment generally designed for young children, up to five years old. The other area will be designed for children in the five to 12 year old range.
| | |
| --- | --- |
| | |
| Proposed ages 2 - 5 play area. | Proposed ages 5 - 12 play area. |
Both playground areas will be constructed in a manner and with equipment so that they are accessible to children who are physically challenged. Project plans also include construction of a new, state of the art water splash park feature, a new restroom and storage building, and miscellaneous site furnishings. The water feature will replace the old kiddie pool and will offer several exciting play stations where children can cool off. In total, $590,000 is budgeted for this project.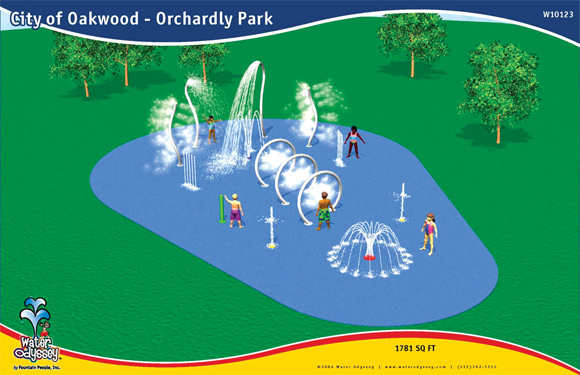 Proposed water play area.
"This is a major public investment in our most heavily used city park" said Mayor Judy Cook. "City Council unanimously approved the expenditure recognizing the importance of Orchardly Park and the commitment of significant dollars into the vibrant southeast area of our city".
The city hired the local design firm Envision-Works to assist with the project. Preliminary planning for the project began last year. Preparation of the final design and construction documents took place over the last several months and included input from many Oakwood citizens including young children looking at plans and making suggestions. Most of this input came through two public meetings. "We were fortunate to have good citizen turnout and involvement at both of our planning meetings" said City Manager Norbert Klopsch.
Construction will take approximately three months to complete. "We are planning to open the new park in early to mid-June" said Leisure Services Director Carol Collins. "Please watch for an announcement in the local newspapers about the formal ribbon cutting ceremony. We are very excited about this project and know our children will love it."
For more information or to see the construction plans and park renderings, please visit the Oakwood Community Center at 105 Patterson Road.
Released by: Norbert Klopsch, City Manager, Date: March 7, 2008.
---
On Saturday, March 15, from 7 -11 p.m. the Boonshoft Museum of Discovery will transform into the spot for the best in live local music, karaoke, hip hop dancing, video gaming, and meeting new people.
Participants can brave the SUMO suit challenge and bungee run sponsored by University of Dayton, "mix it up" with DJ Ike B as he mixes the newest tunes for the dance floor, belt out their best ballad in CricKet's Karaoke Korner, and dance to hip hop, street and freestyle with Maurice and Exodus/Project Jericho.
The Boonshoft Museum will unveil its "rasketball" team featuring basketball-trained rats named "Pinky" and "The Brain." Other activities included in
ShamROCK's $10 admission are Channel 94.5's top music countdown Laser Light Shows, temporary henna tattoos, extreme live animals, Sinclair Community College's Sensory Simulator, and "Science Fiction," a chilling Science Theater show.
Headlining the event's live music will be last year's favorite attraction, "Bonneville", an award-winning band made up of Kettering Fairmont graduates.
---
Please join Culture Works for a special benefit dinner at Brio Tuscan Grille (at the Greene). A Taste of Tuscany will be held Thursday, March 20, at 6:30 p.m. For only $65 per person, you'll enjoy a five-course dinner with entertainment provided by the Dayton Opera Artist-in-Residence Program.
Proceeds will benefit the 2008 Culture Works Annual Campaign for the Arts. Reservations are required for the dinner. Call Katie Pees at Culture Works by March 18 at (937) 222-2787.
---
It is time for the Annual Oakwood Speech and Debate Flower Sale. Speech and Debate team members are selling flats of impatiens, and hanging baskets of Impatiens or Begonias for $19 and Geranium pots for $4.
Please support the OHS speech and debaters who are selling from March 7 - April 7 and will deliver the flowers to your doorstep on May 7. If you have questions call Tracy at 238-8231.
---
Wright Brothers National Memorial Historian, Darrell Collins, who is widely recognized as one of the top authorities on the Wright brothers and early aviation history, will speak at 7 p.m. on Thursday, March 27 at the Engineers Club, 110 East Monument St, Dayton, about the Wright brothers' experiences at Kitty Hawk, North Carolina.
The Engineers Club's Cyber Pub will be open to the public prior to the presentation. Plan on an entire evening out by starting with dinner before hand. The evening menu consists of pub food such as mini burgers, turkey club and chicken wings. No reservations are required for the pub.
Collins, whose family has lived on the Outer Banks of North Carolina for 144 years, grew up captivated by the story of the Wright brothers' first flight and turned this passion into a career that has spanned more than 25 years. Collins currently serves as historian and interpreter at Wright Brothers National Memorial.
In addition to his work at the National Park Service, Collins engages audiences nationwide with his lectures on the Wright brothers, and has authored numerous articles on this topic. He also serves with NASA in a series of educational programs and as a consultant and editor for several prominent works on early aviation.
This event is free and open to the public and seating is on a first come, first served basis.
For more information about this talk and other future speakers coming to the Engineer's Club call Dayton Aviation Heritage National Historical Park at 937-225-7705.
The Speakers Series is a partnership between the National Park Service and the Engineers Club of Dayton. The series is designed to offer the public a variety of knowledgeable speakers addressing topics related to aviation history through engaging discussion and often first-hand accounts.
---
A bus trip to Frank Lloyd Wright's Samara House in West Lafayette, Indiana will take place on Saturday, April 5 from 8:30 a.m. to 6 p.m.
It was 1950 when John and Kay Christian decided to build a home near Purdue University where they worked. John was a pharmaceutical chemistry professor and Kay was the social director for the university. After much debate they decided that Frank Lloyd Wright was the architect to design their new home. Not sure how to proceed, John telephoned Wright's office and to his surprise reached Wright himself. Over the next six years the master architect and his client worked together on the realization of a Usonian dream – Samara House.
Dr. Christian continues to live in the home and manages the day-by-day operation of the property. His recollections of the project and Frank Lloyd Wright will make the tour of Samara an unforgettable experience.
Cost: $60 for the Members of The Westcott House Foundation; $80 for Non-Members (Fee includes bus transportation and admission tickets to SAMARA)
To make a reservation please call 937-327-9291.
@ the OCC____________________________________________
OCC Spring Sports registration is underway! Kickball for ages 5, and in Kindergarten and first grade. T-ball for ages 1 and 2 grade, and coach pitch for 2-4 grades. These three sports are coed and recreational in format. Please call Dan Ruble 298-0775, or stop by 105 Patterson Rd. for more information.
Pet First Aid
(12 years of age or older)
Your pet is a part of your family and like other members of your family may become ill or injured. Would you know how to care for your pet in an emergency? The American Red Cross Pet First Aid course offers cat and dog owners' peace of mind and the skills necessary to provide care until their pet can be seen by a veterinarian.
LEARN HOW TO:
* Perform CPR, rescue breathing and first aid
* Care for shock
* Care for a choking pet
* Care for fractures and bleeding
* Stock a pet first aid kit
* Safely transport an injured pet
* Provide first aid for sudden illness
* Recognize poisonings
* Prevent/provide care for drowning
* Act with confidence during an emergency
Sat., March 15, 9:00 a.m. – 1 pm at the OCC Lower Level Teen Center Fees: $38 (M), $57 (NM), $76 (NR)
Sponsored by the American Association of Retired Persons, this tax preparation is free and open to any older adult in the area. Volunteer tax counselors receive extensive training in the correct preparation for all types of tax returns. Appointments are required, the taxpayer should bring their 2006 tax return, and all forms received in reference to their return with them. Call 298-0775 after you received all 2007 tax documents to make your appointment. Appoint- ments are Tuesdays 8:00, 9:00, 10: 00, and 11:00 a.m.. and Wednesdays 9:00, 10:00, and 11:00 a.m. until March 26, 2008.
The city of Oakwood is conducting an informational meeting at 7:30 p.m. on Tuesday, March 18 regarding parking issues in and around the Far Hills Business District. The meeting will take place at the Oakwood Community Center.
At the meeting, the city will discuss existing parking conditions, parking needs and existing parking space availability, parking changes made over the past few years, and possible additional parking improvements. City officials will also discuss ideas for possible green space enhancements in the Far Hills Business District. This is a public meeting open to all citizens.