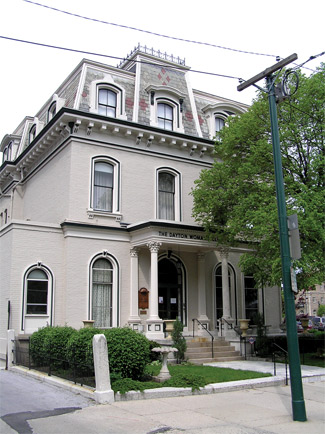 The Dayton Society of Interior Designers and The Woman's Club of Dayton Foundation have polished to perfection "The Crown Jewel of the Gem City". The historic house located at 225 N. Ludlow Street has been restored, renewed, revitalized and is a Victorian Designer Show House. The house, built in the 1840's by Daytonian Robert Steele, survived the Civil War and the 1913 Dayton Flood. It has been the home of The Dayton Woman's Club since 1916.
The house will be open to the public for tours through May 24. from 11a.m.-5 p.m. daily. Special features during the two week Show House include programs and/or demonstrations held daily on a variety of interesting and entertaining topics, lunch will be available from 11:30-2 p.m. daily, and the "Crown Raffle" which includes a $1,000 gift certificate to Jaffe Jewelers, an overnight Spa Package for two from French Lick Resort, and a Dayton Memorabilia & Events package.
Tickets for the Show House are $15.00 at the door or $12.00 advance sale. Children ages 7-12 are $5.00 each - children 6 and under are free. Groups of 10 or more are $12 per person.
Proceeds from the Show House will go to the historic preservation of the house and to the Dayton Society of Interior Designers Scholarship Fund. Call The Dayton Woman's Club at 228-1124 or
432-1957 or visit www.thedaytonwomansclub.com for ticket locations and information.
---
The University of Dayton invites local residents 50 and older to enroll in the University's Osher Lifelong Learning Institute 2008 summer session "Conversation with … "
The seminars run Mondays through Thursdays, June 9-19. Several, well-known Dayton leaders and educators will teach 35 sessions that all focus on life's one constant: change.
Classroom topics focus on changes in religion, community service, art, health, environment and politics, while extracurricular activities include golf, tennis and water exercises. Instructors include Channel 2 news anchor Carl Day, U.S. Congressman Dave Hobson, Oakwood Mayor Judy Cook, PGA golf pros Jim Awsumb and Jana Dalton and more.
Participants can take as many courses as they would like for a flat rate of $50, which includes two evening events. Registration closes Monday, June 9.
Most classes are held on campus in the Science Center Auditorium or Sears Recital Hall, while some are held off campus. Campus parking is available for participants.
For more information and to obtain a program brochure and registration, contact Julie Mitchell at 937-229-2605 or Julie.Mitchell@notes.udayton.edu.
---
The Dayton chapter of Mended Hearts announced today that Rebecca Cope, American Heart Association's Start! Heart Walk Director, will speak on 'Start! Year Two, Tailored to You' at its next scheduled chapter meeting. The meeting is set for 6:45 p.m., June 10, at the Dayton Heart Hospital, 3rd Floor classroom, 707 S Edwin C Moses Blvd, Dayton, Ohio
Mended Hearts is a national nonprofit support organization that includes heart patients, spouses, healthcare professionals and others interested in helping patients with the emotional recovery from heart disease. With 263 community-based chapters nationwide, Mended Hearts has 24,000 members making it the nation's largest heart-related patient support group. It is nationally affiliated with the American Heart Association. The local chapter of Mended Hearts and the local American Heart Association have joined together to support one other in their efforts to educate the public about heart disease and how it affects our lives.
Patients, their families, caregivers or others interested in the Mended Hearts program may call Barbara Forman or Ron Chalecki at 937-853-3105 or visit the local web site at www.wrighthearts.org.
---
Wright Memorial Public Library's annual book sale starts Tuesday, May 20, with a special preview night from 4 to 8 p.m.
The sale will take place in the Library Meeting Room. Preview night prices will be two dollars each for hardback books and one dollar each for children's books and all other items.
Regular sale hours will be:
Wednesday, May 21, 10 a.m. - 8 p.m.

Thursday, May 22, 10 a.m. - 8 p.m.

Friday, May 23, 10 a.m. – 6 p.m.

Saturday, May 24, 1 p.m. – 5 p.m.

Sunday, May 25, 1 p.m. – 5 p.m.
During the regular sale hardback books will be one dollar each. Paperbacks, children's books, videos, CD's, and all other items will be fifty cents each. Sunday will be Bargain Book Day; a bag full of books will be $2 all day.
Many of the books are donated, while some are old library copies that are no longer needed. There are thousands of books on all kinds of subjects for both adults and children. Proceeds benefit the library.
Wright Memorial Public Library is located at 1776 Far Hills Avenue in Oakwood. Questions?
Call (937) 294-7171 for more information.
Wright Library's website is www.WrightLibrary.org. Information on the book sale is in the calendar section of the website.
Enroll for OCC Summer Camps Today

Summer in Shafor, Hodge Podge, Kiddie Kamp, Art Camp, Ballet, Cheerleading, Jazz, Bicycle Camps, Tennis, Tumbling, Tap, Jazzy Gym, Soccer, Basketball, Tri-Sports, Chinese Culture Camp, Birthday Games and Crafts
Stop by the Oakwood Community Center, 105 Patterson Rd. to sign up for these camps and more!