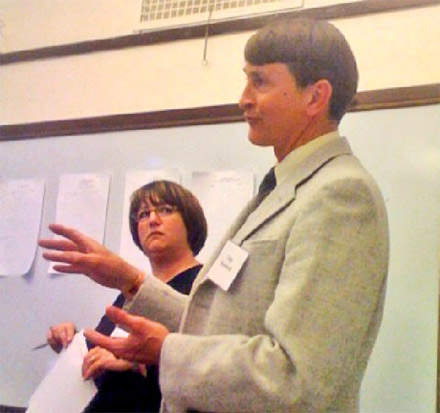 Rana Peake and Chip Mumford, Oakwood parents and members of the Math Curriculum Review Team, report on an article that they read about US math achievement.
It takes a village to raise a child and it takes a team comprised of teachers, parents, students, community members, administrators, and content experts to choose a math curriculum to prepare our students to meet the demands of a growing scientific and technological workforce.
Oakwood's Math Curriculum Review Team, led by Kimberly Kappler, director of curriculum, instruction and assessment and Lange School principal, began meeting in March to recommend math curricular changes and help select textbooks and materials for Oakwood's junior high and high school. To date the team has reviewed Oakwood's K-12 math programming and researched best practices in math education. By late summer the Math Curriculum team will make its final recommendations on the math curriculum and instructional materials.
It's a testament to Oakwood's Board of Education to include parents, community members and students in this team. Joined with teachers and administrators, we are aligned with Oakwood School's Core Values of Excellence, Trust, and Accountability. To find out more about the Math Curriculum Review Team charter and progress to date, go to www.oakwoodschools.org and click on "Curricular Updates."
---
Recently, our Dayton area had a number of tornado warnings and even some touchdowns. Fifty-five years ago on May 9, was the anniversary of my home town tornado which killed nine people in my small Hebron, Nebraska community of about 2000 people. Our high school was totally destroyed as was a nursing home and many buildings. Fortunately, it was a Saturday night (9:45 p.m.) so loss of life was less than it might have been.
All of this reminded me of how important it is that our schools continue their long-standing practice of helping our children prepare for such storms and emergencies. The "storm drills" are just as vital as are fire drills because the guidelines for how best to respond are so different.
Fire drills must take place throughout the school year as fires know no seasons. However, it is especially important to have "storm drills" throughout the Spring season since this is the prime time for such events.
The seated "duck and cover" body posture while up against internal load-bearing walls is not a normal position. Children must be helped to remember how best to protect themselves.
I am glad to be able to let all my readers know that our own Oakwood Schools take these safety drills and this student learning very seriously. Safety is everyone's responsibility and all families should have the same drills in their own homes.
Over a half-century ago, I was just 15 and at the end of my sophomore year in school when I lived through our tornado. One of the people who was killed was in the apartment above the cafe where I was when the storm hit. After several hours of initial rescue help, I was asked a key question by our Mayor, the local hardware store owner.
He wanted to know if I still had my older brother's air force jacket and hat. I did, and he 'directed' me to get it and my 22 cal. rifle with bullets and report back to him. At about 2: 30 a.m. he then sent me out to the First Street river bridge to stand guard and not let strangers into town. I might, in the dark, be able to look like a National Guardsman he thought.
I have often wondered what type of "Proficiency Test" I would have had to pass should anyone have actually challenged this scrawny 'kid' guard. They didn't but I have always held very dear the confidence that this community leader had in me at that very impressionable stage of my life. We never know the impact that something we say or do will have on others. I hope my saying and doing will mostly be positive for others.
---
Four people have been nominated or renominated for the Sam Andrews Educational Hall of Honor. These nominees were teachers or other employees involved in the school system that have been retired from employment for at least three years.
At this time, we are requesting members of the community, former students, and colleagues to send letters of support for the nominee(s) of their choice. Please send letters to Dr. Mary Jo Scalzo, Superintendent, Oakwood Board of Education, 20 Rubicon Road, Dayton, Ohio 45409, by Wednesday, June 4, 2008.
The induction ceremony will be held on Friday, September 19, 2008. The public is invited to attend.
Richard Grigsby - Oakwood Junior/Senior High Social Studies and English, Teacher (1981-2003)

Kathy Meyer - Harman Elementary School Teacher Harman Reading Lab Teacher, Oakwood Junior High/Senior High Tutor (1980-2004)

Dolores Barnes - Smith Elementary School Teacher (1951-1955), Oakwood Junior High School Tutor (1976-1980), Harman Elementary School Tutor/Teacher (1980-1988)

Lester Steinlage - Oakwood High School Math Teacher (1972-1995)
We look forward to your letters of support for your nominee.
Please respond by June 4, 2008.
---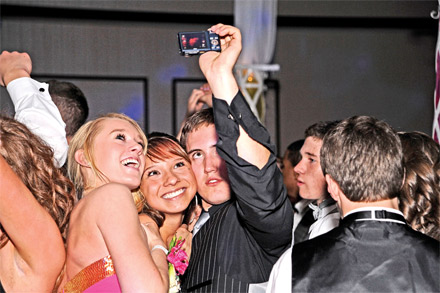 While on the dance floor, a handy pocket camera
captures a timeless moment.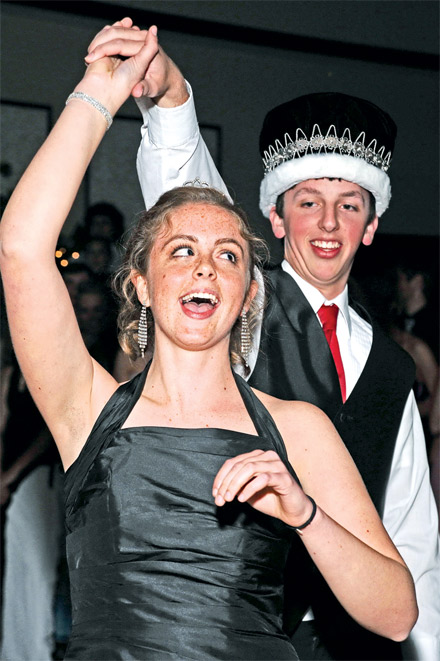 Photos by Leon Chuck, www.PressboxPhoto.com
OHS Sr. Prom King Calvin Williamson twirls Prom Queen
Lili Hartzell on the dance floor.