Sports Physicals will be given at Oakwood HS
Wednesday, May 28, 2008
You must bring a signed physical form
with completed health history with you.
Pick up a blank physical form packet at the Athletic office or outside the Athletic Training Room
Oakwood JH Athletes 6-7 p.m. Oakwood SH Athletes 7-8:15 p.m.
Report to the library.
A $15 donation is requested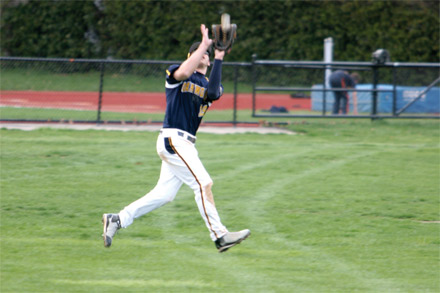 Senior Chris Hardy reels in a long drive to center field. Hardy threw out a Monroe runner at 3rd late in Saturday's game to quash Monroe's only rally.
Saturday the Oakwood varsity baseball team had to make a big choice. Their second round D-II tournament game at Monroe had already been rained out 3 times and now was rescheduled for 1 p.m. Saturday. This was in the heart of the kickoff of the much-anticipated Oakwood Centennial Celebration at "That Day in May", and only hours before their OHS senior prom. The squad never wavered however, and resolutely turned to their own opportunity to write a new chapter in Lumberjack baseball history. The Monroe fans wished the Jacks stayed home for "That Day in May".
Fifth year varsity coach Eric Oberding picked senior Josh Parrish for the big pitching assignment. Monroe was seeded #4, and known for scoring lots of runs. Parrish however, took complete command of the Hornet lineup. The right-hander kept his fastball over the outside edge of the plate but busted it inside when the Hornet batters crowded the plate. It was so effective that he yielded only 4 hits, 2 walks and 1 run while chalking up 6 strike-outs en route to the complete game 8-1 win.
It was really a much tighter game than that however. The Jacks scored an early run when Oberding sent senior shortstop Andrew Carpenter in motion with a hit-and-run play with junior Tony Lamb at the plate. Lamb slashed a sharp single to left and Carpenter easily reached third, and came all the way home when the left fielder bobbled the ball just slightly. The game remained 1-0 into the sixth when Lamb bombed a 3-1 fastball over the left field fence for a two out 3 run Johnson, changing the entire complexion of the game. That was especially big when Monroe mounted their sixth inning rally. They had scored one already, and had a runner at first when their number 5 hitter singled to center. The runner had a good jump and looked destined to reach third, but senior center fielder Chris Hardy fielded the ball and fired a laser throw to freshman third baseman Conner Charbat to nail the runner and end the inning.
The next dramatic moment was the bases loaded one out situation Oakwood created in the 7th. Oberding sent sophomore Greg Ambrose to pinch-hit and the burly right hand batter put the game away with a single for 2 RBI's.
Defensively Charbat had four assists including one spectacular play at third, and Carpenter made an unbelievable play in the hole at short to rob another Hornet hit.
Oakwood now stands 16-8. They advance to the sectional final where they faced Bellbrook at Springboro High School Monday, May 19.
---
The Jacks and Jills started against tough competition on Thursday and Saturday, May 15 and 17, to finish fifth and second in the overall team rankings at the Southwestern Buckeye League meet.
The boys' team, finishing fifth in the Southwestern division of the Southwestern Buckeye League, competed well in all types of events. Senior Jake Mays threw both shot put and discus in the meet to the places of fifth and third, respectively. The 4x800m relay of Keith Mueller, Liam Jackson, Tory Tomlinson and Troy Gould crossed the line in third as did the 4x100m team of Brad Achtermann, Damian Rudy, Chris Mullins, and Zach Rodabaugh. In the 1600m run, Peter Hix took first and T. Gould took sixth. Gabe Svobodny finished second and Chris Wolcott was fifth in the 3200m. The 4x200m relay team of Ben Hogan, C. Mullins, Kevin Sharkey, and Nathan Thomas finished in fifth place. Finishing the meet for the boys was the 4x400m relay team consisting of B. Hogan, K. Mueller, K. Sharkey, and N. Thomas, which also took fifth place.
Freshman Kelsey McDonald finished first in the 100, 200, and 400 dashes.
Scoring points in almost every event, the girls took second place in the Southwestern Division. In the field events, Laura German finished second in the long jump while Stephanie Telek took fifth place in the high jump. Caroline Hartel pole vaulted to a sixth place finish. The 4x800m relay of Ericha Griep, Rachel Conniff, Julia Sizek, and Lucy Shafer started running events on Thursday with a second place finish. Freshman Kelsey McDonald finished first in the 100, 200 and 400m dashes. Karin Mueller finished sixth in both the 200 and 400m dashes. In other sprinting events, Anna McGovern was sixth in both the 100 and 300m hurdles. The 4x100m team of Ellen Viereckl, Madeline Lehrner, Hayley Basnett, and L.German finished fourth while the other sprinting relay, the 4x200m consisting of Bria Meade, M. Lehrner, H. Basnett, and L. German, finished sixth. The middle distance relay, the 4x400m, crossed the line in first with a team of L. Shafer, E. Griep, H. Basnett and K. McDonald. In the distance events, J. Sizek and Liz Connelly had a one-two finish in the 3200m run. Sizek also finished first in the 1600m run, while E. Griep was fifth. Finally, L. Shafer was second and J. Sizek was fourth in the 800m run.
Next week, the team travels to Welcome Stadium to compete in the District track meet on Thursday and Saturday.
---
This team could be compared to "The Spirit of '76" if we had better fife and drum players. However, we over-qualified in the damaged personnel area. In spite of a distinct shortage of manpower at times, the team finished the season with 8 wins and 9 losses. Four rained out games toward the end of the season deprived us of an opportunity to have a winning season. We finished with a victory over a strong C.J. team. Harrison Davis pitched 6 solid innings and Ben Roess got the save by pitching the last inning and maintaining our 5-3 lead.
In the pitching department, Harrison led the team in appearances (6), innings pitched (29 2/3), and victories (2). Troy Philo pitched the most complete games (2) and Colin Morris had the most strike-outs (12).
Defensively this season, there were two highlights. Mike Galaska started an extremely rare triple play by getting the first two outs unassisted and throwing to first base to get an assist on the third out. In the catching department, an impressive Ian Munn threw out or picked off 14 runners at second base.
Offensively, our top five batters were Connor Charbat (.409), Cory Bohache (.379), Mike Galaska (.373), Colin Morris (.354), and Matt Carpenter (.320). Bohache led the team in hits (22), triples (2), and runs batted in (13). Mike Galaska led the team in doubles (7), walks (13), stolen bases (11), and on-base-percentage (.500). Addison Arbogast led the team in home runs (1).
---
The Virginia Hollinger Tennis Club will host the annual Weston Memorial Invitational Tennis Tournament beginning Friday evening, May 23. The USTA-sanctioned event runs throughout the weekend, with finals to begin on Memorial Day, Monday, May 26, at 1 pm.
The singles and doubles tournament will feature top men's players from around the area. Last year the singles champion was Arte Peller (Miamisburg), who also won as doubles champion with Justin Kronauge (OSU). The public is invited to come out to watch the matches at the Hollinger Club, located at 201 Shafor Blvd. in Oakwood.
Entry forms are available for USTA members at the Hollinger Club House, or at the USTA website, http://tennislink.usta.com/tournaments, using tournament #856317208. For more information contact the Club Pro/Manager, Chris Cubbage, at (937) 304-6892.
June 16-19: Session 1- Grades 6-8, 9 a.m.-11: 00 at the PIT; Session 2- Grades 3-5 12-2 p.m. at Smith School.
Cost is $60 per camper. Registration forms are at the High School Athletic Office, Smith School, or Harman School.
They are also available on line at Aaron Oakes oakes.aaron@oakwood.k12.oh.us
Any girl CURRENTLY in grades 1st-5th that would like to attend the Oakwood Girls Soccer Camp, please be sure to register with Coach Gaydosh by May 30. The camp will be held June 9-13th from 10:00-12:00 down at Old River Fields.
Flyers were passed out to all elementary students. if you have any questions or need a new form, please email Coach Dawn Gaydosh at dawngaydosh@aol.com or feel free to call at 439-0753.
This camp promises to be a lot of fun! We hope to see you all this summer!
Reminder:
The deadline for the 2008 Oakwood Football Camps is Wednesday, May 28th.
The deadline for the 2008 Oakwood Basketball Camps is Wednesday, June 4th.
Please visit www.oakwoodbasketball.tk to download either brochure or call Paul Stone at 307-5818.
Oakwood Football Camp
Incoming 4th-8th graders
June 9th-12th 9:00-11:00am
High School Practice Field
Camp forms are available at both Smith & Harman & Junior High School. Contact Paul Stone @ 307-5818 or 1coach1@sbcglobal.net
DEADLINE IS WEDNESDAY, MAY 28TH
Oakwood Basketball Camp
June 16th-19th
Incoming 4th, 5th, & 6th graders 9:00-11: 00am at Smith School
Incoming 7th & 8th graders 11:30-1:30 at the Pit
Camp forms are available at both Smith & Harman & the Junior High School. Contact Paul Stone at 307-5818 or 1coach1@sbcglobal.net
DEADLINE IS WEDNESDAY, JUNE 4TH
You can also go to www.oakwoodbasketball.tk and download either brochure.
June 16-19

Session 1- Grades 6-8 9 a.m.-11:00 at the PIT
Session 2- Grades 3-5 12-2 p.m. at Smith School
Cost is $60 per camper. Registration forms can be picked up in the High School Athletic Office, Smith School, or Harman School. They are also available on line at Aaron Oakes website: oakes.aaron@oakwood.k12.oh.us
The Oakwood Jills volleyball camp for girls entering grades 6-8 will be held June 16 - 19 from 6 – 8:30 p.m. at the Smith School gymnasium. Registration forms are being sent home through Smith and Harman Schools for girls entering grades 6-7. Girls entering eighth grade can pick up registration forms in the H.S. athletic office. Register before May 15 and receive a $15 discount plus a free t-shirt. Call Kelly Neff (293-4225) with any questions.