The most incredible thing about an opera lover is that there is never enough. And, there is never too much. Once bitten by the bug, it is an incurable compulsion.
There is, however, effective treatment. Living in New York City with two international opera houses could be a balm for the addiction; I believe that Dayton is better.
Dayton Opera has just completed an unforgettable season. Don Giovanni, Macbeth, Barber of Seville and a star recital by Angela Brown made a joy-filled experience from fall to spring. Now, summer is arriving and we fortunate opera buffs in Dayton need only look a few miles south for another source of great opera.
Cincinnati Opera is closer than a trip from the Chicago suburbs to the Lyric. Cincinnati Opera is much more convenient than fighting cross town traffic in the Big Apple. Let's not even mention the commodious atmosphere of Music Hall and the difference in ticket prices.
This summer, Cincinnati will be mounting a most stimulating season – star packed and loaded with excitement. Artistic Director Evans Mirageas really knows how to mix and match.
His sense of what makes a great season has been proven. Last summer, he mounted a Cosi fan Tutti as much a fashion parade of the elegant 1930s as a delightful opera. The Aida was a remarkable in its grandeur without reducing the impact of the intimate love tragedy. Add to that the medieval tale of Faust and the modern look of Nixon in China and you have the mix and the match.
This season is as exciting and as varied. Smashing entrants from the standard repertory, Madama Butterfly, Lucia di Lammermoor and La Traviata will all have innovative and appealing features. The new experience is the production of Daniel Catán's Florencia on the Amazon. This Spanish opera, premiered in 1996, will be the musical unknown for the audience.
It is a complex tale of love, isolation, impending tragedy, and death and transfiguration. Spanish to the core, it has the reputation of being a musical masterpiece full of lyrical numbers well-laced with traditional beauty and a Spanish flavor.
For this Spanish work, Mirageas has assembled an all-American cast. The only non native Americans are Burak Bilgili and Arturo Chacón-Cruz a Turk and a Mexican! This is what is so great about opera. The artists learn and become not only their roles and their characters but adopt the ethnicity and spirit, as well.
The sheer beauty of Puccini's Madama Butterfly needs little enhancement. The cast for this opening opera of Cincinnati's 88th season is both vocally stellar and physically beautiful. As the tragic Cio-Cio-San, the debut of Chinese-American soprano Shu-Ying Li promises to be a thrill. Her "Butterfly" performances have received raves from every venue. She will be matched by Frank Lopardo as the cad you love to hate, Lt. Pinkerton. His last appearance with Cincinnati Opera was as the Duke in Rigoletto. Another cad, but we all loved the thrill he gave us on stage.
Next arrives Lucia di Lammermoor. If you think this is just another production of a well-loved war horse, think again. Evans is mounting the familiar tragedy in its French version. Originally written by Gaetano Donizetti in his native Italian, he created this French version for Parisian audiences in 1839. Lost for years, it has arias never heard in the original version. The cast, so beautiful and so talented that they could wow us if they sang in Serbo-Croatian, is headed by Sarah Coburn and Mark Panuccio as the lovers Lucia and Edgardo.
Sarah won all hearts in her "pants" role of Oscar in A Masked Ball, and her darling Olympia in Tales of Hoffmann. Mark's incredible portrayal of Chairman Mao in Nixon in China created a vociferous fan club who will, I am certain, be shouting bravos for their hero.
After the new experience of an operatic trip to South America, La Traviata will return with its familiar melodies and characters. What will be new is the production, created by the design team which brought the absolutely sensational Aida to the stage last season.
I've asked Impresario Evans about the "Traviata" and the sparkle in his eyes told me enough. I know that it will be rich in opulence but focused on the tragic love of Violetta and Alfredo.
Violetta will be sung by the beautiful and elegant soprano Hei-Kyung Hong. I have heard her luscious voice in several venues and am always thrilled.
Her lover, Alfredo, is to be sung by tenor Richard Leech. Leech is easily Cincinnati Opera's favorite tenor. He seems to own Music Hall as he has delivered extraordinary performances including Faust and Don Jose. He molds his voice to the character and Alfredo fits perfectly into his vocal fac and his dashing innocence.
Add to all of this a trio of outstanding conductors, the great Cincinnati Symphony and the expansive stage of Music Hall. The festival begins with three performances of "Butterfly" beginning June 11th. Lucia goes mad on June 26th and 28th. We float down the Amazon on July 10th and 12th and wind up lamenting that they did not have a cure for tuberculosis in 1850 Paris. Beautiful Violetta will sing, cough and die during a triple bill beginning July 23rd.
Cincinnati Opera is just right for summer bliss. Single tickets are now on sale. Call (513)241-2742. Zip down I-75 into the world of great opera. I guarantee you'll love it!
Attention to detail is the difference between great and good. How serendipitous that this new column segment can begin with Ken and Mimi Kuntz who give new meaning to culinary and entertaining greatness.
Ken, who was chair of the Psychology Department at U.D. for seventeen years, was reared in a restaurant family. In the 1920's, Kuntz's Cafe started at the former Brushtown Saloon from 1880. There was dining on the second floor and it was the first drive-in in Dayton. In 1940, Ken's job was breaking eggs and he moved right on up the ladder to separating them. After learning other stations of the business he attended Washington University in St. Louis where he received his Bachelor's Degree in English and Theater and then spent one year at Cornell University's Hotel School. It was there that he had classes in garde manger, charcuterie, business, and maintenance to name a few. The final exam was preparing whatever was drawn from the Master Chef's 100-pleated toque (chef's hat). Ken remembers drawing a Cheddar Cheese souffle with Spanish sauce which he executed flawlessly.
Returning to Dayton for four more years, Ken was now the "tallest toque" in the family business. He managed the Kuntz Cafeteria, the catering wing of the business and their Avondale Club where he would routinely do 500 person parties. One of his largest parties for 600 hundred guests was held at the U.D. Arena and was to celebrate the 25th Anniversary of U.D.'s president Andrew Seebold.
Now imagine from 1961-65 he continued all of this while he went to graduate school at the University of Cincinnati where he received his Master's Degree in Psychology. After joining the U.D. faculty in 1966 he took a trip to Martinique and met Mimi, the love of his life, in 1970. It was love at first bite (Ken cooked for her) and after four dates they were married in Montreal. Mimi was reared in a cultured home full of her concert pianist mother's beautiful music and the subliminal acquisition of vocal repertoire as her mother coached singers and was also a collaborative pianist.
From this rich food, theater, music background of les deux, it is appropriate that they love to cook together with opera playing in the background. Their favorites are Othello and Il Trovatore. Ken and Mimi love themed parties. Some of their favorite parties have been "Cooking the Wright Way," a party they did for the Montgomery County Historical Society with Wright recipes served at Hawthorn Hill. Then three years ago they did a "White House Dinner—(the Kennedy years)" for 20 guests. Mimi makes all drapings for the tables which are historically accurate, documents all the recipes through extant but not currently published cookbooks, arranges for photographs and finds the exact music that was played for her guests listening enjoyment.
After their extensive research about six months prior to the event, two weeks ahead of time they do their 14-day-by-day schedule and their final menu construction. (Of course, all recipes being considered have been tried and tested during the previous six months) Their "skullery" work is divided equally with Ken generously chopping the onions so that Mimi doesn't weep. Their most recent party was a fundraiser for the Opera Guild. For a $100 contribution to the Guild you could attend an eight course "Dinner on the Titanic" event at the Kuntz home. This black tie affair even saw guests in period costume. Everything was served just as it was in the Ritz Restaurant on the fabled ship. Mimi says, "Each and every party is so special and if the host and hostess don't have fun no one will." Ken adds that for a successful party you must take great care with "the food you put on the table and the people you sit in the chairs."
If you ever have the distinct honor of being invited to a Kuntz function, cancel anything you may have planned or call the Opera Guild, Montgomery County Historical Society, or the Bach Society, three of the Kuntz's pet philanthropic interests and get on a waiting list for their next event. Your name will be right behind mine! Bravo, Ken and Mimi, Bravissimo.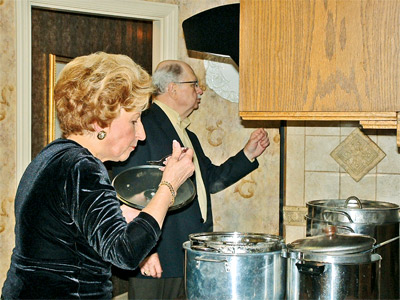 Mimi Kuntz checks the soup while husband Ken handles another course.
The Kuntz's want to share these recipes with our readers:
3/4 cup chopped onions
1/4 cup butter
1 lb. fresh sliced mushrooms
1 2/3 cup pearl barley (not quick cooking)
1 green, red or yellow pepper, diced
2 1/2 cups chicken or vegetable stock (more if barley appears dry)
In a skillet saute onions in butter until tender. Add barley and continue to cook until barley is golden brown. Add mushrooms and stock and place in a casserole. Cover and bake at 350 degrees for 50-60 mins. or until barley is tender and liquid is absorbed. After 30 minutes of baking add diced pepper. Add more stock if barley is dry. Correct seasoning with salt and pepper to taste. For variety add some sliced water chestnuts. Recipe may be made ahead of time and reheated.
1 cup Alfredo sauce (purchased or homemade)
1/4 cup water chestnuts, drained & finely chopped
1/8 tsp ground nutmeg
3/4 small asparagus spears, finely chopped
32 small asparagus tips
16 2 1/2 inch miniature pastry shells (made from refrigerated pie crust or mini fillo shells)
1/4 cup shredded Parmesan cheese
Combine Alfredo sauce, water chestnuts, nutmeg, and chopped asparagus spears. Fill pastry shells with one tablespoon of filling.
Top with 2 asparagus tips and sprinkle with grated Parmesan cheese. (Tarts may be prepared to this point a few hours in advance of serving and refrigerated)
Place under broiler for 3 to 4 minutes or until tarts are warm and cheese has melted. Serve hot or at room temperature. This recipe can be made in larger pastry shells and served as a first course.
If you know another "Cook of Note," contact this columnist at musicalfeast@aol.com.