Dear Mayor Cook, Mr. Klopsch and members of the City Council,
There was a time not so long ago when many Oakwood citizens were looking forward to a new phase in the life of the historic Sugar Camp. We naively envisioned careful development of this special property into a residential addition, which would indeed attract Oakwood empty nesters and others of a similar mindset.
Alas, with the earth moving and clear cutting and view stealing of the current developers, this ain't going to happen. The early designs that we saw of shady wooded streets MAY be relevant in fifty years.
Meanwhile, the original first growth trees are gone and the occupants of the new and better Sugar Camp high rises can look forward to views of the Miami River as it meanders along I-75.
Please try to save what can still be saved.
Cathie Bieser Black
Oakwood

To the developers of Sugar Camp, the Oakwood City Council, and the Oakwood Planning Commission:
"I speak for the trees, for the trees have no tongue." The Lorax by Dr. Seuss
Our lives including the very air we breathe are improved by trees. Trees, like the mature trees that used to live at Sugar Camp, filter and trap pollutants and provide a natural barrier against city and highway noise. Trees prevent flooding and reduce runoff. Mature trees generally increase home values. They provide shade in the summer and a barrier in the winter. Trees reduce cooling and heating costs, which every homeowner new and old appreciate. Trees make our world and our air cleaner and healthier. The trees at Sugar Camp have been destroyed. The question is what happens next?
The developers of Sugar Camp can and should voluntarily stop the further destruction of the few remaining trees. If they refuse, our City leaders should force them to. We do not like what we are seeing at Sugar Camp, so we are offering to work with you to protect the few remaining mature trees. We want to work proactively with the developers, the landscapers and the arborists to ensure that trees native to Ohio are planted in this new development, so that at our Bicentennial, Oakwood's children will be able to enjoy the virtues they provide and breathe the clean air they have given us.
There are many wonderful trees that are native to Ohio, including the Tulip Tree, Sugar Maple, Oak, Redbud, and Hawthorn to name a few, which we hope will be utilized in their residential landscape design. The commercial landscape design plan has already been approved (10/3/07) and can be viewed at the Oakwood City building on Park Ave. The residential landscape design plan has not been submitted to the city yet.
We implore the developers to stop cutting down trees, take a deep breath and work with the people of Oakwood to protect and preserve our community.
We hope it is not too late.
Sincerely,
The following Members of the Four Seasons Garden Club:

Anne Almoney
Janice Balbach
Mary Bernhold
Diane Colaizzi
Julie Cannon
Dana Cluxton
Allison Dinning
Mary Donnelly
Alan & Pattie Edmonson
Nancy Gillaugh
Betsy Harris
John & Susan Harris
Natalie Harris
Denise Hix
MarySue Kessler
Celine Maney
Bill & Judy McCormick
Lori Mitchell
Marlene Maimon
Fred & Holly McConnaughey
Hildy Nellis
Barbara O'Hara
Julie Brecount Patel
Judy Pritchard
Doug & Marianne Patton
Larry & Sharon Rab
Dianne Schneider
Kent & Wendy Scholl
Sue Seitz
Sarah McBride Solarek
Carole Stephens
Tami Whalen
Stacie Williams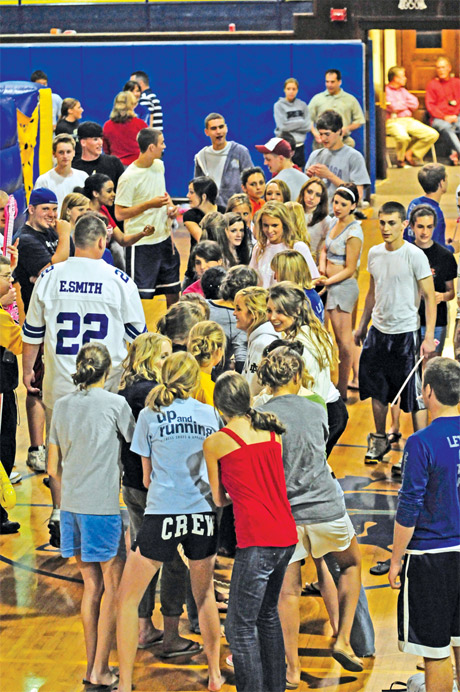 The Oakwood After Prom was held at the High School last Saturday evening following the Prom. It was created to provide students a safe and fun atmosphere where they could play great games, win terrific prizes and eat fun food. This was no exception. We would like to thank the members of the Oakwood Community for making this year's event a total success. The After Prom Committee, Parent Volunteers and the Oakwood Administration and Staff made it possible for over 300 students to enjoy the early morning event. We'd like to thank the following individuals and companies for their support: Wendy Lewis with Hooper Concepts, Sheri Schneider with Michelle's Skin Care, Meijer on Wilmington, Ashley's Bakery, Krispy Kreme Doughnuts on Wilmington, Dorothy Lane Market, Mikesells Potato Chips, Universal One Credit Union, Poelking Lanes, The Weckstein family, Starbucks of Oakwood, Weber Jewelers, Tudor Day Spa, Game Crazy, Cricket Communications and all families who donated gift certificates and financial support for the event.
Allyson Danis
Kristin Carpenter
After Prom Co-chairs