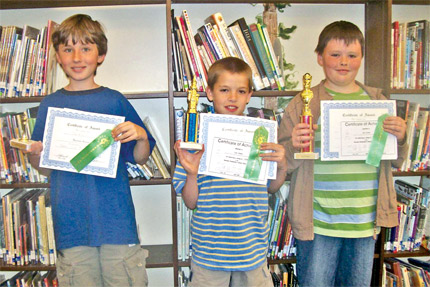 This year's Harman Elementary school 2008 Chess tournament winners, pictured, left to right: First place went to Joe, second place went to Sam , third place went to David.
---
For many years we have all been urged to Support Our Troops via magnetic ribbons and admonitions from our government leadership. Schools try very seriously to help their students to follow this admonition as they teach patriotism. Three national holidays (Veterans' Day, Memorial Day, and July 4) are likely helps but only one comes during the heart of the typical school year.
We show support when our nation:
Provides the public with honest and accurate information which clearly explains the need for our troops to be sent to war.

Provides full body and vehicle armament before sending troops into war.

Provides accurate data and info about the work of the troops to their families.

Provides quality medical care, facilities, and services, for life if needed, after injury in war.

Provides quality housing and services for able-bodied troops returning to their home bases and units.

Provides local schools with full financial support for educating the children of our troops.
Our nation's press has provided us with abundant evidence over these past few years that our national leadership has NOT been able to answer, "YES" to ANY of these support behaviors. Instead we have evidence of:
• troops who were poorly trained and supplied for what they were being asked to do

• equipment which was poorly designed for its use

• service hospitals in bad physical condition

• home-base barracks flooded by sewage being the greeting for returning troops

• local schools with many military children having their federal dollars being cut significantly just as the war was being initiated
Our schools want to help our nation be supportive of our troops. But it is very difficult to do this when our own national leadership undercuts these efforts. Our educators need to have positive examples of national support if they are going to lead our children to honor and support our military personnel as is their goal.
Words are nice, but actions speak much more effectively.
---
Thanks to a generous grant from the Oakwood Schools Education Foundation, our Kindergarten students at Lange have access to a Learning Center for Language and Literacy in every classroom! The learning center consists of an audio card reader and audio cards. This machine is small, lightweight and works on batteries or electricity so it can be utilized anywhere in the classroom.
Teachers need learning centers to complete interventions with students who are struggling as well as support our students who are excelling and add new challenges for them. Audio cards Readers are proven, effective, enjoyable tools for helping children learn basic language and reading skills. They combine sight, speech, touch and listening into one multisensory experience. When the student feeds the audio card into the audio card reader, he/she hears a pre-recorded word, phrase, sentence or question. The learner can then record his/her response and listen to or record on the cards repeatedly.
The Lange teachers have been as enthusiastic about the learning centers as the students. All four teachers have implemented the centers into their classrooms, have made a variety of card sets and have ordered some more pre-made sets of cards to be used with their students. Mrs. Lynch reports, "The children in my class have been having fun using the language master working on skills they are learning."
Mrs. Block says, "My students love using the Language Master! They are able to strengthen their awareness for auditory discrimination of letters, rhyming word families, and identifying high frequency words. The Language Master can be adapted to address individual student needs. For example, one student who has a cochlear implant is able to increase letter/sound associations, while others are reading 4-5 word sentences and practicing reading fluency."
Oakwood Speech Pathologist Melissa Sutton, adds, "The learning centers being used in the kindergarten classrooms are very beneficial to students who need additional help with their speech and language needs."
---
Four people have been nominated or renominated for the Sam Andrews Educational Hall of Honor. These nominees were teachers or other employees involved in the school system that have been retired from employment for at least three years.
At this time, we are requesting members of the community, former students, and colleagues to send letters of support for the nominee(s) of their choice. Please send letters to Dr. Mary Jo Scalzo, Superintendent, Oakwood Board of Education, 20 Rubicon Road, Dayton, Ohio 45409, by Wednesday, June 4, 2008.
The induction ceremony will be held on Friday, September 19, 2008. The public is invited to attend.
Richard Grigsby - Oakwood Junior/Senior High Social Studies and English, Teacher (1981-2003)

Kathy Meyer - Harman Elementary School Teacher Harman Reading Lab Teacher, Oakwood Junior High/Senior High Tutor (1980-2004)

Dolores Barnes - Smith Elementary School Teacher (1951-1955), Oakwood Junior High School Tutor (1976-1980), Harman Elementary School Tutor/Teacher (1980-1988)

Lester Steinlage - Oakwood High School Math Teacher (1972-1995)
We look forward to your letters of support for your nominee.
Please respond by June 4, 2008.