Oakwood's 2004 Comprehensive Plan documents the City's need for empty-nester housing. The housing development at Sugar Camp focuses specifically on this need and includes condominiums, patio homes and towne homes with floor plans designed for empty-nesters and retirees. The housing is being created to address citizen desires for homes that conveniently accommodate their leisure and travel lifestyles and includes a homeowner's association that sees to the maintenance of exterior areas. Oakwood has very few housing options of this type, far fewer than neighboring suburbs, yet many long-time residents are looking for it. They want to stay in Oakwood, but want available housing choices to match their needs.
During the plan approval process, which included many public meetings, considerable emphasis was placed on blending the residential housing areas into the existing topography and landscape. However, as with almost all residential developments of this kind, tree and vegetation removal is unavoidable, particularly when dealing with a site that has such challenging topography. The extent of removals at the recently cleared site was necessitated by the need for earth moving to provide for the infrastructure and residential building sites.
A majority of the required tree and vegetation removal on the Sugar Camp development project was completed about three weeks ago. These removals were done in accordance with the plan that was approved in April, 2007.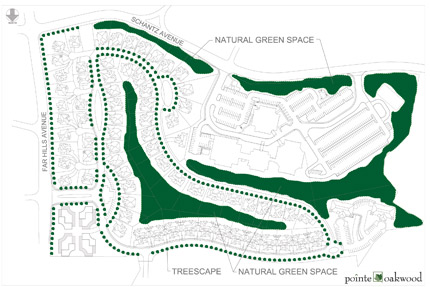 The drawing above shows several large wooded land areas that are being preserved in their existing natural condition. It also depicts conceptually the locations of approximately 230 large trees (5 1/2" – 6" diameter at planting) that will create a dense treescape throughout the development. In addition to these roadside trees, the developer will also install many more trees (over 100 more expected) and a significant amount of other landscaping in and around the housing areas and public spaces.
In accordance with City's 2007 plan approval, the developer must submit a Master Landscape Plan for approval by the Oakwood Planning Commission.
This submittal is expected within the next few months. The Planning Commission will review and evaluate this landscape plan at a public meeting at which citizen input will be welcomed and encouraged. Of the total 36 acres at Sugar Camp, about 12 acres was already developed as part of the former NCR training facility. Even considering that existing use, trees and natural areas are being preserved on approximately 8 acres, about 22 percent of the land.
---
The Oakwood High School Athletic Hall of Fame Committee is pleased to announce the Charter Class of the Oakwood Hall of Fame. The Committee has been working since June of 2007 to establish the Hall of Fame.
The following individuals will be inducted at a banquet at the Dayton Country Club on Thursday, August 21, 2008:
Dr. Roger Beardmore, Class of 1969, Football: quarterback; three varsity letters; Co-Captain; MVP; top 10 rushing yards. Track: three-time all-state track & field; Oakwood record holder: 880 yd. run, mile relay; five-time SWBL track champion. First recipient of John White Award for Academic/Athletic/ Character Excellence.

Kate Burton, Class of 1981, state high jump champion; Lettered in field hockey, basketball and track.

Edward Cook, coached track, cross country, football from 1926-1943; Won three state track titles 1929-1931 and five district championships; Oakwood Athletic Director.

Bess Hayner, coach, field hockey from 1934-1956; 119 wins-7 loses-8 ties. Won every game from 1939-1946: coached field hockey, tennis and girls basketball coach.

Dan Howell, Class of 1973, wrestling state, 132lb. Champion (36-0); 1972 State 126 lb. fourth place (32-3). two-time SWBL champion, three-time sectional place winner, two-time sectional champion, three-time district place winner, three-time district champion, three-time state qualifier, OHS's only state WR champion; career 91-10-1.

Mack Hummon, coached football, basketball, baseball, tennis from 1925-1965; won many league and district titles.

Barry MacKay, Class of 1953, tennis: 1952 & 1953 state singles tennis champ. 1951 state tennis finals/runner-up; basketball: forward, three years; letterman.

Joe (Buzz) Pierce, Class of 1964, tennis: 1963 state tennis singles runner-up, state champion, 1964. Basketball: guard three years with one team title.

John Sauer, Class of 1943, football: three-year starter football QB; co-captain 1942 (9-0-0) team; 1942. Oakwood football team undefeated, scoring 419 points to opponents 13. OHS was the highest scoring team in the state. Lettered in basketball and track.

Marisa Tuzzi Maher, Class of 1995, track: SWBL-1st-1600m; SWBL 1st-4x800; State-6th-800m; District-1st- 800m; SWBL-1st- 800m; Regional-1st-4x400 relay; Regional-2nd-4x800 relay; State-6th-4x800; Regional-1st- 4x800; State Qualifier-1600; Regional-2nd-800m; District-1st-800m; State-4th-4x800; State- 3rd- 800m; School Record-800m; Track: SWBL–2nd; State & Regional Qualifier; District-3rd; SWBL 1st Team; Swimming: School Record for 200 yd. medley relay & 200 yd. free-relay & 100 yd. breaststroke.
The Committee will also be recognizing the State Championship Track Teams of 1929, 1930, and 1931.
The Committee is trying to locate the family members of Dan Howell, Bess Hayner and the 1929-1931 State Championship Track Teams. If you know of any information that would help us, please call the Oakwood Athletic Department at 937-297-5342.
The Oakwood Hall of Fame Committee thanks the family of James "Rocky" Whalen, Class of 1941, whose contributions helped establish the Hall of Fame. Rocky was an athlete, sports historian and author, who had a passion for Oakwood sports history.
The Committee will also consider coaches and administrators who served Oakwood High School. You may nominate an individual by submitting a Nomination Form, which may be found at www.oakwoodschools.org/athletics.
The Oakwood Athletic Hall of Fame Banquet will be held on Thursday, August 21, 2008 at the Dayton Country Club beginning at 6 p.m. More information on tickets will be coming at a later date. The Charter Class will also be recognized at halftime of the home football game on Aug. 22, 2008. The Hall of Fame will be displayed on the southeast wall of the portico facing Schantz Avenue. For more information, please contact Mark Hughes, Chairman, Hall of Fame Committee, at (937) 297-5342.